paparrazi caught a very pregnant Ellen Pompeo and her husband Chris Ivery leaving their Hollywood Hills home the other day. I must say she is wearing pregnancy well…almost makes me less mad at the way she was offed from Grey's Anatomy. Ha!
Source
There's a bunch of great pregnancy pics of Tracy Mourning, NBA Star Alonzo Mourning's wife, over at BlackCelebKids.com

The rumor mill says singer/actress Christina Milian is preggers with her fiance, The Dream's, baby. Congrats to her if its true. Maybe I'm old fashioned, but it would be great if they could tie the knot before baby arrives…if she is indeed Preggers that is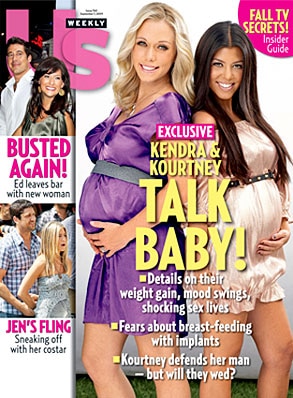 The cover of Us Weekly this week features Kendra,( former playboy bunny, Reality TV starlet*Girls Next Door*) and Khloe Kardashian (Reality TV Star *Keeping up with the Kardashians) and yay, they both want to breastfeed!
Also, defamed NFL NY Giants player Plaxico Burress, who recently got sentenced for shooting himself in the leg with an unregistered handgun confirmed to ESPN that his wife is expecting their second child. Oh boy! I think that sentence was unreasonable like he didn't already learn his lesson by being shot! American justice boy.