i don't remember my last weigh in but this morning i was pleasantly surprised that all the debauchery and eating that went on this past whirlwind week of 8 social events didn't put me back into the 150s. Today, i weighed in at 149.5lbs.
I'm back on track…yes AGAIN…., running, doing ballet, and taking dance classes. Yesterday, I discovered my local Bally's Fitness club had a special erotic dance class. I wasn't sure if I should've arrived in my wig, whip and patent leather hooker boots or work out clothes. ha! I opted for running pants and a t shirt and fit in well with the other four women. I cannot believe how hard strippers work man. My abs are still sore today. Dropping it like it's hot is a great work out. LOL!
anyhoo. I've discovered a non-invasive tummy tuck in Thermage treatments. There are several facilities that conduct this outpatient service in my area. So….as soon as I get down to my ideal size between 130 and 135, I'm going in for a consultation. While I'm there, I'm going to check to see if they can make all the varicose and spider veins in my legs and my stretch marks magically or laser-treatment-ally disappear!
Ahhhh Vanity and Narcissism, deadly sins indeed! Gonna get me a fab beach body yet. Have you seen the lastest pics of Christina Milian in a bathing suit circulating 'round the blogsphere??? SICK!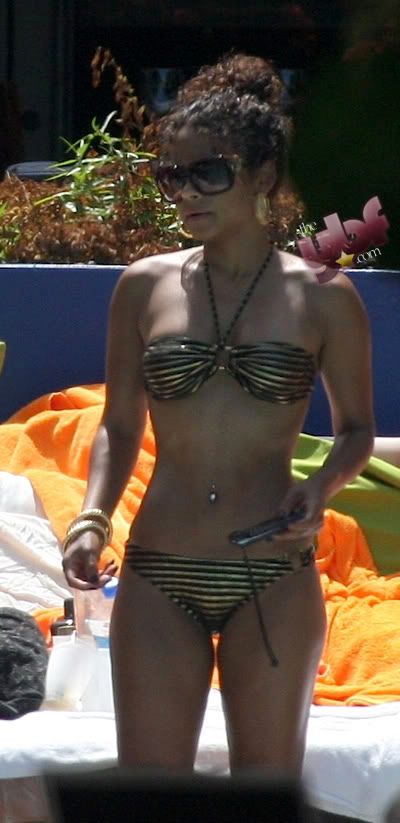 bellyitchblog.com+1 more Over 9 million people have enjoyed Bellyitch's Award-winning Celeb "bumpwatch" pregnancy and parenting blog. Trying to Conceive? Download our
FREE Fertility 100
ebook. Hunting for Top Maternity or Kids Brands? Our
Bellyitch 100
is the free resource for you. Baby Shower Shopping? Check out out
Top Picks on Amazon
or our
Gift Guides
.