When I read and/or heard Kelly Ripa announce one day that she doesn't diet or exercise much and that her three kids and hectic schedule keep her skinny, I was like, "yeah right, lady. Tell me another one!"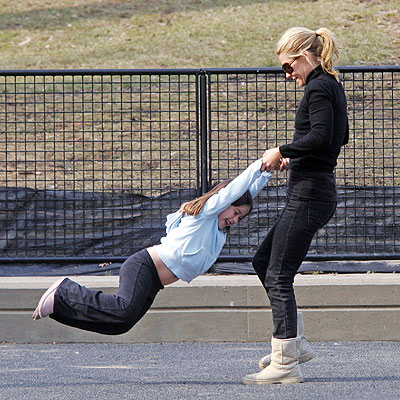 Seen here with daughter, Lola.
but alas, for the last few months, amid a rather ridiculously hectic schedule, my family's loss, the frantic holiday season and all the normal mayhem that comes from trying to balance work life, a large family brood, I have managed not to pack on my usual extra 5-10 lbs for the Holiday season!!! I have even gone down at least one dress size (even though I do not believe I have lost any weight, per se).
Like today for example. I have to do holiday shopping. I have 3 hours of work meetings. I have a Christmas piano recital for my son. I will try my earnest to squeeze in a meal or a quick 30 minute run, but it's not looking good.
And as I post this, my 6 year old just said, "Oh well, mom, I guess I have to make breakfast by myself! (so, I gotta go) Keeping up with two blogs adds to the challenge too, I suppose.
Kelly Ripa is my "Mom of Three Kids" Muse!! I do believe genetics have something to do with it as well, I must admit.
I'm not complaining but I do miss working out and eating, but I am loving being able to fit in my size 4s Again!! yippee!!!
bellyitchblog.com+1 more Over 9 million people have enjoyed Bellyitch's Award-winning Celeb "bumpwatch" pregnancy and parenting blog. Trying to Conceive? Download our
FREE Fertility 100
ebook. Hunting for Top Maternity or Kids Brands? Our
Bellyitch 100
is the free resource for you. Baby Shower Shopping? Check out out
Top Picks on Amazon
or our
Gift Guides
.