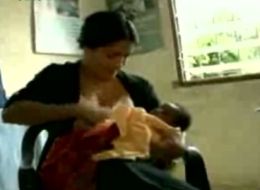 Being from Sierra Leone, a country with the highest maternal mortality rate and an almost equally high infant mortality rate, I welcome the attention to the plight of my beloved native land brought on by American and European celebrities. Who'd care otherwise?
There's been much a buzz about
Salma Hayek's
decision to breastfeed (and
on video
) a one week old baby that was born ironically on the same day as Hayek's own one year old daughter. But I say it takes a very special woman to nourish a child like that because I do not believe many people would do that, for their own varying respective personal reasons of course.
Breastfeeding is so looked down upon by many in our culture. I did
a post
on it a little while ago about how negative people react when they learn I am still nursing my now 13 month old child. I am of the opinion that it is natural and cow's milk is for calves, not humans. I nursed all three of my children beyond their first birthday and hope to pass on my immunity to them and good antibodies. Yes, I may have pancake boobies right now, but that is a story for another Victoria Secret Push Up bra day. In any event, I do hope her actions call attention to the importance of nursing a child for as long as possible notwithstanding pressure from a spouse to quit for his own selfish reasons.
So while I know people are lambasting her and calling it a PR move, I say that while she may have gotten publicity out of it, a wonderful by-product is that people are looking at Sierra Leone and maybe Googling about and wanting to know more about my impoverished country again. The last time we were in the news, it was because drugged up young soldiers were brutally amputating innocent civilians over Blood Diamonds.
Maybe, this time, like last, folks will reach out to see what needs to be done to alleviate the high infant mortality rate or do something to combat infant malnourishment issues. It is unfortunate that this is one of few ways we get attention to our issues, but whatever. Beggers can't be choosers.
Tomorrow, I will give a Keynote speech at a Valentine's Day event where a portion of the proceeds will go to a non profit that I co-founded that helps my native Sierra Leone. I think the story is very timely and I will have to somehow weave it into my address because it goes to the heart (pardon the pun) of what is needed more in the world, especially in these hard times when ordinarily affluent and privileged people are now feeling the pinch of what it means to go without and to suffer a little bit. Very fitting indeed!
Kudos to you Ms. Hayek.
bellyitchblog.com+1 more Over 9 million people have enjoyed Bellyitch's Award-winning Celeb "bumpwatch" pregnancy and parenting blog. Trying to Conceive? Download our
FREE Fertility 100
ebook. Hunting for Top Maternity or Kids Brands? Our
Bellyitch 100
is the free resource for you. Baby Shower Shopping? Check out out
Top Picks on Amazon
or our
Gift Guides
.