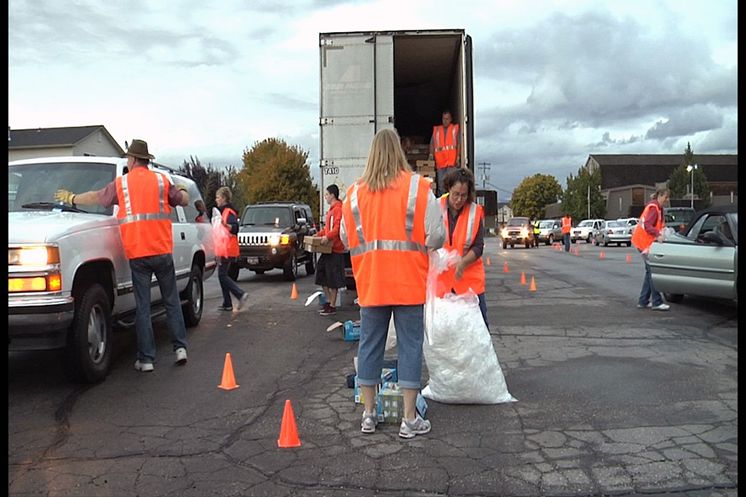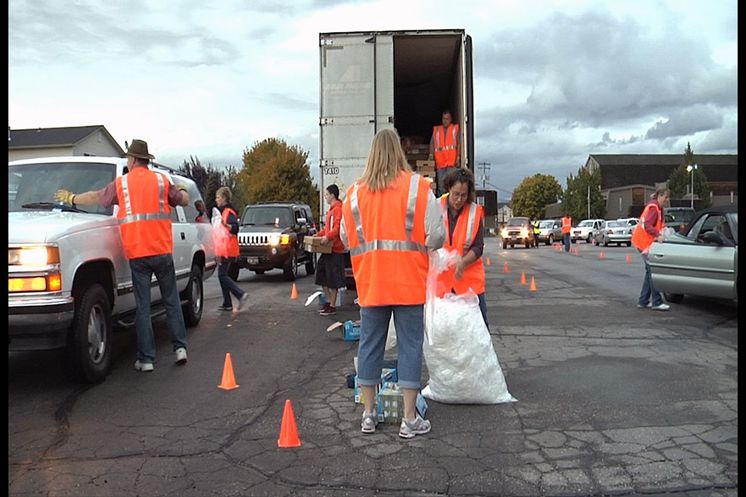 More and more families are taking advantage of companies offering whole sale, bulk foods delivery services to feed their families and save money.
Recently, I partnered up with one such fresh farm-to-table food delivery service Zaycon Fresh (formerly Zaycon Foods) to review the process of shopping and ordering online, getting in line at one of the pick up locations and prepping and preparing a meal using the product.
Zaycon Fresh launched back in 2009 and is a privately owned company based out of Spokane, Washington.  They buy meats like bacon, ground beef, bacon, chicken, ribs and more direct from family farmers which keep prices low and product at premium quality with less processing and travel time to get to your table. Though not organic, but a step below, all meat are certified to not include hormones, additives, and other by products found in conventional meats.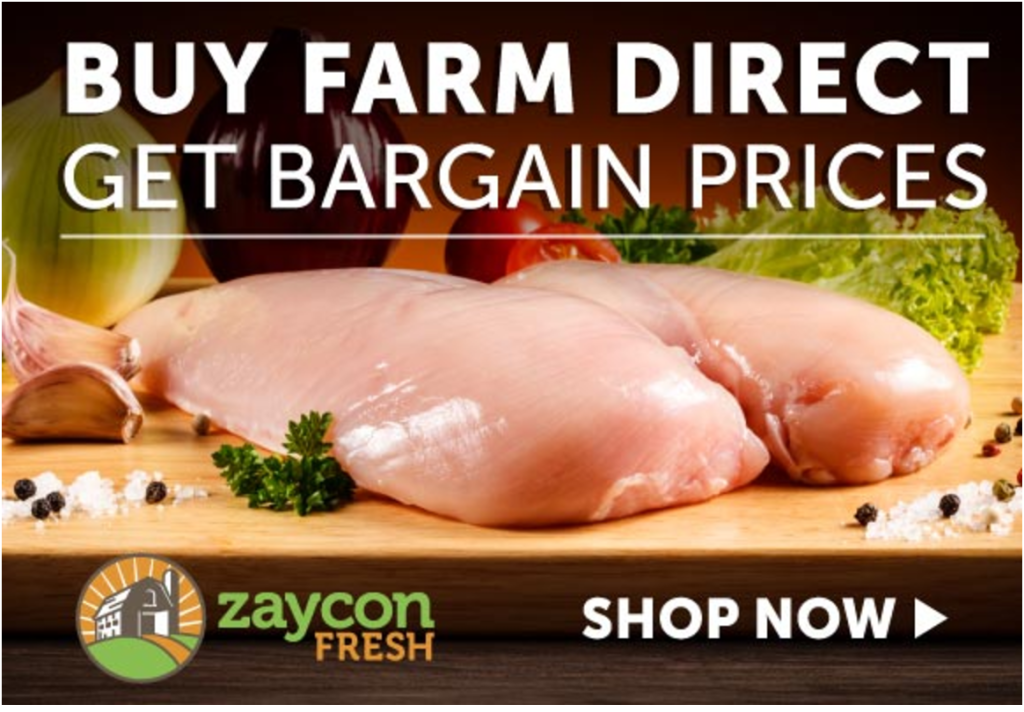 You have to buy in bulk so it's a great option for meat and potatoes family, families where a meal is prepared more than one time a day, those with ample freezer space because the products can take up a lot of space in  your refrigerator's freezer compartment.
They don't sell the same items all year as there are seasonal options and specials throughout the year.  Among the list of products Zaycon Fresh has offered includes:
Wild Alaskan Sockeye Salmon Fillets
Fresh Boneless Skinless Chicken Breasts
Ground Beef
Whole Beef Tenderloins
Wild Argentine Red Shrimp
Prime Rib
Boneless Applewood Smoke Ham
Pork Tenderloin
Pork Sausage Links
Back Ribs
Bacon wrapped pork filets
Wild Argentine Red Shrimp
Kansas City Strip Steaks
After signing up on its website, I perused through their options that, at-the-time, included breaded chicken cutlets which I selected because as an on-the-go family, we needed something that was relatively easy to make and that everyone in the family would enjoy. If purchased at about $4.00 per pound at the local grocery store, I would have paid close to $100 so with Zaycon Fresh, I would enjoy a $32 savings which is perfect for a family on a budget.
I looked at the delivery dates and options available and selected a pick up window near my home in Maryland. They have relationships with lots of locations so you're likely to find one within reasonable driving distance.
My delivery date was August 28th.  When the time grew closer to my pick-up date, Zaycon Fresh sent me email and text reminders at each stage: the day before the pick up date to make sure I put in on my schedule for the next day, when the truck arrived (and any on-the-spot specials the driver might have had available), when the time was coming close to the truck to depart and a thank you for using the service.


I got the "late" text because I almost missed the truck!
My mobile phone's charging cord died on me and it has my GPS app on it and I failed to write down the pick up address, a church parking lot in Annapolis, Maryland, before departing. Rookie move!
So after arriving in Annapolis, I had to run to the local CVS Pharmacy, purchase a cord, wait for my iPhone to charge back up, then enter the directions for the drop off location. Phew!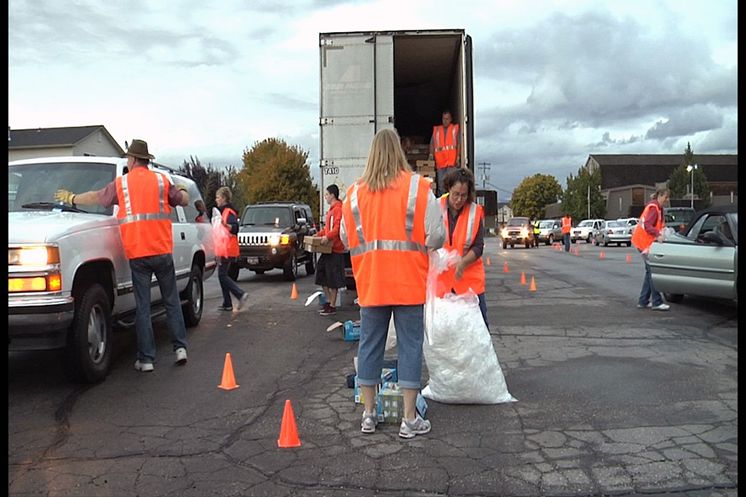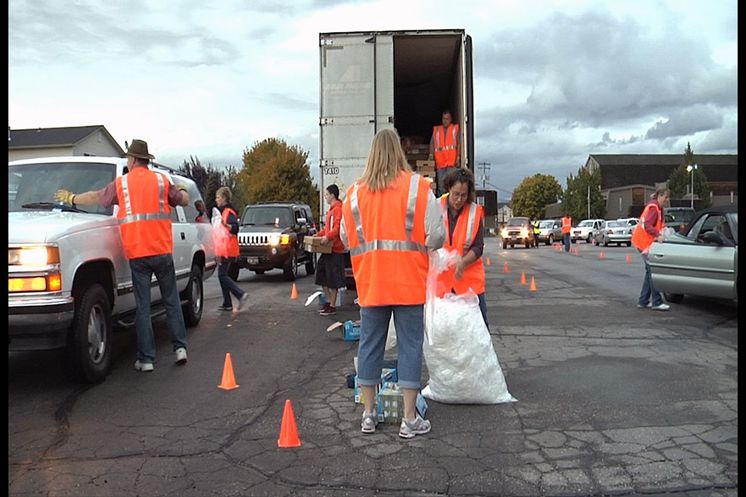 Ordinarily, there would be a long line of cars at the pick up location and I would have to wait but I suppose because it was close to the end of the window, there weren't any cars there when I arrived! Score one for the late birds in the house! Woot Woot!
Fortunately for me, I brought a co-pilot, my 12-year old son with me who was able to film some footage of the pick up to give you an idea of what it actually looks like:
The cutlets came unfrozen in four large plastic bags and boxed. The plant for assembling that particular process is in the midwest but the delivery date was a few days after preparation so it is still less the time and better quality than on-the-shelf or freezer compartment meat one can get at their local supermarket or grocery store.
I talked to the driver who told me that there are some farms in North Carolina that Zaycon uses for other fresh meats and therefore, those would be even fresher when arrived!
Although the instructions say that the cutlets could be microwaved, because of the breading, I preferred the meat to be cooked a little bit more and therefore popped ours in the oven each time, set to about 350 degree for 15 minutes to achieve the texture my family prefers and I think yours would too if you opted to get the breaded chicken cutlets.
A chicken breast is packed with minerals and vitamins, including magnesium, vitamin B and B6, vitamin D, vitamin E, vitamin C and vitamin B12.  Without the breading, it is low in fat,  and baked or grilled chicken breast contains no carbohydrates.
I made  spaghetti pasta topped with breaded baked cutlet on top, a breaded chicken topped garden salad, and a chicken wrap with tomatoes and cheese. There are lots of other recipes that I could experiment with and make.
The supply could last my family several weeks and if I had a bigger, mega family, of over 5 children, this amount of food would be perfect. I think Zaycon Fresh is also great for those who operate catering or home daycare centers or other operations that prepare foods for a lot of people.  Pick up times differ throughout the month and once you order one product, you won't have to re-order that product for a while and can try something else.
Sign up today to see if there is a delivery upcoming near where you live. Use my referral link: https://www.zayconfresh.com/refer/bellyitch
bellyitchblog.com+1 more Over 9 million people have enjoyed Bellyitch's Award-winning Celeb "bumpwatch" pregnancy and parenting blog. Trying to Conceive? Download our
FREE Fertility 100
ebook. Hunting for Top Maternity or Kids Brands? Our
Bellyitch 100
is the free resource for you. Baby Shower Shopping? Check out out
Top Picks on Amazon
or our
Gift Guides
.