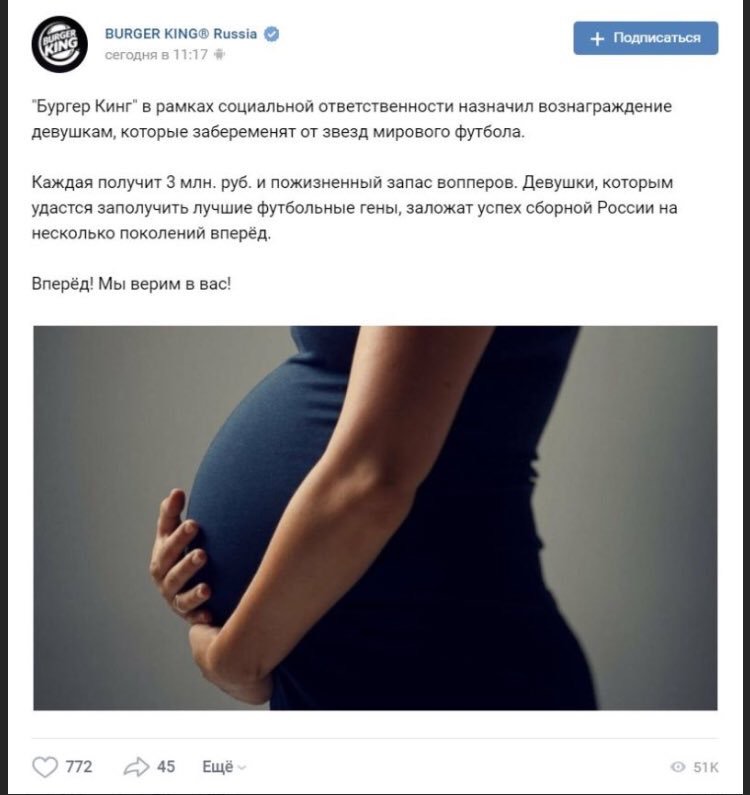 Burger King has apologized for offering a lifetime supply of Whoppers to Russian women who get pregnant by World Cup players.
Critics assailed the offer, announced on Russian social media, as sexist and demeaning.
The announcement was removed Tuesday from Burger King's social media accounts but was still circulating among Russian social network users. It promised a reward of free burgers to women who get "the best football genes" and "ensure the success of the Russian team for generations to come."
In a statement Wednesday to The Associated Press, Burger King said, "We are sorry about the clearly offensive promotion that the team in Russia launched online." It said the offer "does not reflect our brand or our values and we are taking steps to ensure this type of activity does not happen again."
Ads in Russia often play on sexist stereotypes, notably ads around sporting events like the World Cup. Women's rights activists have been increasingly speaking out against them.
AP report
bellyitchblog.com+1 more Over 9 million people have enjoyed Bellyitch's Award-winning Celeb "bumpwatch" pregnancy and parenting blog. Trying to Conceive? Download our
FREE Fertility 100
ebook. Hunting for Top Maternity or Kids Brands? Our
Bellyitch 100
is the free resource for you. Baby Shower Shopping? Check out out
Top Picks on Amazon
or our
Gift Guides
.