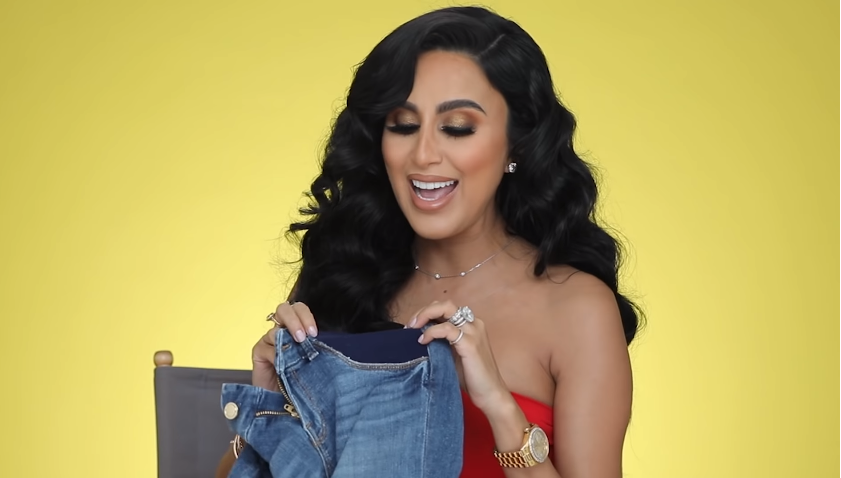 Shahs of Sunset alum Lilly Ghalichi took to Instagram and YouTube to answer some of her fans and followers' questions about her pregnancy. It was refreshing to me reviewing it to see that the ordinarily extremely svelte attorney was interested in maintaining the curves she'd grow after pregnancy.
Also, her husband told her to embrace the weight gain and pregnancy symptoms because it is a blessing to be a host to a baby.
She also shared her maternity style which really just consists of wearing tube dressed, specifically the  Wolford Fatal Dress in all the colors: red, black and white.
Also, our Bellyitch Bumpwatch alum Khloe Kardashian sent her a pair of her company Good American's Maternity Jeans
Finally, on the suggestion of her health practitioner, she fought leg fatigue by wearing Jobst Compression Shocks.
It was also refreshing that she told her audience that there really isn't any way to avoid getting stretch marks because it is genetic. And she is right, the marks appear sometime in the trimester, or even after.
While you cannot avoid the marks, you could do something to slow down their appearance or make them less visible and for the eyelash entrepreneur relies on Bio Oil that she slathers all over her tummy and everywhere gaining weight and or Tee Tree Oil for hair breakage.
To combat acne and other pregnancy-related face breakouts, Ghalichi turns to Murad Clarifying Mask.
As to the things she avoids, all the things he docs told her: She doesn't drink alcohol or use nail polish unless it is toxic-free pregnancy-friendly polish. She avoids caffeine and cut out sushi, ignoring friends who said they took the risk and ate sushi but as a first time mom-to-be, Ghalichi says she wasn't taking the risk.
Cravings was Popsicles and carbs thus her 1 pound per week pregnancy weight gain. At 20 weeks, she has gained 20 pounds and says she is comfortable gaining 40 more because she wants her body to do what it wants and to be the best for her baby girl.
Yes! Very refreshing. She is an ideal mom-to-be, who investigates, research and heeds to all the rules! Bravo!
Check out her maternity style on her archived Insta Story HeRE!
Watch her Q&A HERE:
bellyitchblog.com+1 more Over 9 million people have enjoyed Bellyitch's Award-winning Celeb "bumpwatch" pregnancy and parenting blog. Trying to Conceive? Download our
FREE Fertility 100
ebook. Hunting for Top Maternity or Kids Brands? Our
Bellyitch 100
is the free resource for you. Baby Shower Shopping? Check out out
Top Picks on Amazon
or our
Gift Guides
.