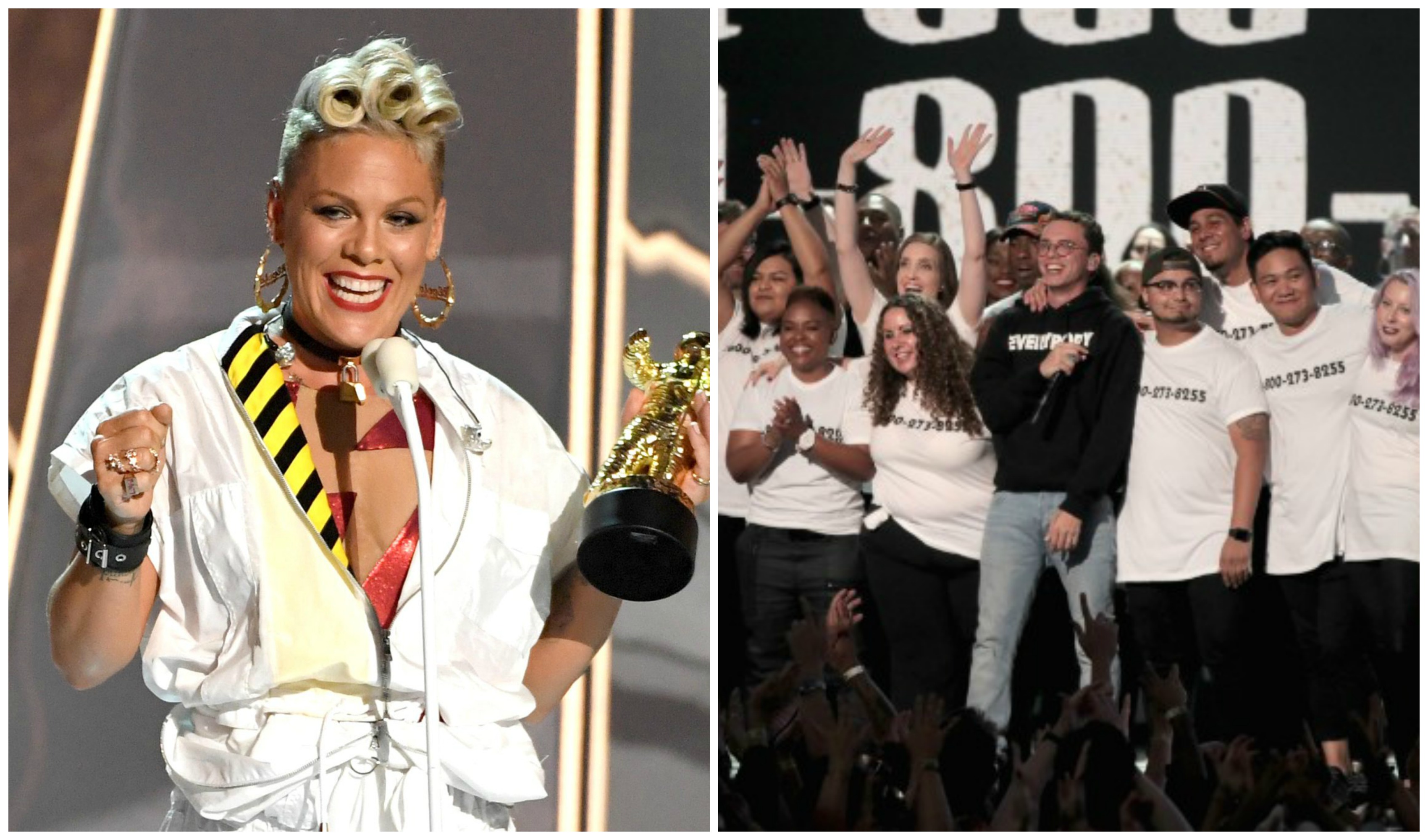 As usual during Awards shows, artists use their time and platform to espouse messages to their audience. Last night's MTV VMAs is no stranger to being used as a conduit to deliver news.
Last night, P!nk and hip hop artist Logic, in our opinion delivered the two of the most impactful remarks.
P!nk while accepting the Michael Jackson Video Vanguard Award spoke of her 5-year old daughter who needed a self-esteem boost recently.
"If I may tell you a quick story," Pink began her acceptance speech relaying a recent exchange with her daughter.
"'Momma, I'm the ugliest girl I know,'" Pink said her daughter told her one day. "I said, huh? She was like, 'I look like a boy with long hair.' My brain went to, oh my God you're six, where is this coming from?" Pink said.
"I didn't say anything. Instead I went home and made a PowerPoint presentation for her. In that presentation were androgynous rockstars and artists that live their truth and are probably made fun of everyday of their life and carry on and wave their flag and inspire the rest of us," she said before naming famous androgynous musicians like Annie Lennox, Prince, George Michael, Elton John, and Michael Jackson. 
She then ended her tale with a powerful statement. "We don't change—we take the gravel in the shell and make a pearl," she said. "We help other people to change to see more kinds of beauty. Thank you for being your true selves and lighting the way for us," she wrapped up before giving props to other celebs in the audience.
"You my darling girl are beautiful and I love you," she said to her daughter, who was in the crowd.
This speech also explains why she and her family were dressed in oversized pin stripe suits, a hat tip to androgyny.  Kudos to her for being so present and responsive.
Also, new artist Logic sang his hit song "1-800-273-8255", which is the national Suicide Prevention Hotline number, and was joined on stage towards the end by a few dozen people of all races, persuasion, and background who have attempted suicide in the past.
The front of their shirts had the number and the back read, "you are not alone." It was powerful because you could see yourself represented among those people and that sends a powerful message that suicide impacts everyone.
We also found Logic's plea for acceptance and tolerance much needed, especially in today's heated political climate.
"I just want to take a moment right now and thank you all so much for giving me a platform to talk about something that mainstream media doesn't want to talk about," he said. "Mental health, anxiety, suicide, depression and so much more that I talk about on this album. From racism, discrimination, sexism, domestic violence, sexual assault and so much more."
The hip hop artist called his fans to take action on achieving equality.
"I don't give a (expletive) if you're black, white or any color in between. I don't care if you're Christian, you're Muslim, you're gay, you're straight — I'm gonna fight for your equality because I believe that we are all born equal, but we are not treated equal and that is why we must fight. We must fight for the equality of every man, woman and child regardless of race, religion, color, creed and sexual orientation."
Watch both below: