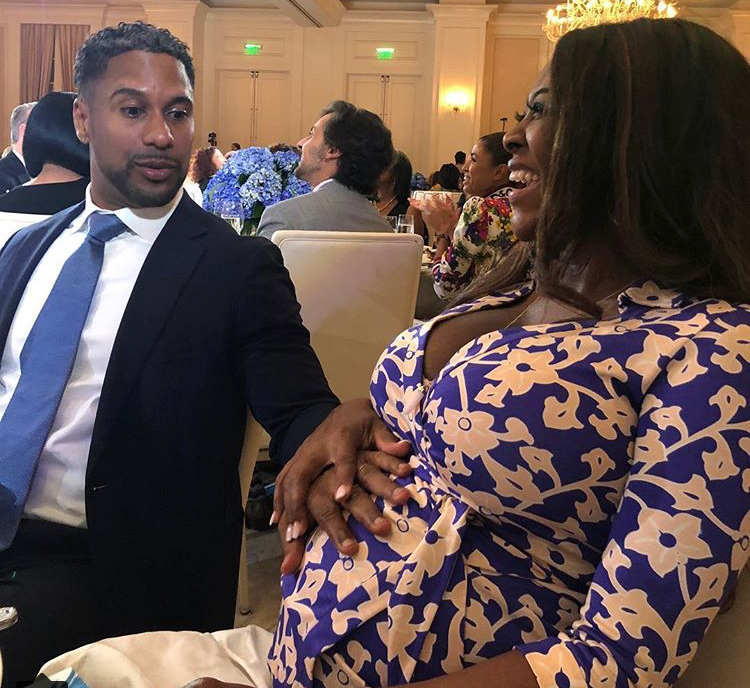 Real Housewives of Atlanta alum, Kenya Moore Daly continues to be dogged with and by rumors that she is faking her pregnancy and it seems no matter how many bare bump photos or pics of her cast mates cradling her belly she posts, there are always people in her comments expressing disbelief that the 47-year old former Miss USA is really expecting her first child.
Even recently, when she posted a cute Instagram photo of her hubby restauranteur Marc Daly feeling her baby kicks, she still had haters decrying the authenticity of the moment. Ugh!
She was all smiles in the photo captioned, "#marcdaly wasn't ready for #babydaly's kicks today ?❤️#babybump#babykicks #ThatsMrsDalyToYou."
It is amazing to me. She is not the only one. Beyonce and Danielle Jonas both were trolled all Pregnancy and beyond when they each had their first kid.
Kim Kardashian was too and was  BravoTV's Real Housewives of Beverly Hills former cast member  Adrienne Maloof but way after the fact.
One season of the hit series focused on a rumor that Maloof had used a surrogate to birth her children so as not to "ruin" her body, but lied about actually being pregnant and going through labor and delivery to save face and not come off as being a superficial and vain person.
Meanwhile, who aren't accused of faking their pregnancy?
Celeb women who barely look pregnant even at 5-months along like Remy Ma or who undergo an entire 40 weeks pregnant undetected and just crop up with a set of twins like Anna Kournikiva did!
It is quite interesting to me who gets the suspect treatment and who escapes it.