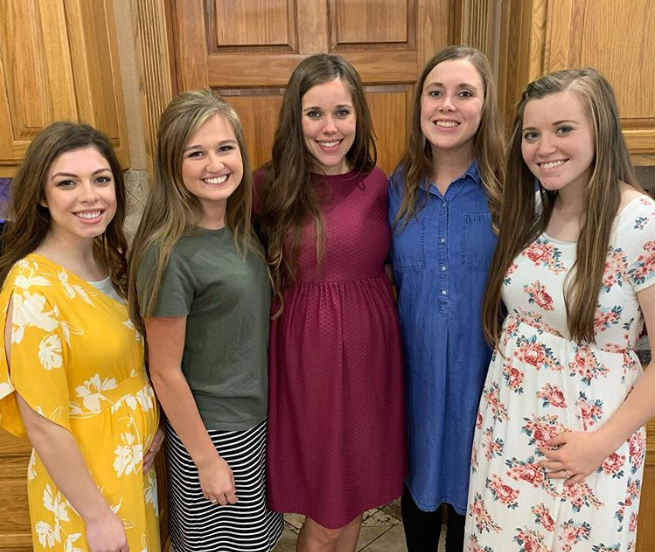 Since the long running TLC TV show 19 and Counting about a family with 19 and an ever growing number of children ended, the adult kids have picked up from where the matriarch, Michelle Duggar, left off and are having kids themselves.
The show Counting On is the latest installment in the Duggar franchise, and focuses on the family's older children as they celebrate some of life's milestone moments, including big moves, the realities of growing up, and raising their own families. 
In a recent photo, Anna Duggar shared a family photo of 5 of the then-currently pregnant Duggar women.
"#Throwback to Easter Sunday when the five pregnant Duggar sisters got our first group picture together!" the former reality star, 30, captioned the Thursday, May 30, Instagram post. "#littelduggars."

The joint photo included Anna Duggar in the denim dress with Lauren Duggar(née Swanson), Kendra Duggar (née Caldwell), Jessa Seewald(née Duggar) and Joy-Anna Forsyth (née Duggar).
As of Sunday, May 26, Jessa had her baby.
Us Weekly  shared that on Tuesday, May 28, she and her husband, Ben Seewald, welcomed their daughter, Ivy Jane, weighing 7 pounds and 14 ounces. She measured 20.5 inches long.
The Duggars continue to multiply and bring new life into the world. Congrats to all!