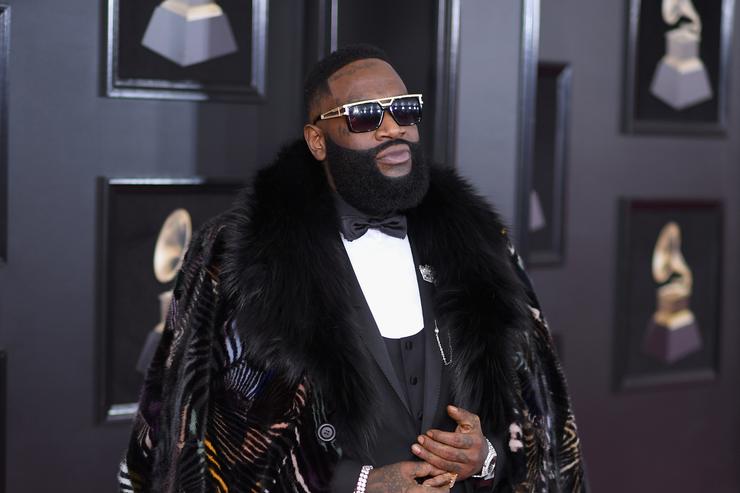 What's more crazy interesting than celebrities who are so passionate about wealth that they show it off in their music videos are those that carry it over to their child-raising.
Case in point: Rick Ross and his girlfriend fitness model Briana Camille recently welcomed their a baby boy to the world and perhaps as a nod to their monetary goal in life, they named the little one: Billion
The "Green Gucci Suit" rapper, who's expected to appear on the Creed II soundtrack, used his Twitter account to make the announcement:
"Let's all welcome my son 'Billion Leonard Roberts' to the world ?… ??," he tweeted without revealing the baby's mom. The newest arrival joins the world a little over a year after they welcomed daughter, Berkeley Hermes. Granted it is the name of a Roman God but I think he was thinking of the luxury brand. (ha!) Ross now has four children including his eldest daughter, and his first born son with ex Tia Kemp.
It's not just names either.  Some celebrate impending arrivals with wealth-brand themes. For example, last weekend Love & Hip Hop: Hollywood stars  Lyrica Anderson and husband A1 celebrated the impending arrival of their baby boy with a Tiffany & Co– themed baby shower.
Actually, the Tiffany theme is quite common. All  you have to do is run a search for it in Pinterest where I got this photo below:
Celebs have even gone as far as name their babies after money itself.
Recall, a while ago, Real Housewives of Atlanta reality TV wives Kandi Burruss and Kim Zolciak-Biermann feuded over what to name their future child. Each wanted to use the name Kash. Zolciak even went as far as get the name Kash Kade trademarked before the baby was even born.
Of course Cash is an authentic real name that is not connected to money. See director and producer and spouse of Jessica Alba, Cash Warren, for example. Also, Hawaii 5-O star Will Yun Lee and his wife Jennifer Lee named their son Cash.
I'm a firm believer in naming a baby whatever you please and makes you happy! Given most celeb babies will never have to worry about a name getting in the way of getting a job, why not name em "Billion"?
Happy baby naming!