Every year, I take an inventory of what I would like to have as a blogger, vlogger and content creator and what I think newbie, rising and even experienced bloggers, vloggers, podcasters and other female online digital entrepreneurs are craving.
I then assemble this wish list together into a gift guide for anyone who has a content creator on their Holiday gift giving list.
Here is my 2018 list of carefully curated items I'm obsessed with right now, and which I would love to receive: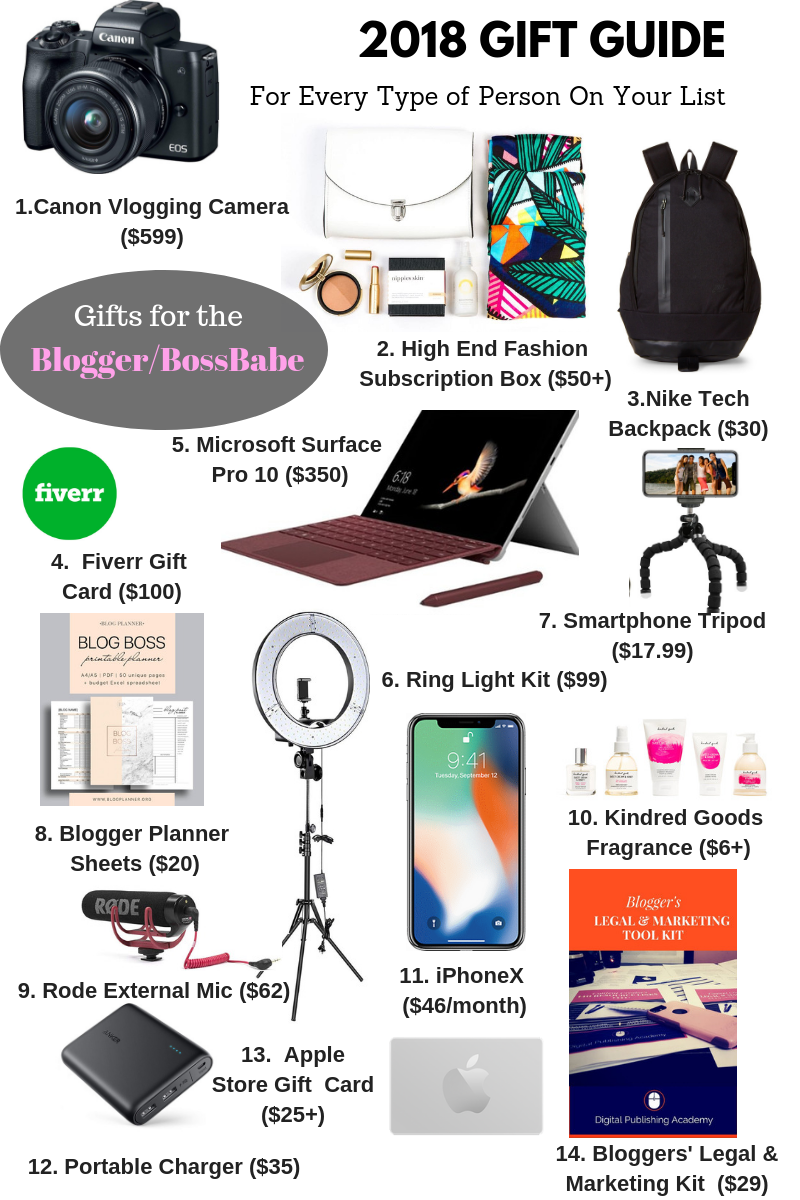 1.Canon EOS M50 Mirrorless Camera Body w/4K Video ($599) – This is THE preferred camera of all the Big YouTubers.
2. A High End Fashion subscription box like Zoe Box of Style or Le Tote or plan like Rent the Runway ($89-$159) -Fashion bloggers cannot be caught in the same outfit twice so a more cost efficient way to wear all the latest fashions for less.
3. Nike Black Tech Cheyenne Laptop Backpack ($39.95 down from $100) – For a stylish but practical holder of the laptop, tablet, camera and all the gadgets
4. Fiverr Credit ($100) – For getting all the little data processing, css coding, and other small tech details done without an in-house CTO
5  .Microsoft – Surface Go – 10″ Touch-Screen with 64GB ($349) – This is portable and great for working on the go and it versatile in that it can be used for design, editing and blogging projects
6. Neewer Ring Light Kit ($99) – This is a must have for vlog, tutorials, make up and selfies that separates a blogger/vlogger from the amateurs.
7. KobraTech Cell Phone Tripod  for iPhone or Android with a Bluetooth Remote ($17.99) – For those days when your partner cannot take your pic or for vlogging on the go.
8. Blogger planner sheets ($20) – To keep the editorial calendar organized.
9. Rode VideoMic GO Lightweight On-Camera Microphone with Integrated Rycote Shockmount ($62) or the Rode VideoMicro Compact On-Camera or 
Microphone and Cable Kit ($68) – For a professional sound quality in videos
10. Old Navy Kindred Goods fragrant set Orange Blossom & Tea; the refreshing, Sea Salt & Fig; and the sweet, Sweet Cream & Honey. ($9+) – A scent is a calling card and leaves an impression.
11. Apple iPhone X ($1099/$43 month with plan Verizon) ($49/month or $1099) -The upgrade video and photo and other features are tops.
12. Anker PowerCore 13000Portable Phone Charger Power Bank  for iPhone, iPad, Samsung Galaxy ($35.99) -All that blogging, vlogging, editing, social media networking can drain a battery. This is a no-brainer
13 Apple Gift Card ($25+) – To get all those filter extensions, add ons, watermark removals on the fave app for editing, photo capture, social media promo amd more.
14. Legal and Marketing Tool Kit ($29) -When they're ready to start treating the blog like a business