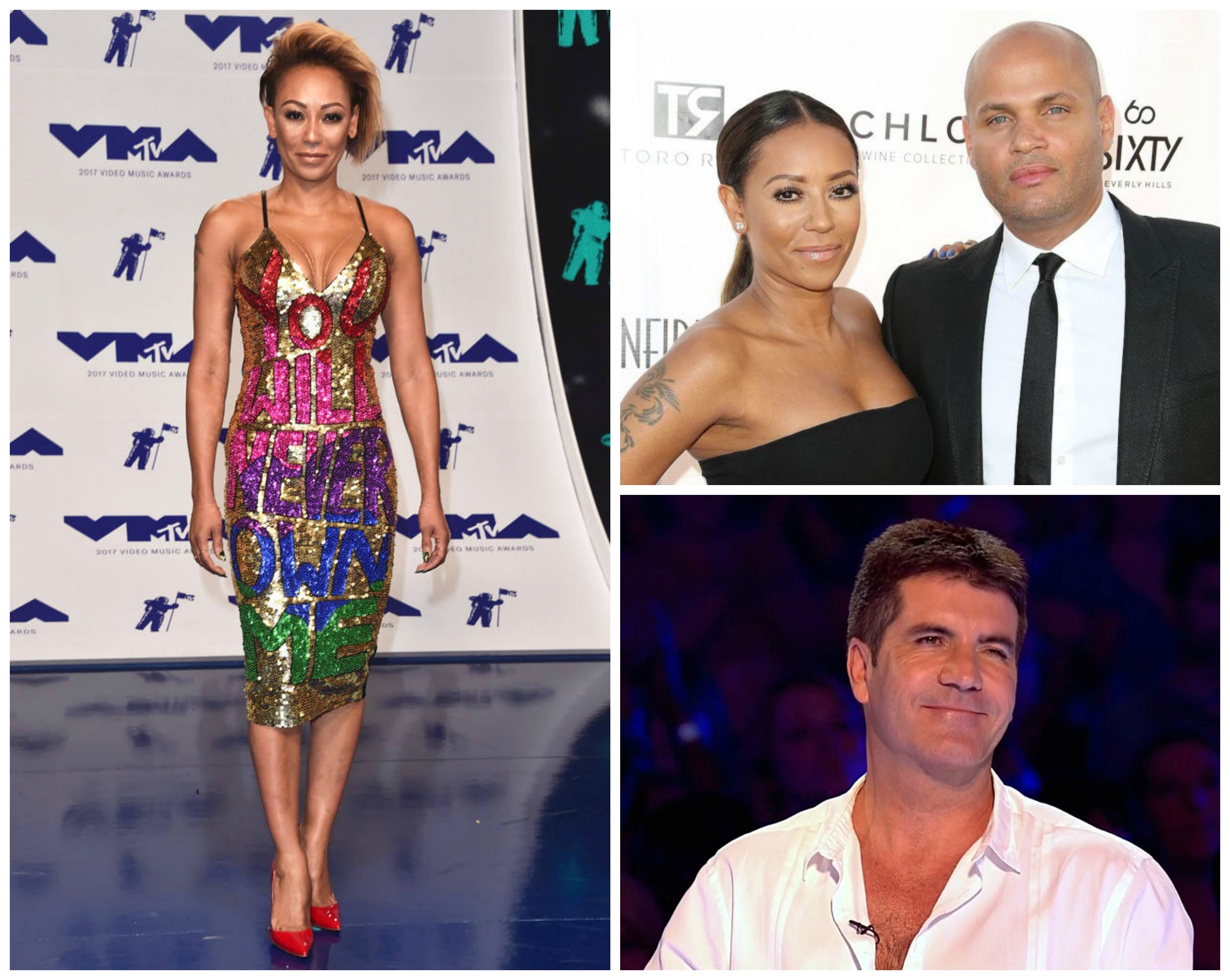 Mel B wore a personally designed dress with a bold message on it to the MTV Video Music Awards on Sunday: a sequinned dress with the words "You Will Never Own Me" hand-stitched along the front, according to US Weekly magazine.
"The former Spice Girl arrived at the award show in a sparkly gold body con dress from Discount Universe with spaghetti straps, a V-neckline, and the words "You Will Never Own Me" written in rainbow hues down the front," Emily Patrick, writing for the site wrote. "She ditched all accessories, letting her statement shift shine, pairing it with bright red pumps, minimal makeup, and her asymmetrical haircut swept over to one side."
There is speculation as to who that message is addressing.
She is embroiled in a contentious divorce and custody battle with her ex-husband Stephen Belafonte.
A court ordered the America's Got Talent judge to pay her estranged husband Stephen Belafonte $40,000 per month in temporary spousal support as well as $140,000 in attorney fees and forensic fees on Belafonte's behalf. The two share a 5-year old daughter Madison. 
But others have speculated that the message was addressed to co-judge on AGT, Simon Cowell, who took a jab at her failed marriage during a broadcast last week.
After an embarrassing technical malfunction on a magician contestant's performance, Cowell quipped: "I kind of imagine this would be like Mel B's wedding night. A lot of anticipation, not much promise or delivery."
Afterwards, Brown jumped out of her seat, poured her glass of water onto Cowell's lap and stormed off stage during the live taping.  throwing a glass of water at him, Brown stormed out of the studio despite it being a live taping.
At a red carpet event after that taping, Mel B said of the incident, "He should know that if he says something inappropriate,he is going to get stuff thrown at him."
She was also already emotional from watching another contestant's touching performance and hearing a personal backstory.
"[Evie Clair] really made me cry because it made me think about my dad, and my dad recently passed away from cancer also, with an almost eight to nine years struggle. So a story like that from such a young girl really touches my heart," Mel B told E! News  "She just sounded so beautiful and I couldn't stop crying, so I go from that to Simon saying something so rude and inappropriate."
Watch ET's recap and interview: