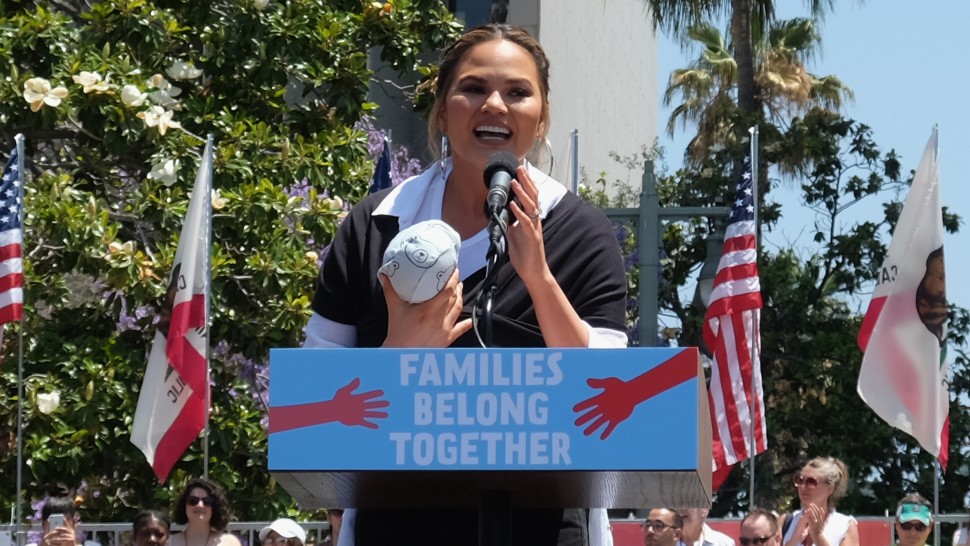 Chrissy Teigen and John Legend made the Families Belong Together march a family affair.
The 32-year-old Lip Sync Battle co-host took the stage at the Los Angeles rally on Saturday with her newborn son, Miles, in her arms to introduce her husband, who performed his new song, "Preach."
"Let go of fear and see each other's humanity," the mother of two told the crowd at the event. Following Teigen's speech, Legend also encouraged people to take action and spread the word about putting a stop to immigrant parents being separated from their children at the U.S.-Mexico border
"You can't just talk about it or tweet about it. You've got to do something," Legend passionately expressed. "We wrote this song that feels right for this moment… I know a lot of us have a strong temptation to just disengage, but we can't. We can't do that. I can't do that. I have to do something."
Following the performance, Teigen took to Instagram to share a touching snap of herself and her son onstage. "Baby's first rally. #keepfamiliestogether," she captioned the photo.
Last week, Legend performed "Preach" for the first time at an event in Los Angeles, where ET was in attendance.
"We've been watching what's happening on the border and the turmoil the world is in right now. Every time we get outraged…it feels all you can do is tweet or vent about it," he said prior to debuting the song. "But, sometimes you have to do something. You can't just preach."
"We've been watching what's happening on the border and the turmoil the world is in right now. Every time we get outraged…it feels all you can do is tweet or vent about it. But, sometimes you have to do something. You can't just preach." @johnlegend debuts new song #Preach ? pic.twitter.com/amMYsgexa3

— Elisa Osegueda (@elisaosegueda) June 22, 2018

continue reading