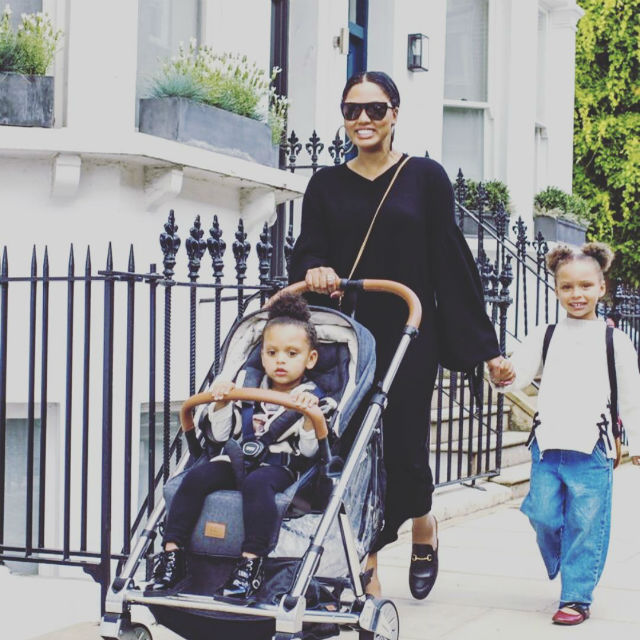 I've seen a series of bad articles about cookbook chef, celebrity mom, NBA great Steph Curry's wife and our Bellyitch bumpwatch alum Ayesha Curry.
They started when she made some controversial comments on Jada Pickett Smith and Willow Smith's Facebook TV show The Red Table Talk about feeling inadequate about never getting solicitation from other men compared to her husband who has women throwing themselves at him all the time and other topics.
I've had friends of mine proclaim that the kitchenware brand owner needs to simply "stop talking" so she would stop garnering backlash.
I decided to actually read the recent article in Working Mother which featured the mom of three's interview and when I see the latest "explosive" comments in context, I think the opposite of her.
Curry needs to actually keep talking.
AT 37-years old, Ayesha is an restaurateur and co-owner of the "International Smoke" chain of restaurants, an influencer (boy does she get people talking), and the host and executive producer of a new forthcoming ABC TV show called  Family Food Fight.
[*Good job generating buzz, girl*]
I think she needs to continue speaking up and raising awareness on things like the effects of postpartum depression on new mothers, gender expectations and the limitations men place on women and wives, the challenges of being multi-racial, colorism and the self-esteem issues surrounding being accepted and feeling welcome in one's community.
We are such a judgmental society and we make decisions about people based on headlines, out-of-context snippets, and images that are attached to articles that float across our social media feed.
On The Botched Boob Job
Postpartum depression led to a rash decision to alter her breast size.
"I didn't realize at the time, but after having Ryan, I was battling a bit of postpartum that lingered for a while. It came in the form of me being depressed about my body," the CoverGirl and the Honest Company brand ambassador shared. "So I made a rash decision. The intention was just to have them lifted, but I came out with these bigger boobs I didn't want. I got the most botched boob job on the face of the planet. They're worse now than they were before. I would never do anything like that again, but I'm an advocate of if something makes you happy, who cares about the judgment?
On Using a Dismissive Comment for Empowerment
"I think a lot of people do not take me seriously," confesses Ayesha, who turned 30 in March. Despite her ever-expanding empire, people chalk up her success to her pro-athlete spouse. "They think this is something I've obtained because of my husband's income. That's not true. He hasn't invested a dime in my restaurant business."
"When my career was starting to take off, this male reporter bashed me on live television, saying I should be more like the other [basketball] players' wives. He literally said, 'They sit there, they don't cause any problems, and they look pretty.'"
Curry said a comment from a member of the media made her want to be more than just a quiet and silent wife.
"Why am I not allowed to have a passion and a dream and a voice?" she marvels. "That started a fire in me. I could not be stopped, and I wanted to prove myself."
Since then, perceptions of her has changed.
"Now the conversation has shifted," she added. "Stephen doesn't get any negative [questions] about me. Especially in the Bay Area, people say to him, 'I like her food a lot,' and that's been special for me."
On being Black or white enough
Curry said as a product of multiracial heritage, she felt that in America, compared to her native Canada, she felt compelled to fit squarely into one box.
Her mother is Jamaican and Chinese, and her dad is Polish and African American.
"Everyone was from a place other than Canada and that's how you identified yourself, not black or white," Curry shared in that article.
"I identified as Jamaican because that's where my mom came from," she says of her childhood in Toronto, where her neighbors were mostly Asian and Indian. "In the states I'm simply 'black.'"
And she has had to explain these complicated concepts to her kids so they grow up more centered and balanced and do not buy into Colorism:
"They're fair in complexion, and they've said: 'I'm not black; look at my skin.' And I said: 'No, no, no. You're a black woman. You have melanin. It's part of who you are. Our descendants are from Africa. This is what that means.' It's been a journey teaching them that, and that black comes in many different shades."
In sum, it looks like she is very much misunderstood, but perhaps it is purposeful.
Folks would rather not read in context or look to nuances or give her the benefit of the doubt.
That takes more work and in today's digital era, everyone isn't granted time.