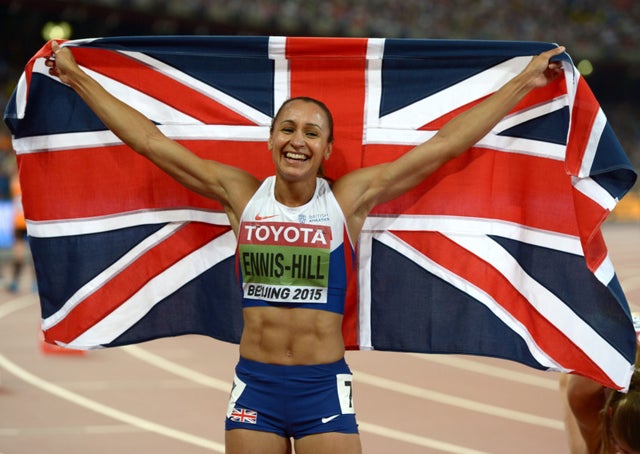 ---
One year ago, Jessica Ennis-Hill was giving birth to her son Reggie and today she is the gold Heptathalon champion at the Beijing World Track and Field Championships.
It was only last January 2014 that Ennis-Hill announced to the world that she would not compete  in the Commonwealth Games due to her pregnancy.  Back then, news reports focused on whether the then-newly married track and field star's pregnancy would make her better or not.
Ennis was not phased and remained focused, telling The Independent, "I am 100 per cent set on returning to full time athletics once our baby is born and go for a second gold medal at the Rio Olympics in 2016," she said.
One commenter doubted it:
"Is it possible to come back from Olympic gold as a heptathlete and go on to Rio?" English 2010 Commonwealth heptathlon champion Louise Hazel told the BBC. " It throws a huge question over the continuation of a career as a heptathlete and that's just being realistic."
The heptathlon includes seven events: 100 meter, 200 meters, 800 meters, high jump, long jump, shot put and javelin throw.
On July 17, 2014, Ennis-Hill welcomed her son, Reggie, with husband Andy Hill and today, August 23, 2015, she's a gold medalist heptathalete.
Guess Hazel was wrong.
Besides, there is a history of other women coming back from motherhood and continuing in their greatness, as The Independent summarized:
Paula Radcliffe won the New York marathon in November 2007, just 10 months after her first child, Isla, was born. 

US marathon runner Kara Goucher set a new personal best – beating her old time by more than a minute – at the 2011 Boston marathon, a year after giving birth.

The British long-distance runner Jo Pavey recorded the second-fastest time for an over 35-year-old and the second fastest time for a British athlete in the 10,000m at the 2012 Olympics – watched by her three-year-old son Jacob.

The US beach volleyball gold medallist Kerri Walsh Jennings, already a mother of two, was five weeks pregnant when competing at London 2012…

while hockey player Keli Smith Puzo 

….and modern pentathlete Mickey Kelly were just two of many mothers to compete in what were dubbed the "Women's Games"
Even for these games, Ennis-Hill said she did not want to leave behind her one-year-old son Reggie and husband Andy if she did not have a realistic chance of a medal. Apparently, she did so well at the Anniversary Games last month showing Ennis-Hill figured she had a shot at a medal after all.
Never underestimate a strong-willed mom…and her supportive team.
"It's hard with a newborn at the beginning and you're just into everything and then getting back into training and thinking about everyone that's helped me, my family, Toni and the team around me," she said. "They've been patient and believed I can get back to this point."
Three cheers also for parents who support the dreams of their superstar athletic children.
Ennis-Hill's parents, including her dad who was a sprinter in his native Jamaica before emigrating to the UK and a mom who shot javelin as a kid, were not interested in pursuing their own personal early interests in sport but encouraged Ennis-Hill who had a talent and passion to compete since age 10. They sacrificed weekends and loads of money on hotel stays and flights for meets, and almost got derailed after a career-ending injury at age 21, the Telegraph's report states.
But Ennis-Hill's determination (and good looks) got her corporate endorsement deals that helped her keep going until she started slaying at various meets again! Awesome sauce!
Today, Ennis-Hill endorses several products, is a Jaguar brand ambassador and the face of UK track and field.
photo: The Guardian