Many of our celeb moms headed to Empire Polo Field in Indio, California this weekend for the annual Coachella Valley Music and Arts Festival.
 Nicole Richie  showed up in white to her  Revolve x Nicole Richie House of Harlow x Urban Decay lunch. Behati Prinsloo was there looking fly in Alexander Wang zip-front pants, Vans and a bucket hat. Alessandra Ambrosio showed up looking fab and outfitted to the free spirit theme that is common among attendees.
Kourtney Kardashian and Kendall Jenner along with Kylie Jenner and her bestie Jordyn Woods headed down.  
Whitney Port and Rachel Zoe were photographed in an iconic all white pic. Loved Christina Milian's Boho dress too!
Beyonce headlined by opening up her set in a regal gold and black caped outfit that resembled the regal African queen Nefertiti but then she quickly stripped from her opener fit to a custom Balmain athleisure look complete with a gold cropped hoodie with her initials embezzled in jewels on the front, denim cutoffs and shimmering high high toots.
Before it was over, mom to Rumi, Sir and Blue Ivy Carter had a few costume changes including a PCV leather leotard, and she brought her husband Jay Z out to do their duet of their 2006 song together "Deja Vu" and her sister Solange to perform "Get Me Body."
There was also a Destiny's Child reunion as our other alum Kelly Rowland and Michelle Williams joined Queen By for a few of their hits, "Lose My Breath", "Say My Name" and "Soldier".
Her set was an ode to Historically Black Colleges and Universities (HBCUs) because it featured a large marching band, drum and majorette line, reminiscent to the types you'd see performing during a homecoming game at Howard, Flordia State or Grambling State.  (edit: There were actual FSU bandmembers playing). There was even an interlude when she acted as the prophyte initiating a new line into her fictional fraternity "B A K" — which could stand for Beyonce and Knowles or, Beyonce Phi Knowles or Beyonce Delta Knowles (couldn't tell if that was an A, Delta or Phi symbol)  who knows. The mock probate was entertaining!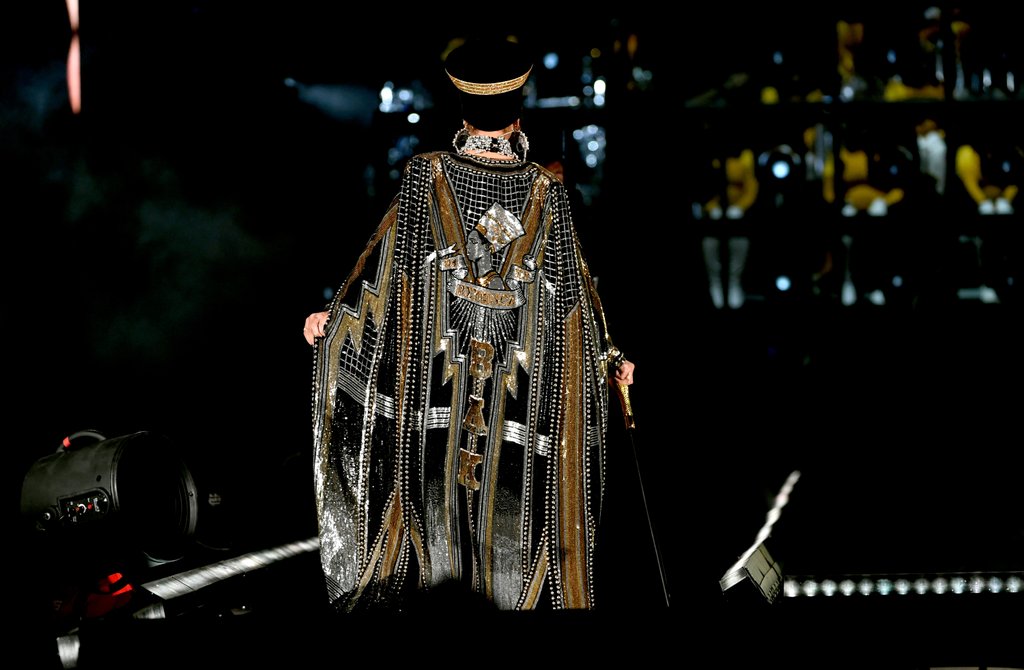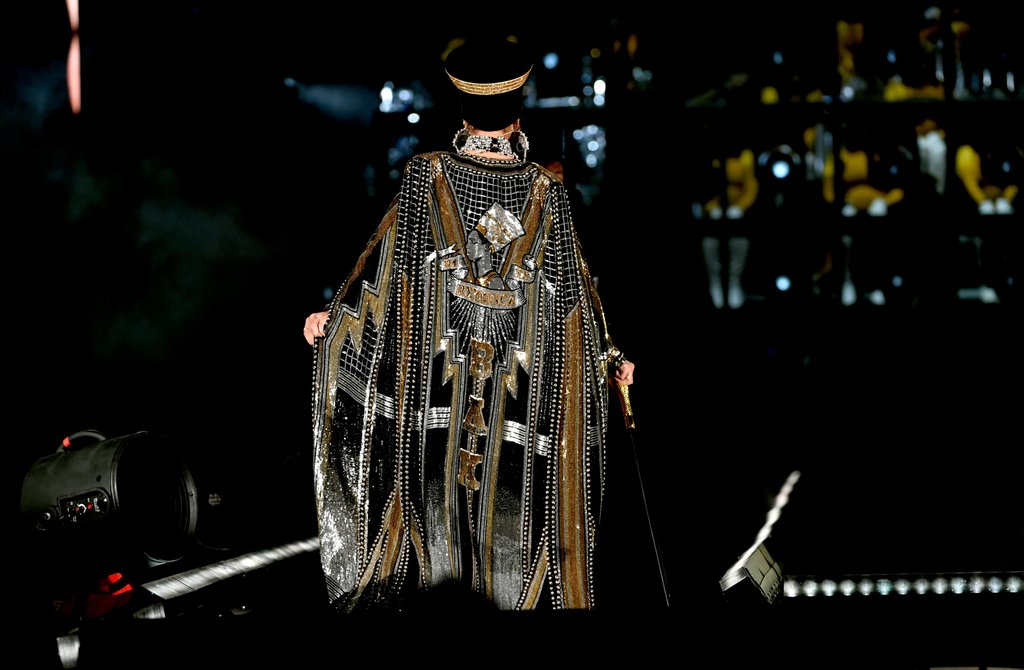 A few of the dance moves during the set include "stepping" which is a traditional hand, clap and stomp movement common in Black Greek step shows with roots in African dance, ritual and customs.
Beyonce was supposed to headline at the festival last year, but she postponed her appearance after she announced she was pregnant with twins.
Here is Beyonce's complete set per JustJared.com's snoops. See the entire performance HERE!
CIRCLE ONE
1. "Crazy in Love"
2. "Freedom"
Interlude with "Lift Every Voice and Sing" (Poem by James Weldon Johnson)
3. "Formation"
4. "Sorry" / "Me, Myself, & I"
5. "Bow Down" / "I Been On"
6. "Drunk in Love"
7. "Diva"
8. "***Flawless." / "Feeling Myself" / "Top Off"
9. "7/11″
CIRCLE TWO
10. "Don't Hurt Yourself"
11. "I Care"
12. "Partition / "Yonce"
13. "Mi Gente"
14. "Baby Boy" / "You Don't Love Me"
15. "Hold Up" / "Countdown"
16. "Check On It"
17. "Deja Vu" with Jay Z
CIRCLE THREE
18. "Who Run the World"
19. "Lose My Breath" with Destiny's Child
20. "Say My Name" with Destiny's Child
21. "Soldier" with Destiny's Child
22. "Get Me Bodied" with a dance break from Bey and Solange Knowles
23. "Single Ladies"
24. "Love on Top"
photos: YouTube, Beyonce.com, Getty, Instagram
If you'd like to know more insider tips, want a critique of a site you've created or if you are interested in starting a blog or website yourself but do not have the time, patience, bandwidth, know-how or ability to get it done, let me set it up for you and train you on how to keep it going with my "Do-It-For" you consulting service,
Visit my Personal Consulting Site and Book a spot today!