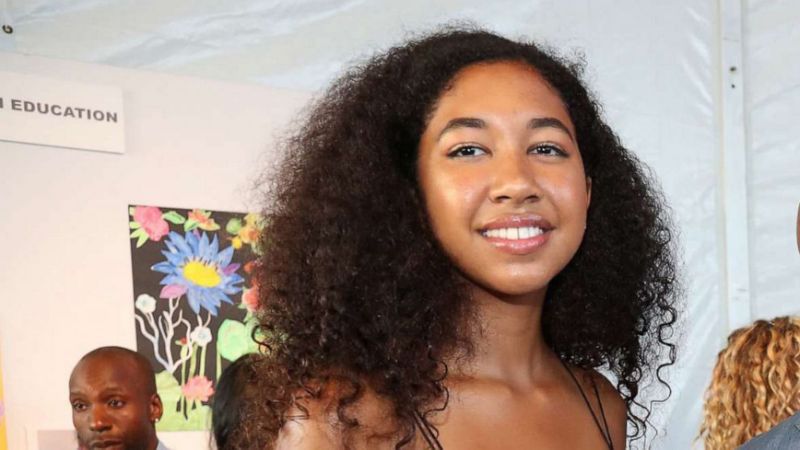 Back in 2016, I did a post about Aoki Lee, the youngest daughter of Kimora Lee Simmons and Russell Simmons commenting on how she rarely shows images of her face on her Instagram page compared to her sister, one year old, Ming Lee who is fine flossing and stunting on the gram…like their mom!
My intent was not for the post to be a take down but a social commentary on the reason I think she did hide her face: to shield herself from the ever present scrutiny of members of the public who cannot help themselves but comment on her beauty.
I wrote about good and bad in the incredible amount of new access fans have of celebrities in the age of social media:
On one hand, it gives them access to fans and helps them prove their brand relevance and importance by enabling them to quantify fans.  It can be used as a tool to keep them famous and relevant. On the other hand, social media make it too easy to get direct contact with people in the public eye and along with the good of being able to show off their  filter-free and authentic selves, celebs also open a window and let in all the insecure, petty, jealous and downright meanies who love to troll and diss them too.
The post got a tremendous amount of traffic after is published and for years after and I did not understand why. A year or so ago, I realized it is because of the headline and people are using "ugly" in searches for Aoki and coming up with mine. The headline is insensitive and a bit mean: "IS AOKI LEE WHAT HAPPENS WHEN A CELEB CHILD GROWS BEING CALLED UGLY BY PUBLIC?"
I apologize for this headline and the spin which I now think is a bit harsh, overly critical and the wrong tone.
We can grow.
But last year, she did acknowledge her insecurities I wrote about in an Instagram story:
"Ok guys so! I'm you've noticed I've been posting a lot more this summer! I used to be very picky about pictures and not really show my face, and would often not post pictures of cool events or important moments because I didn't like my smile or I was standing next to my beautiful sister (laughing emoji) it's easy to get insecure when your older sister and mom are models (laughing emoji) and I've dealt with a lot of negativity on Instagram, comments saying I'm not as pretty as my big sister (who is the best by the way)z We all want to look nice in our photos but I've tried to let all of that go and just post pictures were I look happy or was actually having a good time. I try not to worry who I'm standing next to and just share good moments with you guys"

And now the 16 year old is off to Harvard! She shared an Instagram video with the news that she got accepted even though she still has a full year of school left.
From Page Six:
"She's on her way to #Harvard!! We are sooo super proud of YOU!! Such hard work and only 16," Kimora added. "You did it! It took years of super dedication and lots of tears! But HERE YOU ARE!!! GO GIRL!!! Enjoy the journey! We are excited to see the great things you will do! Sorry I'm one of those SUPERLOUD MAMAS! She also got into Dartmouth, Vassar, Barnard etc!"
Aoki Lee, whose father is Russell Simmons, posted a similar video of her acceptance news.
In the video, Aoki's stepfather, Tim Leissner, is standing next to her.
She also quoted her mother saying she told her, "Thank god you got in on your own honey cause you can't row."
Russell also had a few choice words, adding, "So blessed @aokileesimmons made it into HARVARD and Kimora Myself or Tim didn't have to pull any strings or pay anyone to get her in  she made it on her own academic merit."
Just last year, Kimora graduated from the University of Hartford with a business degree.
Aoki will join Harvard's Class of 2023.