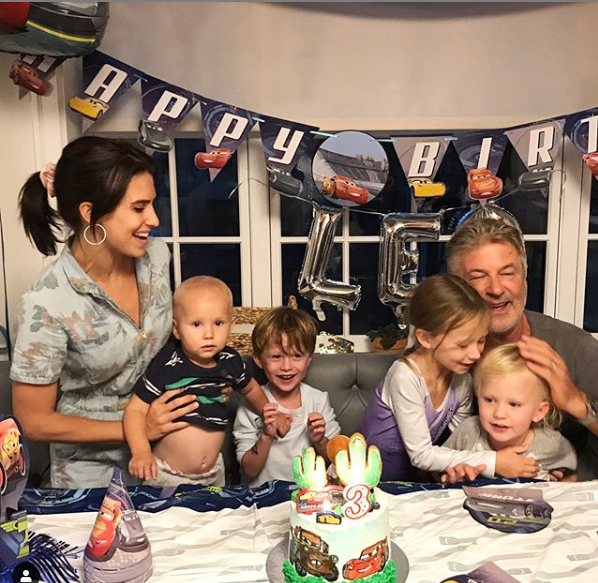 Hilaria Baldwin is expecting her fifth child with her husband Alec Baldwin.
This time, the celebrity yoga instructor chose to share the news when she was barely one month along. Traditional wisdom and advice from doctors say moms-to-be should wait  until three months or until the baby's heartbeat can be heard before announcing the news.
By that time, the risk of miscarriage false tremendously.
"
When you've had so many babies, 6 minutes pregnant = looking like 6 months pregnant," the yoga instructor joked about her tiny protruding belly while announcing the pregnancy.
When one of her fans asked why she decided to reveal this news so early, Hilaria replied that after having a miscarriage in April, she did not want to wait to answer speculation from fans.
"People poke around and try to find out what is going on," she said. "When you simply share what is happening, you take the story into your own hands and they tend to leave you alone more. Secrets are only interesting when they are secrets. Reports of my belly growing or my appearance changing spark rumors. That brings attention."
She continued, "Me coming out and saying what is going on gets the news out there … then they move on to the next story. It's been something I've learned over the past decade … this is one of the reasons I'm so active on social media. The news can take images for free from my page rather than paying a paparazzi to come follow me."
She and Alec marreid in 2012 and started a family right away in 2013 with the birth of their oldest daughter, Carmen Gabriela, followed by son Rafael Thomas, another son Leonardo Angel Charles in 2016, and 1-year-old son Romeo Alejandro David, born last year.
Alec has a 23-year old daughter named Ireland from his first marriage to actress Kim Basinger.
In June, Hilaria told People, "Why not keep going? They're my favorite things in the world so why not? I never expected to have a big family but since we signed on to it, at this point, why not? Why not keep going?"
There you go! Congrats and good luck!