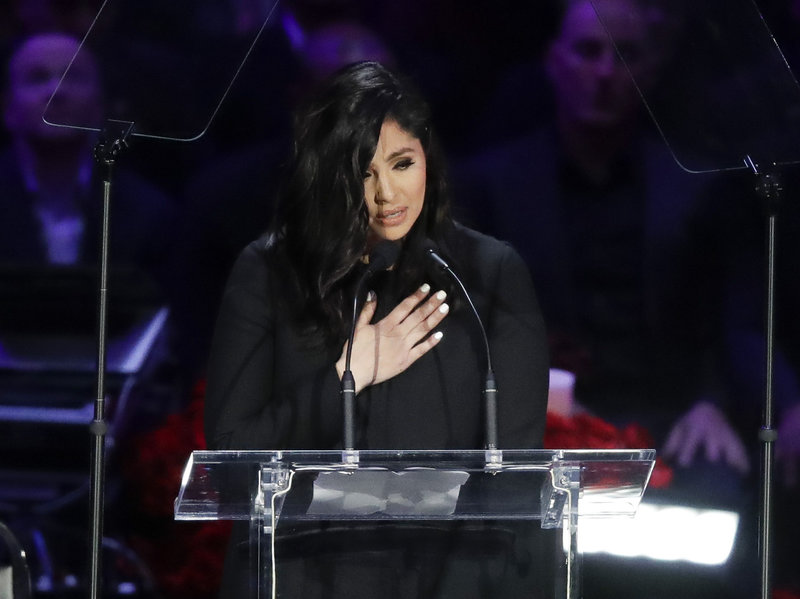 It was a somber bittersweet day in the
Staples
Center
in Los Angeles when 20,000 mourners packed into the indoor stadium that the late
NBA
Player
Kobe
Bryant
built to bid him and his 13-year old daughter Gianna farewell.
His widow Vanessa Bryant, a celebrity mom covered often on the blog, gave a heart breaking but still beautiful eulogy of her husband and daughter. As USA Today summarized in its coverage:
She mourned the loss of her "baby girl" Gianna, "a sweet and gentle soul" and preternaturally talented athlete who she said was destined for WNBA greatness. She remembered her husband as a soulful romantic with a "tender heart" and a "doting" father for whom family always came first.

"They were funny, happy, silly, and they loved life," Vanessa said of Kobe and Gianna, adding: "God knew they couldn't be on this earth without each other. He had to bring them home to heaven together."
Beyonce Knowles Carter opened the event performing one of her hits, "XO" which she said was one of Kobe's favorite song with lyrics that go, "In the darkest hour / I'll search through the crowd / Your face is all I can see / I'll give you everything." She later burst into a soulful rendition of her song, "Halo"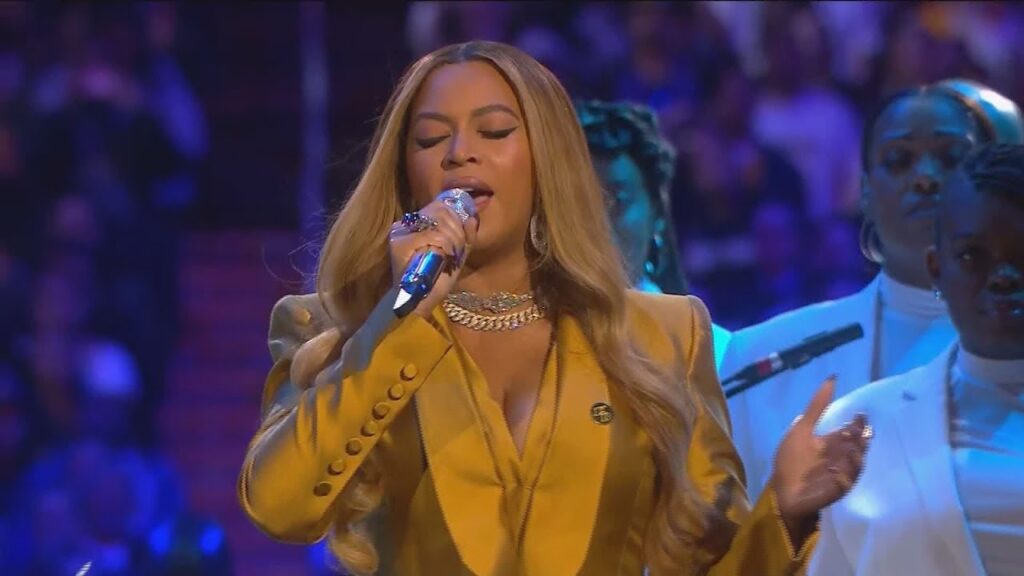 Alicia Keys moved the crowd by playing Beethoven's "Moonlight Sonata," a piece she said was favored by Kobe and Vanessa.
Keys had previously paid tribute to Kobe and Gianna on the night they died, performing "It's So Hard to Say Goodbye" alongside Boyz II Men at the Grammy Awards last month.
At various points throughout the event, the crowd broke out in chants of "Kobe! Kobe!"
Retired NBA stars Michael Jordan, Dwyane Wade, and Tim Duncan along with entertainer Jennifer Lopez and her fiance retired baseball player Alex Rodriguez and late night talk show host Jimmy Kimmel were all in attendance for the ceremony, along with other celebs like friends of the Bryant family Kim Kardashian West and Kanye West.
The date chosen for the memorial — Feb. 24, or 2/24/20 — is a combination of their jersey numbers. Gianna wore No. 2 and her dad wore No. 24 in the latter part of his 20-season career with the Los Angeles Lakers.
Tickets went for variations of 2 and 4, $24.24 or $224 for two.
Several NBA legends like former teammates  Shaquille O'Neal and Jordon gave rousing speeches by my fave was by University of Oregon player Sabrina Ionesco who gave a wonderful speech and tribute to girls sports too in honor of GiGi .
"I still text [Kobe] even though he's not here."

– Sabrina Ionescu while speaking at Kobe and Gianna Bryant's Celebration of Life pic.twitter.com/sOVh82u68Z

— espnW (@espnW) February 24, 2020
Proceeds will go to the Mamba & Mambacita Sports Foundation which raises money to provide sports education and training services for young women. The foundation was originally established as the Mamba Sports Academy, but Bryant's widow announced that the name was changed to honor their daughter.
Kobe Bryant gave himself the moniker "Black Mamba" after a character in the Quentin Tarantino film Kill Bill.
"Because there is no #24 without #2, we have updated the Mamba Sports Foundation to now be called the Mamba & Mambacita Sports Foundation," Vanessa Bryant wrote on her Instagram page announcing the name change.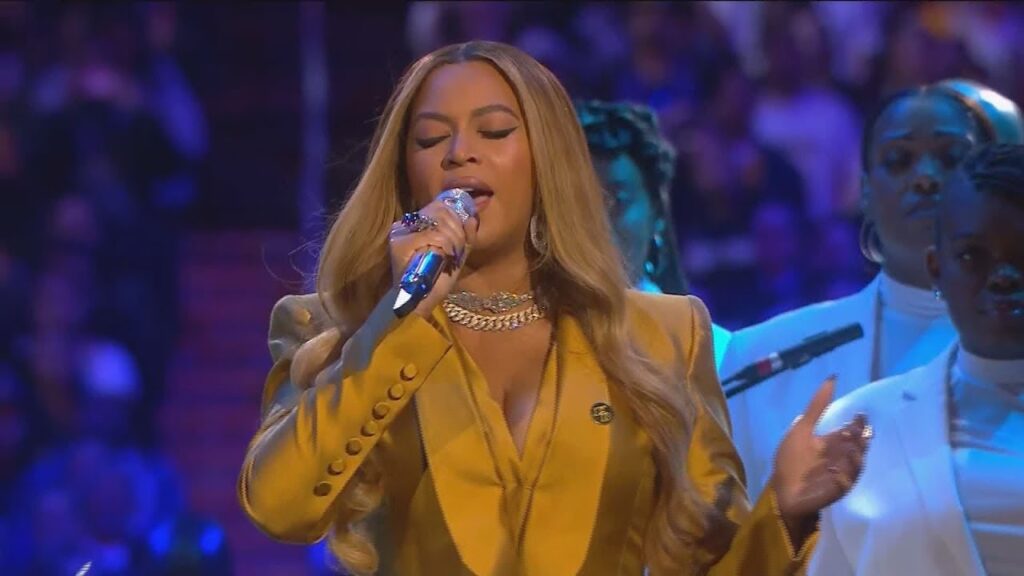 The two were headed to a game during a basketball tournament at a sports arena in Thousand Oaks, California named for Mamba when the helicopter they were riding in crashed killing them along with Orange Coast College baseball coach John Altobelli, 56, his wife Keri Altobelli, 46, and their daughter Alyssa Altobelli, 14; Sarah Chester, 45, and her daughter Payton Chester, 13; as well as Mamba Sports Academy coach Christina Mauser, 38; and pilot Ara Zobayan, 50.
Vanessa, when you told me the Moonlight Sonata is such a beautiful part of your love story bc Kobe vowed to learn it for you, I was speechless… I felt the depth of your love for each other & your girls with every note I played today. The love between u lights up the world. pic.twitter.com/NeVOggET3k

— Alicia Keys (@aliciakeys) February 24, 2020
Also from a NBCNews report:
Bryant and his daughter were traveling to Gigi's basketball game in a Sikorsky S-76B helicopter, when it crashed into a hillside in Calabasas, Calif., on Jan. 26. All eight passengers and the pilot were killed.
The Bryants were laid to rest in a private ceremony in Southern California on Feb. 7.
Before the public ceremony got underway, the Los Angeles Times reported Vanessa Bryant has filed a lawsuit against Island Express Helicopters, the company that operated the chopper. NPR later confirmed the lawsuit with the Los Angeles Superior Court.
Investigators are still working to determine the cause of the crash. The National Transportation Safety Board said in its investigative update this month that the chopper's rotors were both powered and turning at the time of impact, which it said indicates "the engines showed no evidences of uncontained or catastrophic internal failure."
Photos taken shortly after the crash show conditions were foggy in the hills above Calabasas, but as NPR's Russell Lewis has reported, the final investigative findings are not expected for at least a year.
photos: Getty