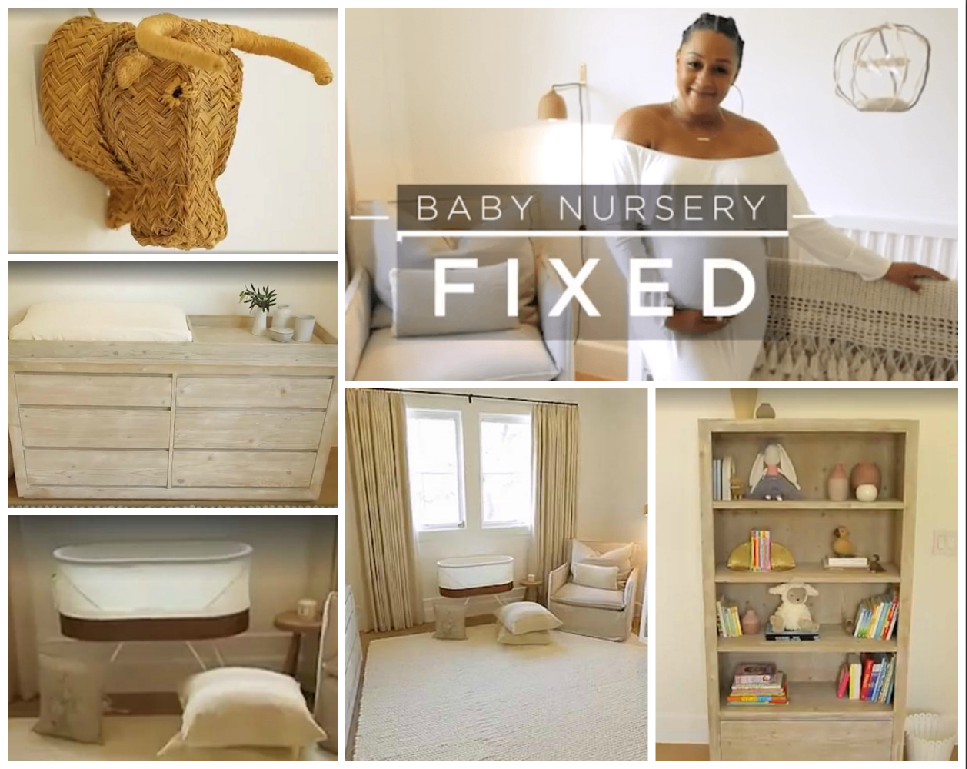 Tia Mowry Hardrict revealed the insides of her soon-to-arrive baby girl's organic and rustic nursery to her fans on her Facebook page.
The Sister Sister alum elicited the assistance of interior designer Jake Alexander to create a neutral palette room that Mowry Hardrict said would give her daughter's personality time and room to customize over the years. In the video, she said she "want[s] the baby to feel comfortable" in her nursery.
The cookbook author added that because and her husband Cory Hardrict's lives as actors are hectic, she wanted a "calming" space.
The organic feel of the nursery also mimics the vibe of The Game alum's rustic baby shower earlier this month.
"I want the whole environment to be calming," she explains. "That's one of the main reasons we chose these earth-tone colors — and not only that, I feel like her name is very grounded and very earthy, and I wanted her nursery to represent that."
The former cooking channel host also said in a previous video (see below) about the difference between her first and second pregnancy is that she learned to not accumulate a lot of products and clothes and furniture for the sake of having them.
"I've learned not to just buy so much stuff and for things to be so overwhelming," she adds.
Tia Mowry's Baby Girl Nursery Reveal

An organic color palette & minimal clutter make for an ultra calming environment, which is perfect for me & baby girl!Take a peek inside her nursery that I created with my dear friend Jake Alexander. See more of his work here: http://bit.ly/JakeAlexanderQFMake sure to follow Quick Fix for more episodes.

Posted by Tia Mowry's Quick Fix on Friday, April 27, 2018
Mowry-Hardrict says "everything is organic" in the room, from the crib sheets and mattress to the stuffed animals, and that adding wooden fixtures throughout was "really important" for herself and husband Cory Hardrict, with whom she also shares 6½-year-old son Cree Taylor.
She also said that she created a space that her baby can "grow" in, noting that the changing table and other stuff on top of the baby's dresser can be removed when the baby gets older.
"She can actually use this furniture in her teens if she wants to," Mowry-Hardrict raves of the light-colored wooden bookshelf and matching dresser (which doubles as a changing table for now).
"What I love about [this furniture is] it's rustic, it's organic, as if you're taking the outside and bringing the outside in,"  she added. A basket weave bull head is affixed on one hall to reflect the fact that the baby is due under the astrological sign Taurus, noted by a bull in the zodiac.
"What that means is strength. And her name means a little bit of that as well, so you can see that there's some sort of thread there, tie-ins," she explains. "I thought that was a nice touch."
The baby will sleep in one of the high tech smart sleeper called a SNOO which emits white noise and gently moves while baby is sleeping to encourage longer and calmer rounds of sleeping.
"One of my friends just had a baby and he texted me and he was like, 'Tia, you gotta get this thing called the SNOO,' " recalls the actress and lifestyle expert. "He said, 'It saved our lives!' and I was like, 'Okay!' "
As a report in People noted,  couple of standout items in the baby girl's wardrobe and accessory collection include a backpack that says "THE FUTURE IS FEMALE," multiple pint-sized coats, tutus and even one floral-patterned ensemble with matching booties that has a special personal meaning to Mowry-Hardrict.
"I got this outfit because it reminded me of a baby outfit that I wore when I was a baby," she says. "So when I saw it I was like, 'Oh my gosh, I definitely have to get this for her.' "