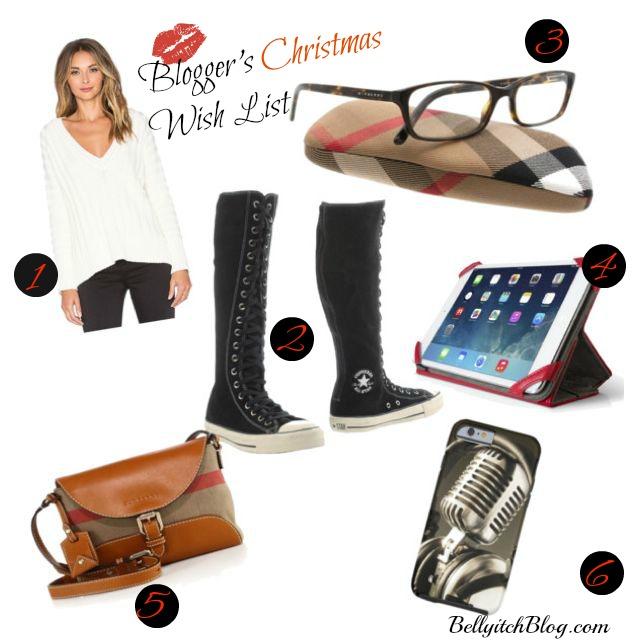 This time of year, people are assembling their Christmas wish list and dropping hints. I am one of them! Here are 6 items on my wish list that are making a repeat appearance from a past year:
1. Exlura Women's Off Shoulder Batwing Sleeve Loose Oversized Pullover Sweater Knit Jumper – $22.90
I love silk and silk blend sweaters because they feel great on the skin and have longevity compared to those made of synthetic materials. You can wear this sweater with jeans on the weekend or over dress pants and wear them at an evening function. Love.
2. CONVERSE ALL STAR Boots • Converse • $59
It's getting cold so it's boots weather and because I'm always on the go, these Converse boots are a combo of my active sneakers and my riding boots and are Perfect! They are different and will turn heads.
3. Burberry  Plastic Sunglasses • Burberry • $103
I lost these very same glasses a month after I got them this year so a replacement would be great. I love these frames. They fit my face wonderfully.
4. Apple iPad Pro $30 per month+
I love that the iPad Pro  is large enough to function as a laptop and a tablet. I checked out the specs and other functionalities and they're tops. I'd love to get one of these one of these on Christmas morn.
5. Burberry Small Leather & Canvas Check Henham Cross body Bag • Burberry • $595
I don't go anywhere without my Coach cross body bag. It lets me keep my hands free and my bag secure to my body. I would love to  get a larger one that can fit more things and can let me give my other bag a rest. This Burberry cross body bag would be ideal!
6. Marc by Marc Jacobs Door Knob iPhone 6 Case • Marc by Marc Jacobs • $88
I have been using the massive protective Otter case that I purchased when I got my iPhone 7  for the longest time because not a lot of manufacturers of chic cases had them available when I first got it. I'm a selfie queen so a stylish alternative to the boring grey I have now would be amazing!.
That's it for this blogger! What's on your Christmas wish list?