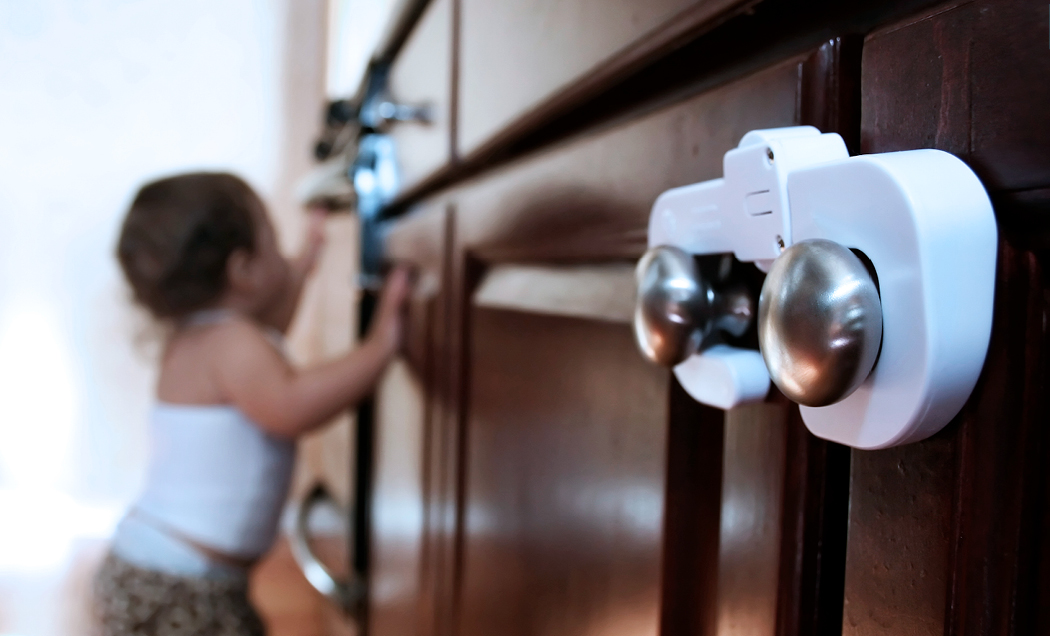 Bringing home your newborn baby can be scary. They're so small and delicate it seems like anything could happen. Take the time to safety proof your home room by room so you can be more focused on lullabies and joys of parenthood.
Bedroom
While you already know to cover your electrical outlets and keep small items off the floor, there are other hazards you may not be aware of in your baby's room. Start with the crib. Parents recommends getting a fixed-side crib (instead of a drop-side crib) so your baby isn't at risk of hurting themselves if the drop side breaks or to protect them once they're big enough to start getting themselves out of the crib. You also should keep the crib empty of stuffed animals and other big, cushy items because they can pose a suffocation hazard to small babies, and they can be used as a step stool to climb out of the crib when they're older.
Furniture stays are also a big help since little kids like to walk, climb, push, and test their boundaries. You need to make sure that any large furniture (dressers, bookshelves, carts) is attached to a wall or fixed in place so it can't tip over.
Kitchen
Kitchens don't have to be a dangerous place for your baby. Your new favorite item will be cabinet locks. By putting them on, your child won't be able to get into a drawer full of knives or glass items (and then you won't have to worry about picking up all the Tupperware they threw on the floor). You also should invest in an oven lock. While the oven door may seem too heavy for them to open, you don't want to risk any accidental burns.
You also need to make sure everything is out of your child's reach. Though this might not be a big deal when they're just a few months old, it's a good habit to get into as they become more mobile. Cook on the back burners of your stove and turn the handles inward to make sure your baby can't pull off any hot pans. You also should put hazardous items, such as cleaning supplies and knives, in high cabinets with a safety lock. Avoid hanging choking hazards on your fridge, such as magnets, and keep any glass items out of reach.
Living Room
You'll spend most of your time in the living room with your family. Make sure that all electrical outlets are covered with baby-proof sockets and that all wires and cords are tucked away where they can't be reached by small, curious hands. You may want to put baby guards around the corners of your tables and secure any decorations that could be pulled off your coffee table or entertainment center.
Set up a home automation system to help you feel more secure. With this tool you can set your alarm system, lock your doors and control the lighting and temperature of the room. These home automation features are perfect when you can't move the sleeping baby in your lap. A video surveillance camera also can work as a nanny cam, so you can check in on your baby when they're with a babysitter. It can also work as a baby monitor, so you can watch your baby while they're sleeping.
As your baby grows and becomes more mobile, you'll need to update your safety proofing. Make sure to periodically go through your rooms and check for any potential hazards. Enjoy this special time without having to worry about your child's safety.