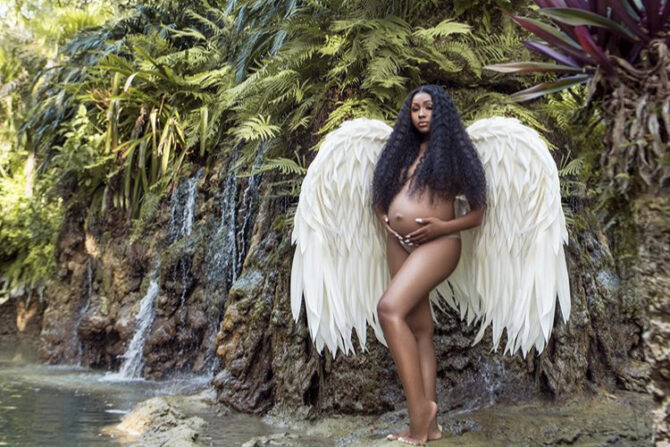 Caresha Brownlee, aka Yung Miami, one half of the female rap group City Girls celebrated the impending arrival of her second child, a daughter with an angelic maternity shoot.
Brown, who is expecting with her beau, music producer Southside and decided to name their little girl, Summer.
"A Gift From God," she captioned a series of photos from the shoot, in reference to her baby girl. "My Angel. My Princess. I can't wait to meet you."
Her team opted with simple wings, long cascading loosened braids, soft pastel lingerie and drawings, jeweled hand and feet adore my and a bare bump in a Polynesia-like backdrop.
Gorgeous!
This summer, Brown announced in a BET special that she was expecting. She has a son from a previous relationship.
It's been a roller coaster pregnancy.
The young star has had to hold things down for her bandmate, JT, currently serving time for fraud and she survived a drive by shooting while balancing her newfound fame after being featured and catapulted to stardom after Drake sampled their vocals in his "In My Feelings" hit song.
Phew! Mamas do it all!