It's a new year and Car Show season!
If you're feeling the belly itch and you're expecting to increase your family in 2019 or 2020, you may need to consider buying a more family friendly car this year.Here are our 5 top picks for family friendly cars to buy in 2019 if you're expecting.
Photo credit: Simon Yeo
Mazda CX-9
Once again, for families in 2019 it's still all about the SUV. Our top family friendly SUV pick is the Mazda CX-9 as it has an impressive ride and handling. It's also got awesome advanced safety tech to keep new bub safe on the road. Older kids also won't get bored on longer drives with Apple CarPlay and Android Auto. As a seven seater this one is perfect for larger families or for those parents who play chauffer to not only their own kids but their friends as well. This one comes in front and all-wheel drive models depending on your needs.
Photo credit: M 93
Chevrolet Malibu
If you're not looking into buying an SUV then you might want to look at the Chevrolet Malibu for your family's needs. The Chevrolet Malibu comes with a bunch of family friendly features. Perhaps most importantly it has excellent fuel economy for parents who are forever chauffeuring the kids around. The engine is officially rated for 33 miles per gallon on the highway and 26 mpg combined but many reviewers have fared much better during test drives. For a sedan this big, that's pretty impressive.
Photo credit: The NRMA
Toyota Hilux
While not readily available in North America, though it can be ordered, the dual-cab doesn't normally go hand in hand with family life, instead being designated to tradesmen, the Toyota Hilux seamlessly brings the comfort and room of a family car together with the handiness of a utility vehicle. This is the perfect solution for growing families that only want one car and for those that have many home renovation projects on the go. The performance is excellent and has super safety features to boot including 7 airbags, reversing camera, auto levelling LED headlights, daytime running lights and electronic stability program.
Volkswagen Golf GTI
The Volkswagen Golf GTI is our top pick for families that don't need as much space and seating. Available as a 6-speed manual or automatic the Golf GTI is a fun little car, super affordable for those on a budget and of course very family friendly. Complete with a large infotainment system kids both young and old will enjoy riding in this car on extended trips or just to and from school. Cool sport seats in the front and a digital dash brings this hatch up to speed with far more expensive models.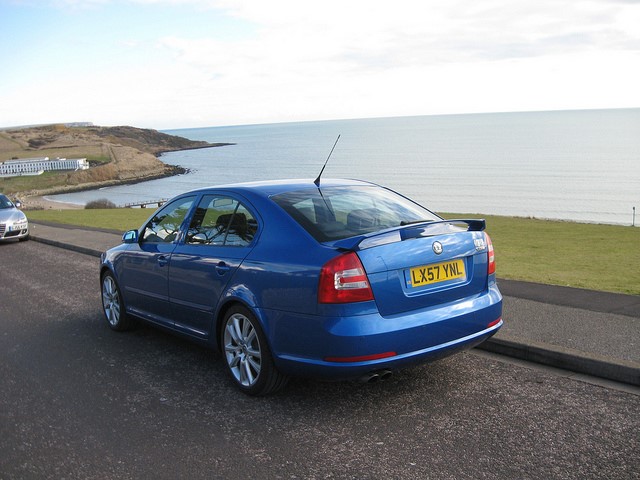 Photo credit: Andrew Bone
Skoda Octavia
The Skoda Octavia hatchback is the perfect choice for sensible families, however it's also a lot more fun to drive than you probably think. While it's a hatchback it's still very spacious for the whole family, including a huge boot perfect for soccer parents. Opt for the Octavia Estate if you're after a car with even more room in the back, the four-wheel-drive Octavia Scout if you're looking at taking your family on light adventures and the sporty Octavia vRS if you're all about performance.