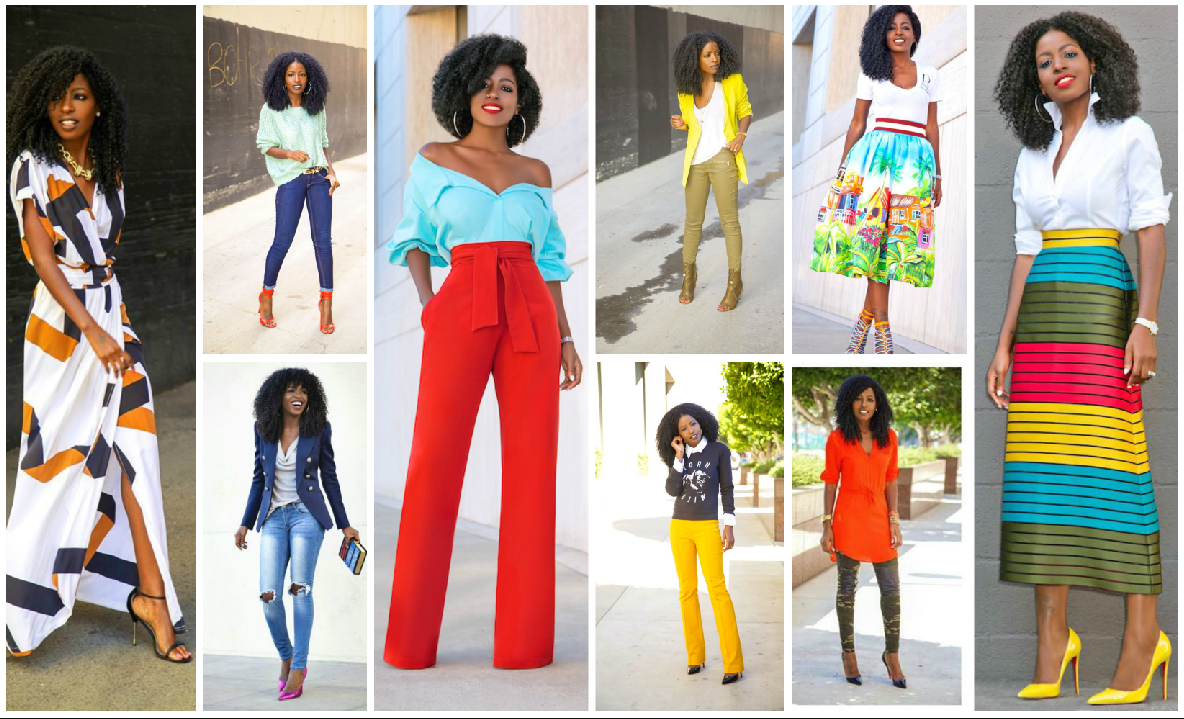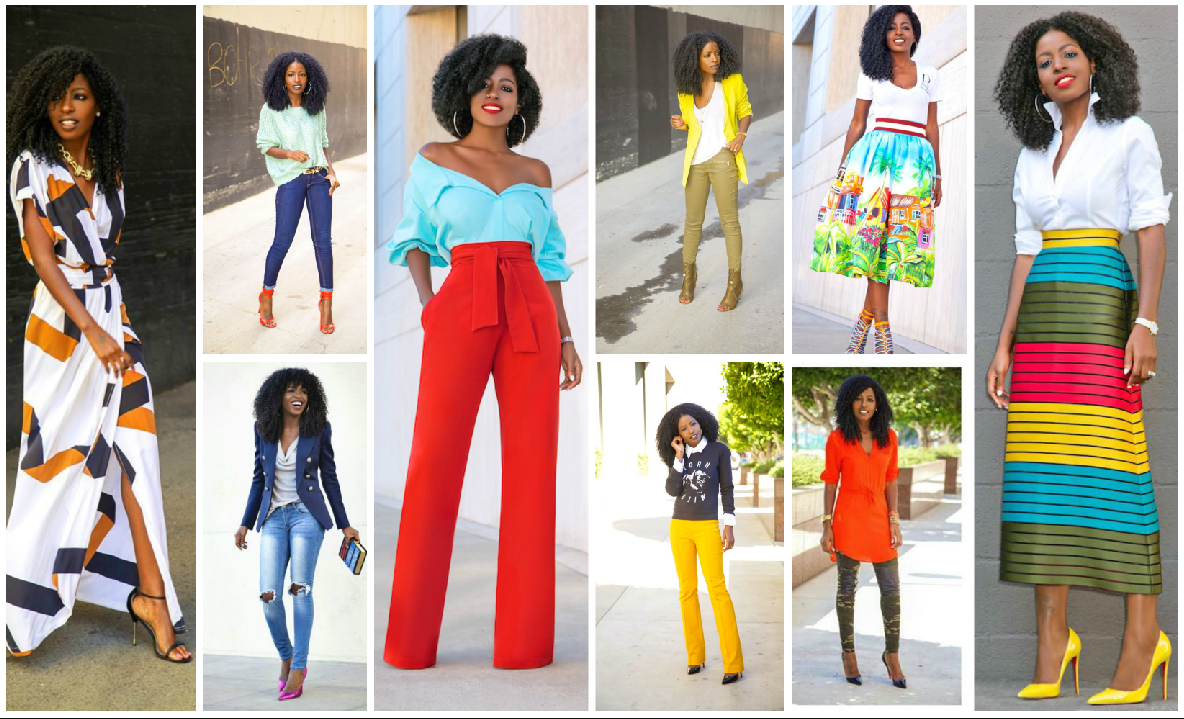 With Mother's Day around the corner, a lot of moms may be expecting to be taken out for Brunch, lunch, dinner or cocktails by their family, friends and/or significant other.
It  you are one such mom and in search of an outfit idea on what to wear, I invite you to take a look back on my feature on fathion Blogger Folake Kuye Huntoon of Style Pantry.
I just adore her fashion aesthetic. She plays with color and sticks to clean lines while still being daring and bold with her selection of pieces.
She keeps it simple. Her daily looks are usually defined by just three pieces. Each are obviously carefully selected for maximum impact and they work so well! It's so effortlessly chic! Love it!
She is also, in my opinion, the most replicated blogger out here because on any given day, as I peruse my fave sites, social media pages or other places on line, people are ripping her style and recreating her looks. Some enterprising online retailers even rip her images to sell recreations of her looks. She has over 700,000 Facebook followers an dover 28,000 followers on Instagram because she brings fresh looks every day. That is amazing.
I guess I am joining in on the fun. I pulled 9 of my fave looks and curated pieces so you can recreate the look yourself for under $100! Look:
I love everything about this look down to the satin pink pumps. The nautical or military style blazer is a great frame. The grew cowneck shirt underneath adds depth and the distressed denim with the cutout says "I don't take myself too seriously!" Love!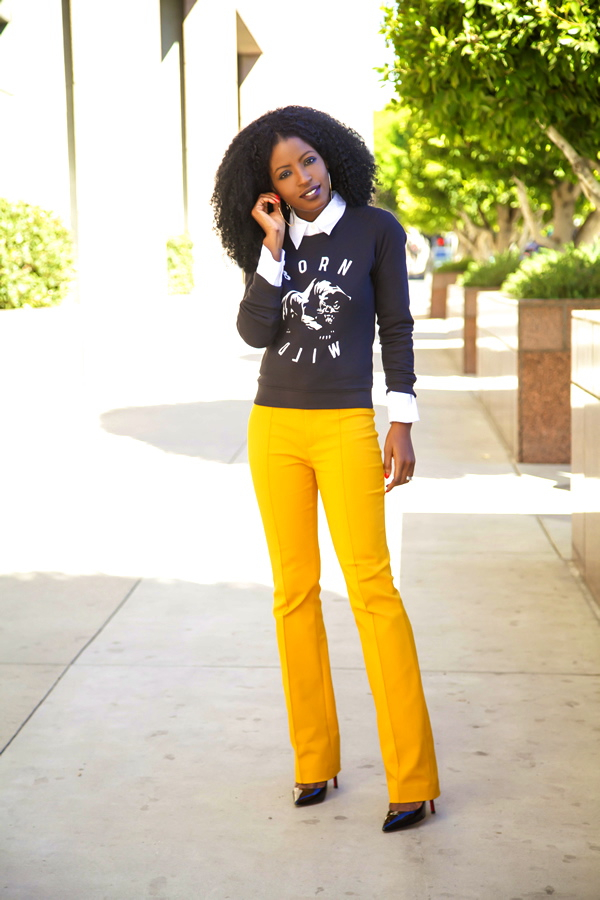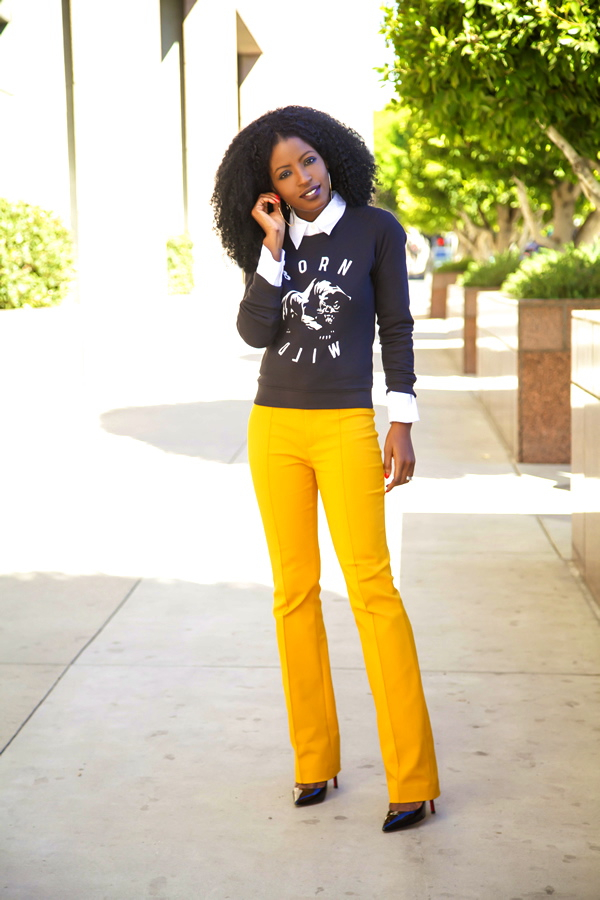 Yellow pants is hard for anyone to pull off but she smartly paired them with a conservative navy blue fitted sweater over top a crisp white shirt. It's the perfect juxtaposing. Swoon!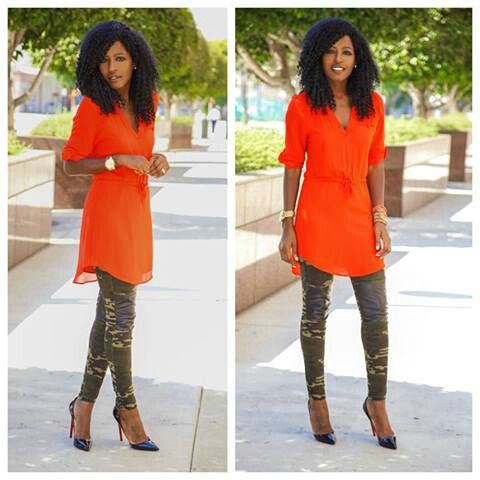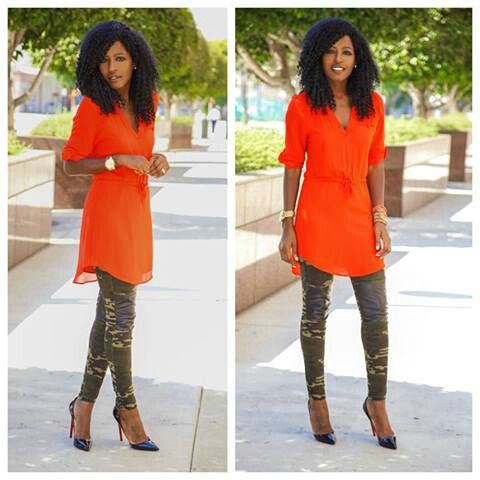 I am a fan of tunic tops because I think they flatter any shape. The orange belted shirt could be a dress for someone short. The military camouflage printed pants are the perfect balance to the brightness of that top. She then "upscales" (is that a word?) the entire look with navy patent leather pumps. I also love the bangle accessories and rose gold watch.
This wrap dress is everything. The geometric lines weaving through it gives it flow and personality on its own. It needs little accessorizing outside the chunky gold statement necklace and simple black strappy sandals.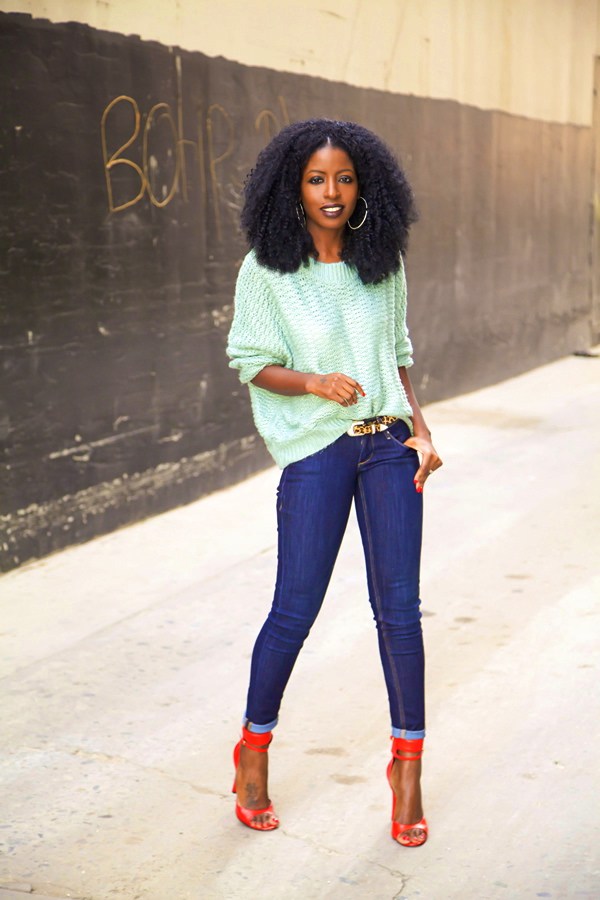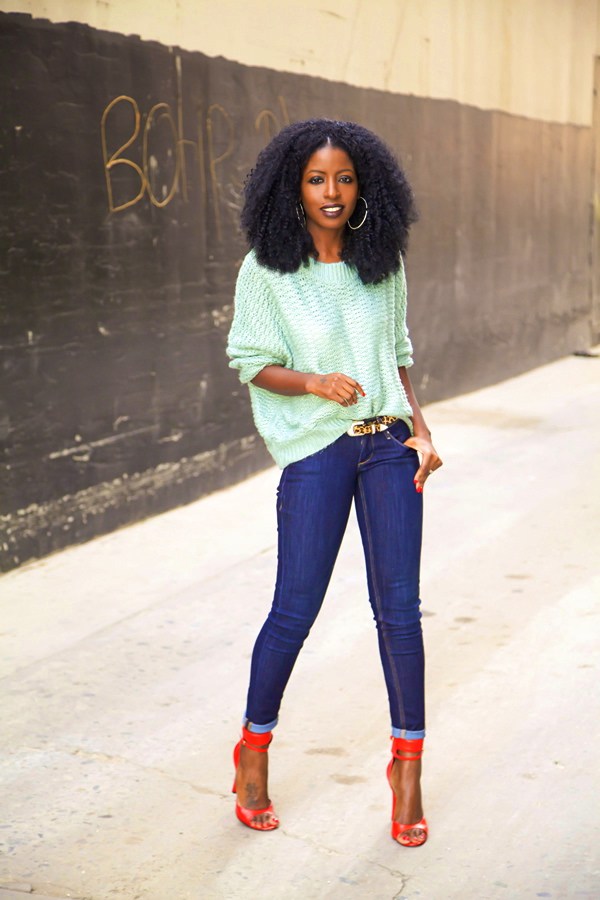 I spend most of my life in casual clothing. I love oversized comfortable sweaters and that is why I admired this aquamarine loose-fitting cable sweater that she wore with some dark denim cuffed skinny jeans with orange heels. Smart!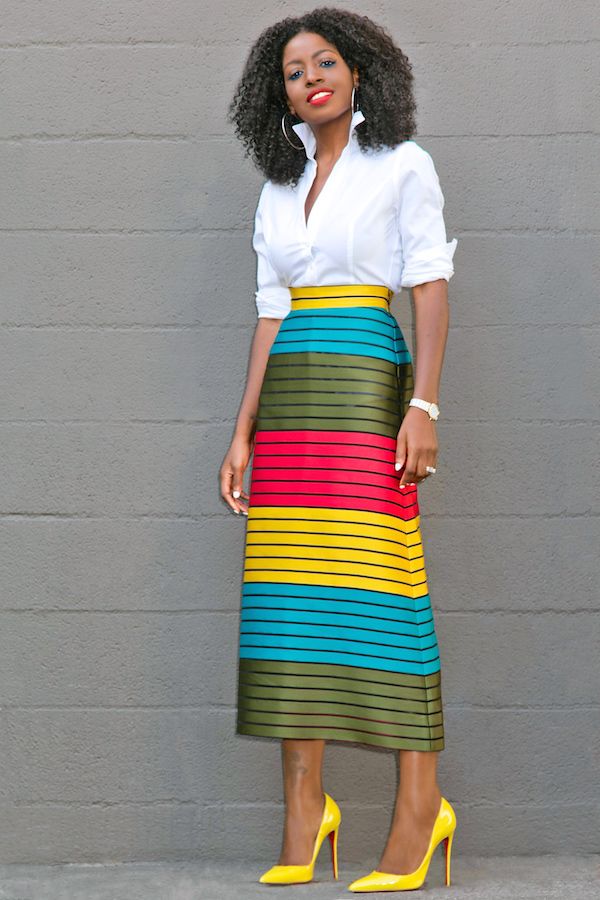 This skirt is hard to find but the rainbow colors make me smile. This skirt has a personality on its own and that's why it was right to pair it with a simple boyfriend collar shirt and of course, yellow pumps to make it pop even more!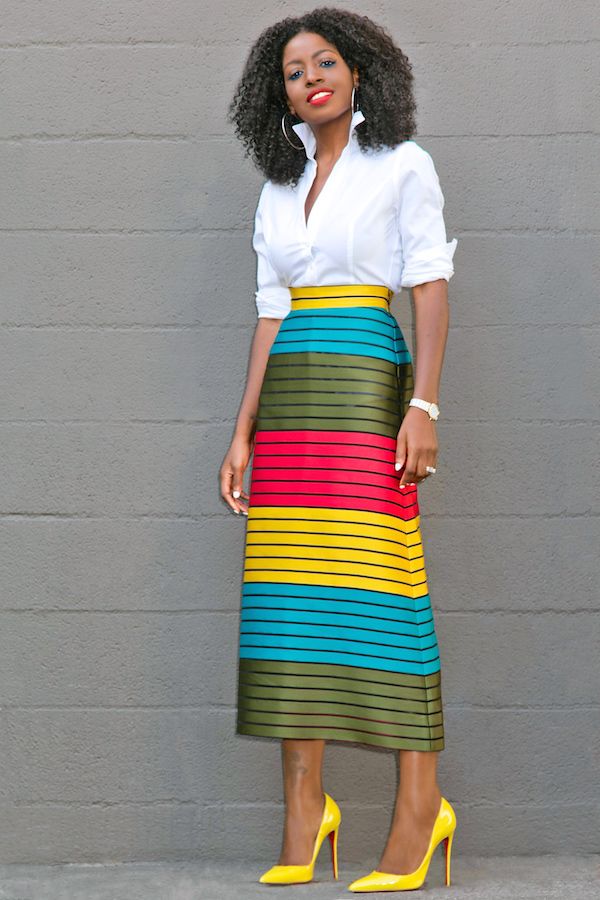 What a no-nonsense look! I've been on the hunt for a yellow blazer as it is the most appropriate color for Spring which is on the horizon. I really dig the brown pants and brown leather peep toe booties with the chains. It's a bad ass outfit for sure!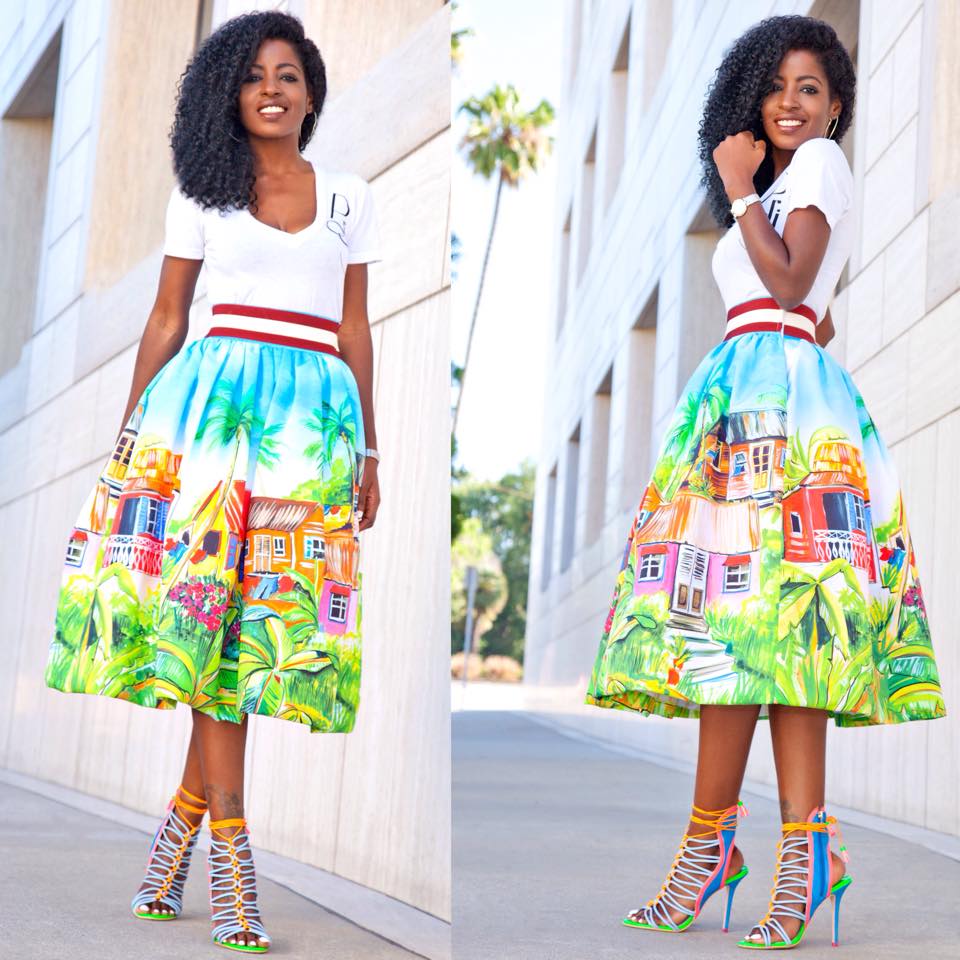 The African girl married to an Island man in me cannot get enough of this look. She has a bright painting on her dress that I would want to hang in my living room. I have to go back to her blog to see who makes these awe-inspiring sandals because they are fire. That's all I have to say.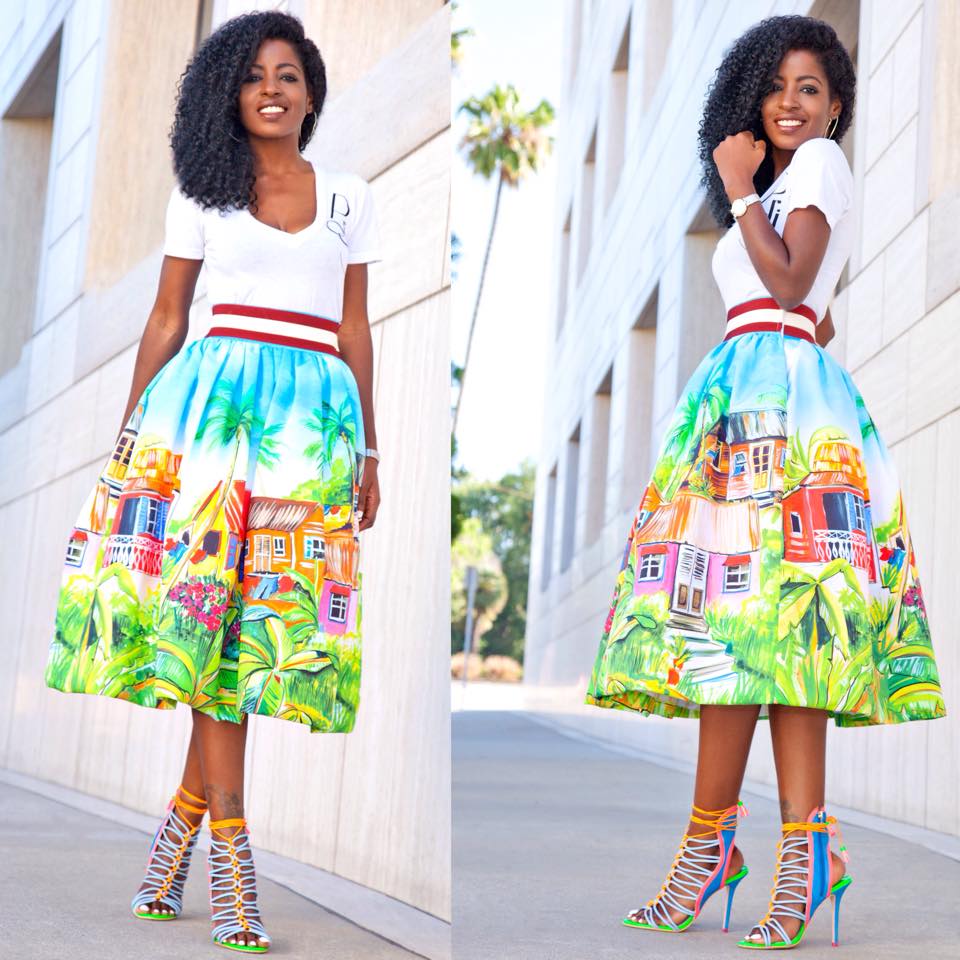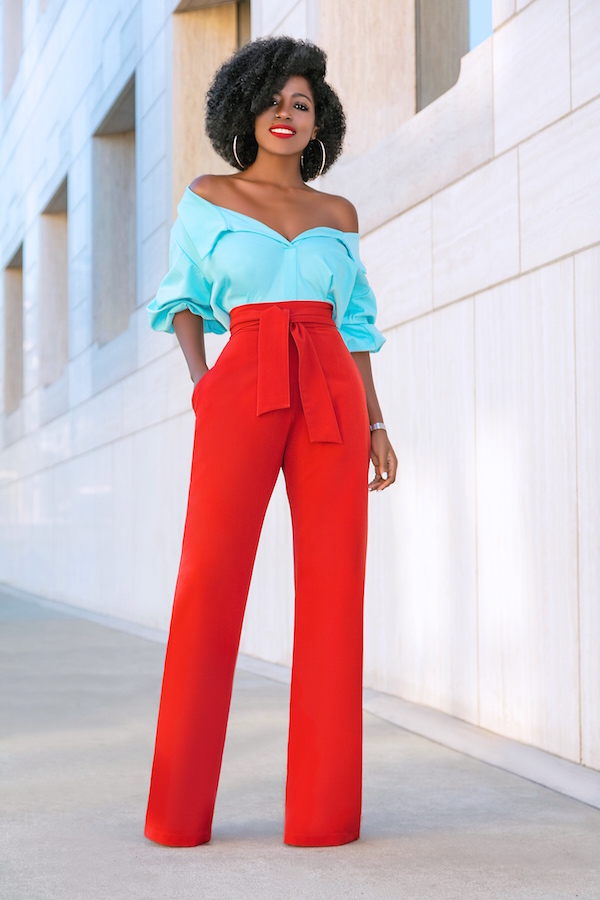 Big red Palazzo pants are tough for anyone to pull off especially short girls like I am, but I love them on her. The off the shoulder peasant top is sizzling on its own too. Then when the two items connect, electrifying!!. And the oversized hoops are the ideal icing on the cake! Oh and the crimson lip. Can't forget that!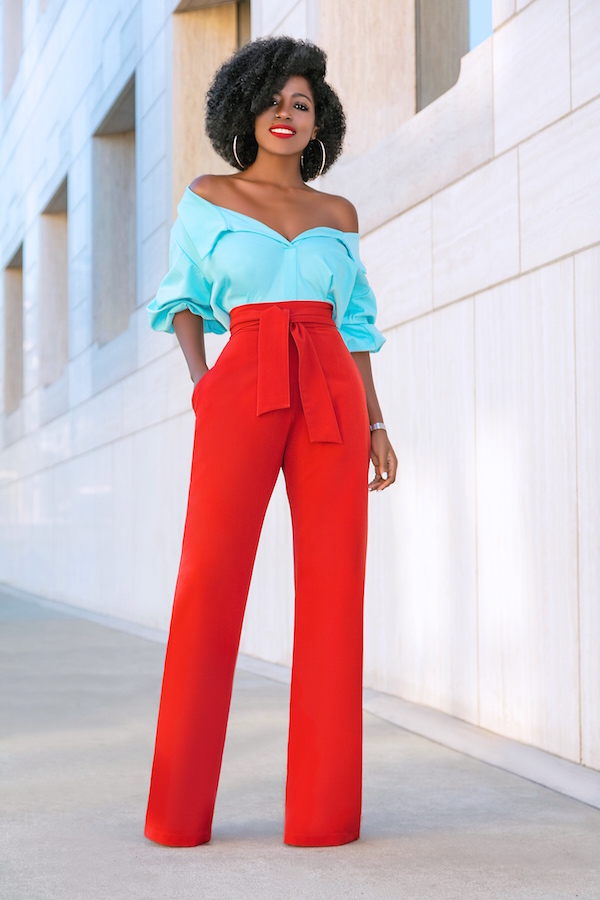 Which is your fave!? Find me on social and let me know!