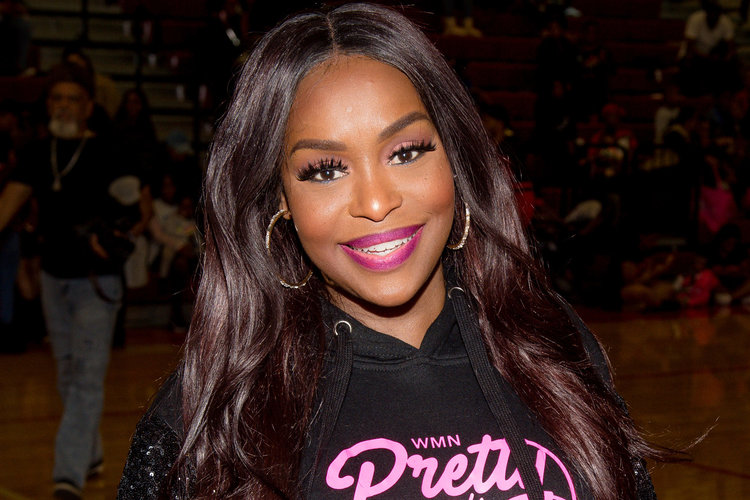 Married with Medicine star Quad Webb is the latest Bravolebrity to welcome a child and the second in a few months to do so solo.
Webb introduced the world to her new daughter, Ariana, and recently shared a tender first photo on her Instagram page this week.
Just last week, rapper Iggy Azalea decided to use the Black Lives Matter movement to introduce the world to her new son she had delivered weeks prior with beau and fellow rapper Playboi Carti.
Similarly, Webb did too, using the motto of the movement to share a first photo of a  baby born months ago in April.
"Life is precious, it should be protected and valued #blacklivesmatter," Quad captioned a photo of her daughter grasping her thumb.
She had previously announced the April birth and plans to retrieve the baby named from her birth home safely during the COVID era.
"It is exciting news, and there are so many moving pieces. My mom and I are extremely happy to welcome baby Ari to her new village," Quad told Bravo TV's media subsidiary The Daily Dish in a statement. "She was born on April 8th, and since then we have been working to get her home to begin what will surely be a joyous, successful and opportunity filled life."
She also talked about the rapid changes she's had in her life since finalizing her divorce from Dr. Gregory Lunceford whom she was married to during most of her stint on the Bravo TV franchise show.
"There's so much happening so fast! I've been in the process of looking for a new home, and now it has a completely different meaning," she shared. "I'm eager and anxious, as my family means so much to me. We thank you in advance for all of your prayers and well wishes."
Another Bro TVav star Golnesa "GiGi" Gharachedaghi delivered her first child solo as did executive producer and host Andy Cohen who welcomed a son via surrogatre last year.
Congrats!