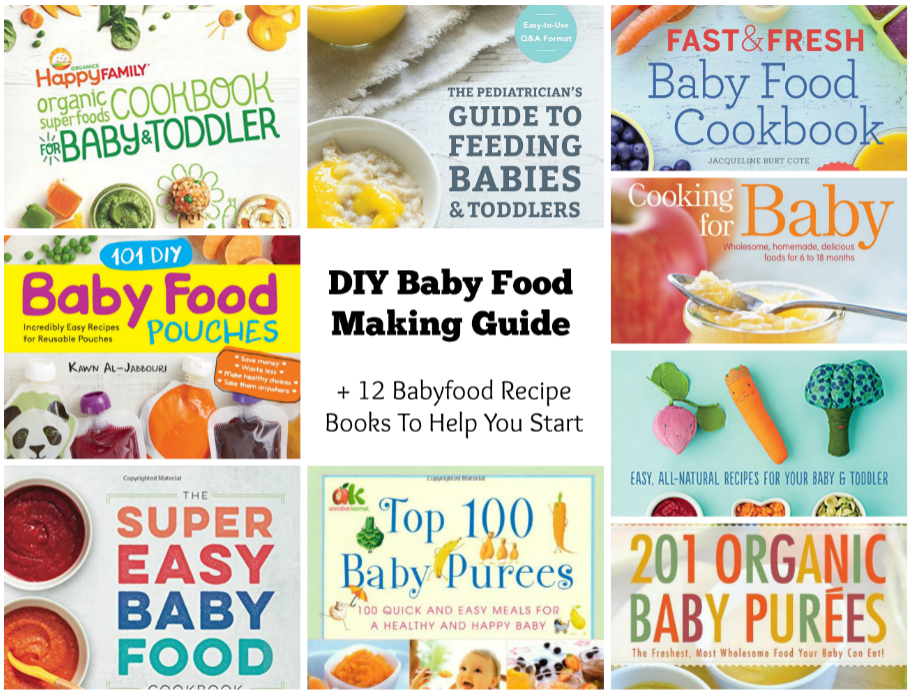 There have been a few baby food recalls in recent weeks that have prompted some new moms to consider making their own baby food from scratch for their little ones.
The idea of blending, pureeing, storing, thawing and making batches of baby food or toddler pouches can seem daunting, and time-consuming, but fortunately, in recent years, technology in the form of baby food blenders and scores of new books have cropped up to demystify and simplify the process.
Blender
To start, you may want to go out and get a blender with a puree function on it. I like the Magic Bullet for making smoothies and milkshakes for my little ones because it is easiest to clean. The company that makes it also sells a special version just for baby food making called Magic Bullet Baby Bullet Baby Care System which retails for $59.99 on Amazon but is sold in retail stores like Target, Walmart and the like.
Storage
Next, you'll have to invest in tiny containers to store the foods you make. The Baby Bullet comes with its own containers and lids but you can also order storage containers. Sage Spoonfuls Big Batch Storage Set includes twelve 4 Ounce containers for about $20, enough for vegetable, desserts and other purees. They are freezer, dishwasher and microwave safe and durable portable jars with leak proof and easy to use screw on lids.
Recipes
Then comes the hard part: whipping up yummy recipes. Here are some books with tips, recipes and other suggestions.
ONE
The Amazing Make-Ahead Baby Food Book: Make 3 Months of Homemade Purees in 3 Hours ($17.88)
This popular hardback book will give you to tools and tips for making up to three months' worth of healthy, homemade baby food in just three one-hour blocks of time. It has unique combos like Peachy Strawberry Salad, Coconutty Mango Lassi, Plum-Gingered Brocco-Quinoa, and Purple Papaya Flax Yogurt, blending in a rainbow of nutritious options while expanding your baby's palate.
TWO
Real Baby Food: Easy, All-Natural Recipes for Your Baby and Toddler ($10.79)
The toughest part really is making the time but this book helps new moms create a routine that is easy, fast and flexible. The author starts with the building blocks of solid foods, and shares how to recognize food allergies, and easy ways to cook in bulk. Recipes progress from single-ingredient purées to multi-flavor blends like Salmon, Kale, and Sweet Potato Smash; then move on to finger foods—Turkey Meatloaf Bites, Maple Graham Animals—and finally toddler meals and snacks. Most can be made ahead and frozen, many are easily adapted for grown-up tastes, and all include full nutritional information. Nice!
THREE
101 DIY Baby Food Pouches ($10.99) specializes in baby food pouches for older babies and toddlers. This book includes instructions for filling your own pouches for cheaper, healthier, and eco-friendly options for your little one.
FOUR
Fast & Fresh Baby Food Cookbook: 120 Ridiculously Simple and Naturally Wholesome Baby Food Recipes ($11.87)
This book targets the early stage new mom who "can't keep up with the laundry" or "can't fit into anything but yoga pants" and "can't make your baby sleep through the night." The book promised to help this mom "make the best food for your baby in 30 minutes or less."
FIVE
Little Foodie: Baby Food Recipes for Babies and Toddlers with Taste ($13.59)
This book comes from a certified baby chef and blogger over at Baby FoodE, Michele Olivier.  She offers over 100 food recipes, helpful FAQs and a comprehensive overview.
Baby food recipes include: Apple + Mint + Ricotta Purée / Fennel + Pea + Peach Purée / Pumpkin + Thyme Purée / Sesame Tofu Sticks + Peanut Sauce / Curried Egg Finger Sandwiches + Mango Chutney / Slow Cooker Chicken Tagine + Couscous / Sausage + Kale Over Creamy Polenta / DIY Toddler Sushi Bar, and more.
SIX
Super Easy Baby Food Cookbook: Healthy Homemade Recipes for Every Age and Stage  ($11.74)
This book focuses on super simple recipes  with just 5- ingredients each and includes over 150+ nutritious recipes that grow with your developing child. It has time saving sample menus for kids 4 to 18 months.
SEVEN
The Baby and Toddler Cookbook: Fresh, Homemade Foods for a Healthy Start ($15.68)
Packed with over 90 recipes and loads of nutritional information, The Baby & Toddler Cookbook makes cooking healthy meals easy, even for busy parents. By setting aside only a few hours a week, you can make and store an array of nutritious foods to keep baby happy and fed. All along the way, this book will give you helpful hints, guidance, and plenty of recipes to ease your path to nutrition.
EIGHT
Top 100 Baby Purees ($10.52)
Like the other books, you'd learn to wean your baby who is transitioning to solid foods, discover food allergies and how to make  100 Baby Purees  with information tricks on finding the hidden nutrition in everyday foods. Dr. Michel Cohen, New York pediatrician and author of The New Basics: A-to-Z Baby & Child Care for the Modern Parent opens the book with a forward.
NINE
Cooking for Baby: Wholesome, Homemade, Delicious Foods for 6 to 18 Months ($12.30)
This book is organized by age and has smart tips on prep and storage with added suggestions on transitioning as baby grows. From celebrated children's-food author Lisa Barnes, Cooking for Baby is a fully illustrated, gorgeous, four-color book that takes parents through the basics of preparing nutritious, delicious (and easy!) meals for your child, from six to eighteen months.
TEN
The Pediatrician's Guide to Feeding Babies and Toddlers: Practical Answers To Your Questions on Nutrition, Starting Solids, Allergies, Picky Eating, and More (For Parents, By Parents) ($12.30)
A team of doctors came up with this comprehensive manual for feeding your babies and toddlers during their first crucial yeas of life. With The Pediatrician's Guide to Feeding Babies and Toddlers, you have the expertise of a team of pediatric medical and nutritional experts—who also happen to be parents—in a comprehensive manual that takes the guesswork out of feeding. This first-of-its-kind guide provides practical, easy-to-follow advice to help you navigate the nutrition issues, medical conditions, and parenting concerns that accompany feeding. With recipes, parenting stories, and recommendations based on the latest pediatric guidelines, this book will allow you to approach mealtime with confidence so you can spend more time enjoying your new family.
ELEVEN
201 Organic Baby Purees: The Freshest, Most Wholesome Food Your Baby Can Eat! ($10.25)
When you can have 100 recipes, why not 201?! This book has even more healthy recipes that are organic and blends classic combinations such as turkey, sweet potato, and corn; Superfoods like avocado, blueberries, and spinach; and Puree-based transition recipes including soups, biscuits, frozen desserts.
TWELVE
The Happy Family Organic Superfoods Cookbook For Baby & Toddler Hardcover ($14.54)
This book comes from the organic family-focused food company Happy Family Organics and Cricket Azima, founder and CEO of The Creative Kitchen. Inside, find more than 70 easy-to-prepare recipes made with all-natural ingredients. It includes recipes with ingredient vegetable and fruit purees, including Happy Family's best-selling spinach, mango & pear recipe, to recipes with quinoa, chia, and kale —Shazi's and Cricket's superfood recipes will nourish and please every kind of baby. Recipes for toddlers (1–3 years) include avocado & chicken whole wheat pizza; 3 bean farro risotto; and baked salmon with peas & rice balls; toddlers will love tasty snacks like strawberry-beet pudding with coconut milk and chia; avocado, melon & mint smoothies; banana, chocolate chip & quinoa muffins; and grilled nut-butter sandwiches with smashed berries.
Good luck!