Today, we honor the memory of those who died in war fighting for freedoms and other reasons.
A two-year old photo of two boys visiting their deceased soldier dad's gravesite is making the viral rounds once again.
I'm sharing the background of their story for those who are interested in knowing the very bittersweet and tender backstory from 2017:
Brothers Mylan and Mason Brazel visited the grave of their father, Staff Sgt. Alfred Brazel, in a touching scene at Arlington National Cemetery for the first time since his death from cancer at 37 in July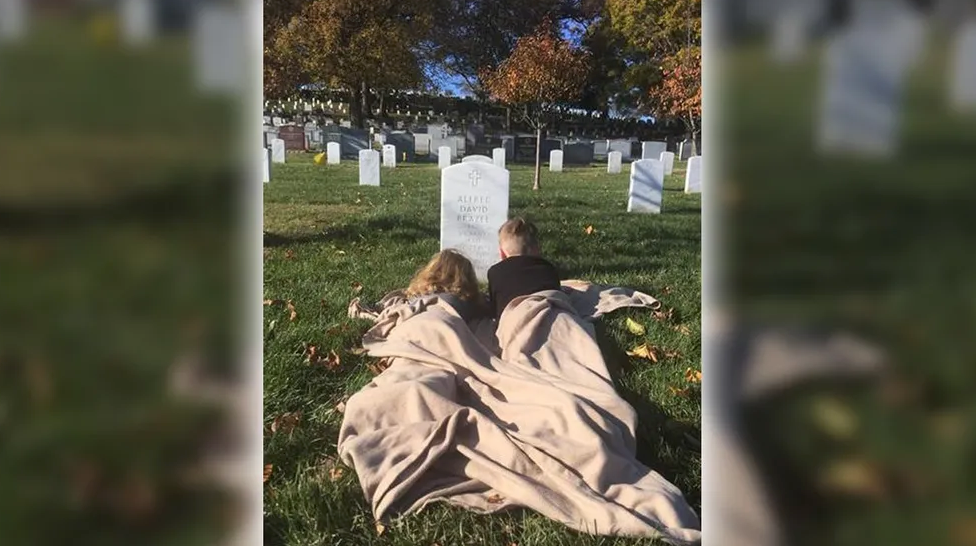 As brothers Mason and Mylan Brazel visited their father's tombstone at Arlington National Cemetery for the first time, the young boys felt like they were just having a normal conversation with dad.
Kait Brazel, 29, captured the touching scene as sons Mason, 8, and Mylan, 5, curled up in front of the tombstone of Army Staff Sgt. Alfred "Fred" Brazel, who died at 37 of Stage 4 rectal cancer on July 31 after being diagnosed only five months earlier.
"I felt proud while we were there," Brazel told TODAY in an email. "Obviously it was sad because the boys are talking to their dad and he can't talk back, but really I'm proud because throughout the fight our goal was to be realistic with the boys without the losing their innocence as children.
"Seeing them share their lives with their dad's headstone, I knew we accomplished exactly that."
The boys went to every doctor's appointment with their dad during his fight with cancer, and their parents answered every hard question they asked about his diagnosis, Kait Brazel said.
"We never once addressed it as a sad thing," Brazel said. "That was the attitude and mentality we had throughout the battle. We as a family lived and continue to live life to the fullest in every moment.
"We don't shelter them from 'adult things.' It was their dad and they were a part of the fight. We have always been very open with them, and because of this I believe they have handled the whole journey amazingly."
The family drove 24 hours from their home in Colorado Springs, CO, to Arlington National Cemetery on Nov. 20 for the touching visit.
It was an emotional journey that came three months after Fred Brazel's funeral, a heart-wrenching day that was captured by professional photographer and family friend Alishia Potter in August.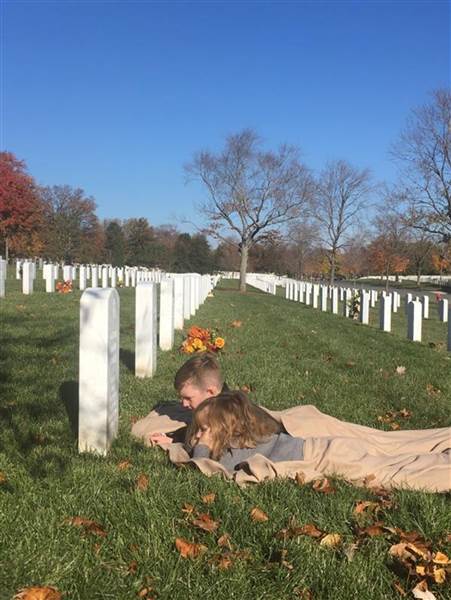 At one point during the visit at Arlington, Mylan curled up and took a nap in front of the tombstone, while Mason updated his dad about winning a trophy in swimming.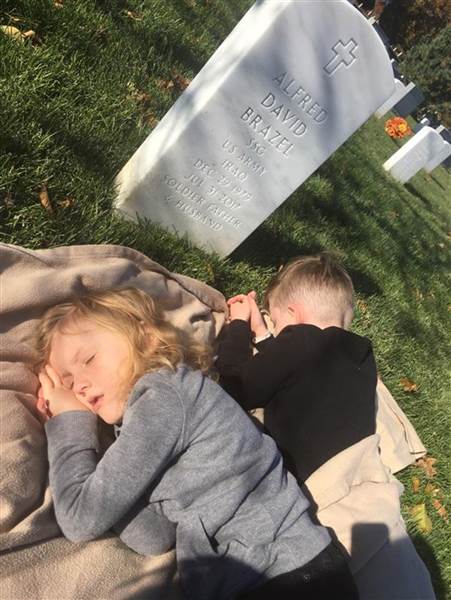 Kait is also hoping the pictures bring attention to the dangers to soldiers from burn pits. She believes Fred got cancer from exposure to toxic chemicals during a deployment in Iraq.
After their trip to Arlington, the Brazels spent Thanksgiving with family in Boston and then went to Niagara Falls, a place Fred always wanted to visit with the boys.
They are grateful for being able to share some time with Fred ahead of their first holiday season without him. Shortly before they left, Mylan gave the tombstone a hug.
continue reading