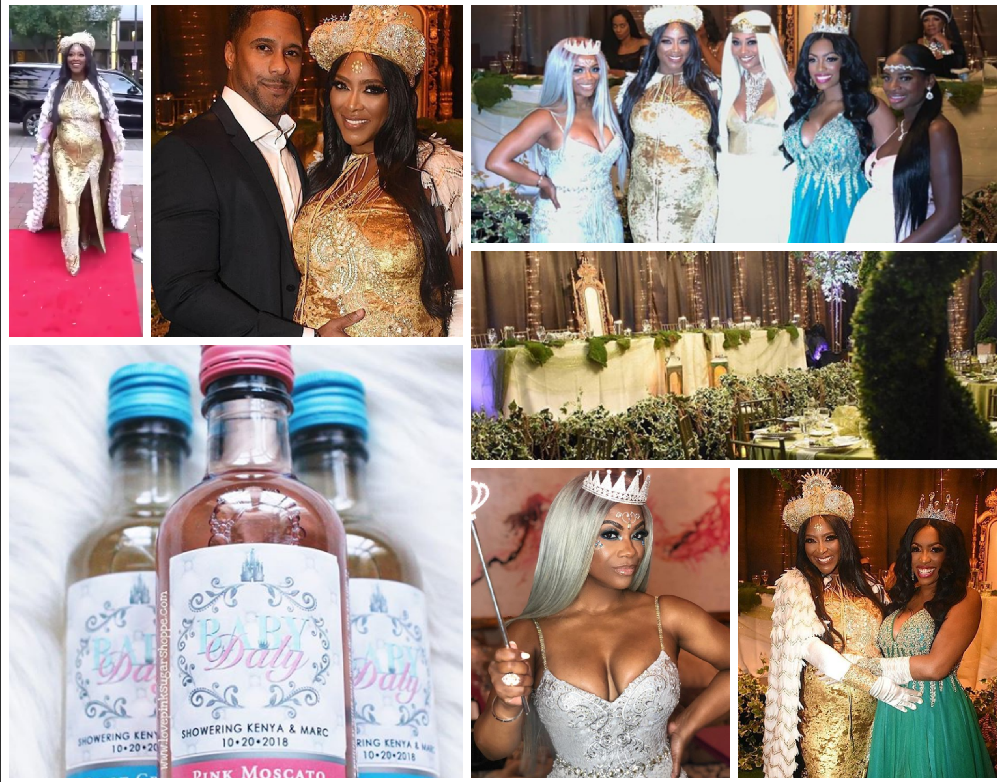 Last weekend, Real Housewives of Atlanta alum Kenya Moore and her husband Marc Daly celebrated the impending birth of their first child together at a  Wrinkle In Time -theme baby shower in Atlanta where guests were asked to dressed in elaborate costumes to reflect the theme similar to the Met Gala.
The seated plated event was held at the Historic Academy of Medicine building at George Tech University, a venue used often for lavish banquets, weddings and other formal events.
It was held in an intimate sized ornately decorated room, draped in lighted organza, green carpet, golden thrones and everything needed to resemble an enchanted forest.
Guests of the October 20th event included family, friends and former castmates Porsha Williams, Kandi Burrus, Cynthia Bailey, and Claudia Jordan along with "Real Housewives of Potomac" star Gizelle Bryant, Married to Medicine stars Toya Bush-Harris and Dr. Heavenly Kimes among others.
When the time was right, Moore Daly entered the red-carpet event after emerging from a luxury black SUV and joined her already gathered guests to an awaiting head table that included her aunt, hubby and several relatives.
https://www.instagram.com/p/BpNgwmNlZ_p/?taken-by=thekingofshade_1
https://www.instagram.com/p/BpNjNd5lbvR/?taken-by=thekingofshade_1
At one point, Moore Daly and Williams and Morton talked about not being able to breathe while preggers. Cute.
https://www.instagram.com/p/BpPU_qwHLop/?taken-by=therealhousewivesofatlanta
The Dalys took a spin off of a very popular theme among celebs: Royal. It is one previously in the past including, Lil Kim, Jojo Simmons, Chrissy Teigen and John Legend,  Creed frontman Scott Stapp and his wife Jaclyn, and even Moore Daly's  former co-star Eva Marcille earlier this month in March.
https://www.instagram.com/p/BpSKHUUn_MR/?taken-by=therealhousewivesofatlanta
https://www.instagram.com/p/BpNIEJBHNJY/?taken-by=therealhousewivesofatlanta
Guests took home custom a box of favors featuring personalized chocolate bars, Tic Tacs, wine and sanitation wipes.