I was going to blog about something totally different this afternoon, but you know how Beyonce releasing an album has a habit of throwing all of my plans in disarray. [See review of Beyonce projects here] and [here] She and her husband Shawn"Jay Z" Carter released a 9-track album called "Everything Is Love" smack dab in the middle of their On the Run II tour. [This is right after the Beychella performance which was right after Jay's album "4:44" which was right after Bey's "Lemonade"]
These two don't want us to keep our coins in our own pockets this summer. Anyway, I digress…
Dee Locket
of
Vulture
did an excellent job summing it up for me so I'll syndicate her opening paragraph to an excellent review you can read in its entirety
HERE:
Your weekend plans: Canceled. Yeezy season: Dismissed. Drake: Who? Beyoncé and Jay-Z have pulled a Beyoncé and Jay-Z and surprise-dropped yet another album — but this time, as a couple. Their first-ever joint album Everything Is Love — the one that's been percolating since even before Lemonade and 4:44 — was released on Saturday evening at the end of the duo's London show on their On the Run Tour II with one casual parting announcement: "Album Out Now." Out! Now! The nine-song album, complete with one visual component and a bonus track, is streaming in full on Tidal as we speak. With their trilogy recounting marital strife to remarried bliss now complete, what do we make of this closing chapter? From the shots at Trump, the NFL, Spotify, the Grammys, and Kanye West, to the Blue Ivy cameo, to filming a music video in the Louvre, here's everything you need to know about the conversation the Carters have caused now.
Phew! What an intro. Well, today is Father's Day and before heading out to celebrate, while the men are busy watching World Cup games, I hopped on to pen a few thoughts.
First, I don't have Tidal, where the album exists exclusively. Yes, they are still trying to make it happen, and even have gone as far as declare war on Spotify. No really, they mention the streaming competitor in one of the songs.  My subscription expired so my options are to re-up it to listen to the complete set or wait until it slowly releases on other platforms. le sigh.
I hear it's getting mixed, but mainly good reviews. Because I have nothing to add substantively, I'll share that I loved the only released-to-the-public video out: "Apeshit".  Imagine! They rented out The Louvre in Paris, France for the video shoot! Wow!
Surprise! pic.twitter.com/SYnAm6zCy7

— BEYONCÉ LEGION (@BeyLegion) June 16, 2018
The video for the song is a cinematic and visual treat. I love art. All art. Musical, visual, performing but especially art of yesteryear and religious art so it was a bonus to get to see flashes of famous pieces in the video.
And it is also a bit political. In the middle, there is an overt swipe at the anti-Take A Knee movement.
There is a lot to digest and there have already been publised a bevy or reviews. One thing I can offer that may not have been shared by others about "Apesh*t"  is some of  the similarities to other visual stimuli in other pieces.
Screeeeech!! Hold up, before I go there, I was also taken by the fact the song is Trap and besides both dropping some serious bars and Jay Z delivering an exceptionally good performance, he later gets side-graded (*is that a word?*) in my opinion to be to the sound effects emoting guy to Beyonce's shine when it's her turn to spit verses.
You know, like the guy Takeoff in the group Migos? ha!
Anyway, back to the visual similarities I spotted…
First, her sister Solange is famous for her love of dance and art combined. Her wedding reception took place at the New Orleans Museum of Art, and earlier this year, she unveiled a performance piece at the Hammer Museum in Los Angeles, and performed her title song to her first Grammy-winning album "Cranes In the Sky" at the Guggenheim in New York City.
And so her big sister went bigger.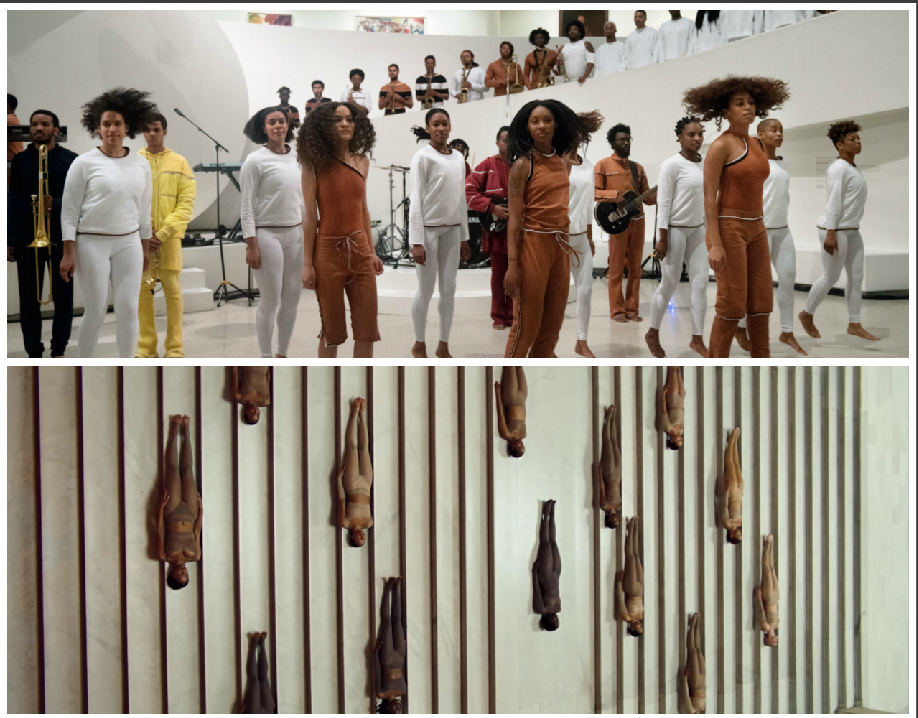 The second similarity. The dancers in all brown reminded me of the all Brown clothing the dancers in Remy Ma (featuring Chris Brown) video "Melanin Magic."
And finally, the album cover is of a woman braiding a man's hair. It was reminiscent of Rihanna shaving dancer Mette Towley's  hair in the intro to N.E.R.D.'s song Lemon.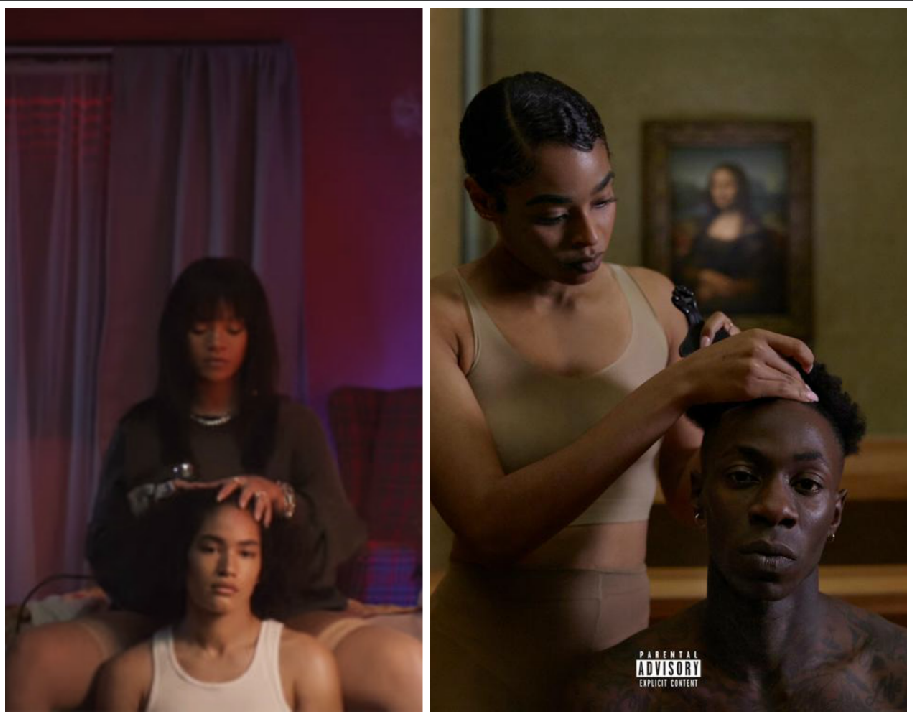 Art begets Art. There is nothing truly original anymore and everyone's interpret, pay homage to and weave in aspects of previously done works.
What else did I spot?
I love that there is a shot in the video that is an ode to us Virgos! Beyonce is one too. I got this long lingering shot…
More visuals:
Beautiful! Bravo!
JJ