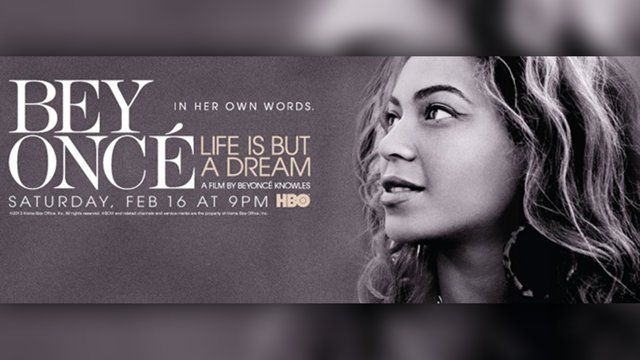 I finally got around to checking out Beyonce's 90 minute HBO special "Life is but a dream" very early this morning. I found it was a very soulful and introspective look into the life of a mega star who strives for privacy but has inner turmoil balancing that with an interest in staying connected to the public. The documentary goes through the recording of her latest album, 4, through her miscarriage and pregnancy and firing of her longtime manager, her dad, Mathew Knowles.
As a person who has several real life friends but many who I rarely talk to over the phone or via email even, I rely on friendships I've made online and social media to get my adult interaction and counsel. So I can imagine if you are a superstar with few close people in your inner circle, all who have their own busy lives, you may not have an outlet to vent and share. Therefore, talking into a laptop or some other recording device could be a way to go to jot down those inner thoughts. Oh and they make for some pretty good footage when you put together a documentary of your life later.
But in all earnest, I really enjoyed getting that behind the scenes look because so many times we just see the final polished and finished production and assume it was all smooth sailing. From the special, you were able to see the many times that they were all quite clueless and uncertain about how it would all turn out in the end. For example, we learned about performances, like the Billboard Awards performance, and how Bey and team never  really got a full run through until it was actually performed.
You also got to go deep into the dark place that many women recede to after having a miscarriage. I know I had a rough time recovering from mine. So it was endearing to see Beyonce address the rumors about the fake pregnancy and surrogacy.
I am one of those who believe she actually did carry her child to term, but I also think that in her and her team's insistence on being above the fray and not dumbing down by addressing the rumors, they also let them get away like a runaway train. They could easily have shown more and explained the folds rather than let the public have its way with explaining it away. It's easy to dismiss the conspiracy theorists but a year out and the rumor is still out of control. While this video has her showing her 21 week belly and her full term silhouette in a dark room.  It's still not going to satisfy some people. I've read of plenty people try to explain it all away. B will just have to live with that, I guess. Not hurting her pockets any I guess, but still that has got to be an annoying thing to know people think about you and your child.
The majority of the video was performances…and lots of it. I enjoyed them, but I noted that some people, who are not fans of her music, found there were too many interludes. But c'est la vie. You can please some of the people some of the time but never all of the people all of the time. Not sure what she set out to do but I do believe it accomplished the feat of sharing a vulnerable side to her life and fame in general.
Many people want the money, acclaim and all the perks of fame but few would be truly able to handle all of the pressures, vices, and other negative consequences that come with it as well.
I did not get to finish watching all of Beyonce's "Oprah's Next Chapter" interview with Oprah on the OWN Network but from the tidbits I saw she was being very generous and extremely gracious with the star, nothing like how she was with her last interview subject, disgraced Tour de France cyclist Lance Armstrong. You could clearly tell that Oprah was a Beyonce fan.
Anyway, I liked the cinematography and film sequencing and varying angles and vantage points throughout and though it moved a bit slow at times, overall it was a well done production, in my opinion.
Kudos!
bellyitchblog.com+1 more Over 9 million people have enjoyed Bellyitch's Award-winning Celeb "bumpwatch" pregnancy and parenting blog. Trying to Conceive? Download our
FREE Fertility 100
ebook. Hunting for Top Maternity or Kids Brands? Our
Bellyitch 100
is the free resource for you. Baby Shower Shopping? Check out out
Top Picks on Amazon
or our
Gift Guides
.