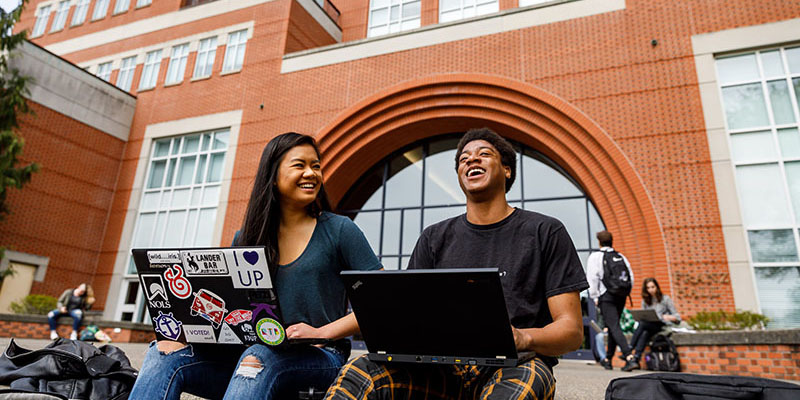 National College Decision Day is May 1.
It's the day when most colleges and universities require admitted students to have submitted their intent to enroll. That is also the date that high school seniors around the globe announce where theywill attend in the fall.
These days, college announcements can be as simple as a social media post to a full video and photo shoot produced by professionals. It runs the gamut.
In 2018 and again in 2020, I shared blog articles with creative ideas. I've updated those posts this year with a few new ideas I've seen since then.
These are some of the most creative college decision announcements and tips for students and their families who want to come up with their own unique announcements.
Here are 15 creative ideas to announce your college decision:
1. Create a video announcement. 
By far, the most labor intensive, and arguably the most expensive is to have a professional grade video announcement like the one this young lady in the video above (I beg your indulgence in advance on some of the language and slurs in the song choice of her videos which may be offensive to some). Same with this popular one for years ago.
A video announcement is a great way to share your news with friends and family.
And you don't necessarily need to hire a company to create one for you either. These days, video editing programs on your phone or computer like iMovie or Windows Movie Maker are all you need. However, a lot of those are pretty basic.
If you want fancy transitions, pre-designed animated graphics, and other creative, modern and interactive effects, consider some of the drag-and-grop mobile video editing apps that come with these tools.
Mobile apps like CapCut and inShot have template text and graphics.
To get an even more polished look, consider investing in a desktop software and apps like Wondershare Filmora, Camtasia, FinalCut Pro or inVideo. There are a lot of drag and drop desktop tools as well like Animotica, ClipChamp, and more. I've used all of these and think any would do thr trick!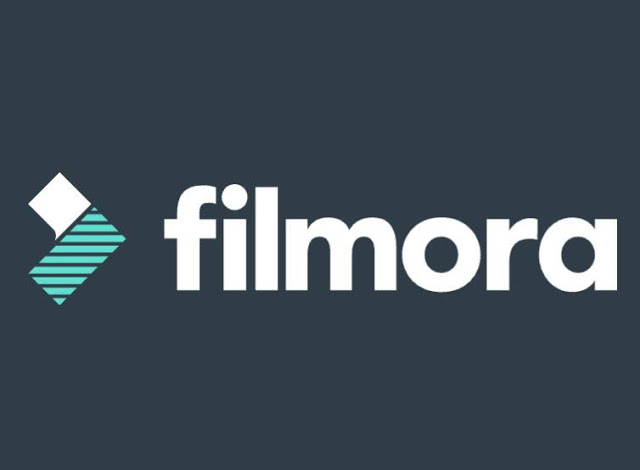 Download an easy, intuitive, simple video editor to make your college reveal video using templates, drag and drop tools .
Get Filmora Editor
2. Confetti Announcement in Social Media
You don't have to do an elaborate video at all! You can pull together something as a simple vertical video you shoot with your phone camera and post in social media to your family and friends.
Select a nice location, on a college campus, preferably, grab a broom and dustpan for collecting the confetti afterwards, then at the count of three, have family members gathered behind you pop the confetti as you reveal a shirt or letter or other memorabilia getting colorful confetti in the school colors.
You can buy the poppers in bulk starting as low as $10 for a pack of 6 on Amazon.
3. Balloon Reveal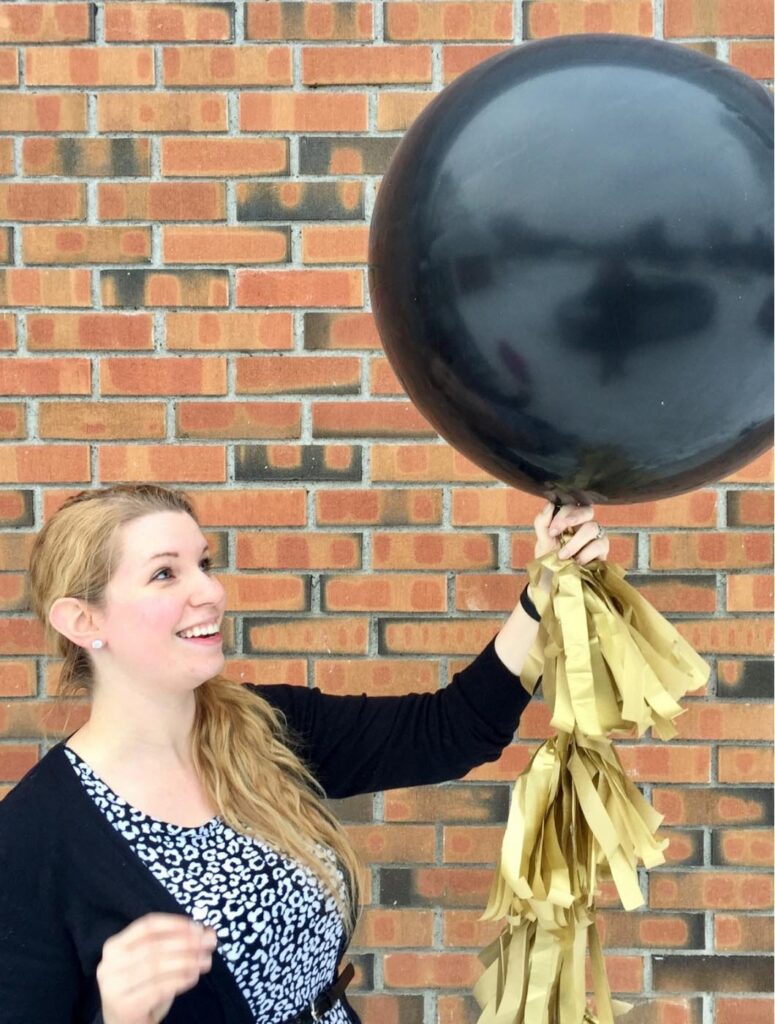 This one is an idea straight from those uber popular "gender" reveal parties.
If you're wavering between two different schools with distinct school colors, purchase some neutral colored balloons (such as black, white, gold, or silver).
Before filling them with helium, have the store stuff them with your college's colors. When you're ready to make your big announcement, gather the family and pop the balloons. Seeing that green and white for Michigan or the blue and gold for UCLA may just make their day!
Watch then high schooler Jenna Simacek do this reveal with her family on YouTube
You can do it yourself too with one big balloon!
Buy a Graduation Balloon or a plain black balloon that you can write on with a metallic marker. Then stuff it with powder, confetti or glitter that matches your school's colors. On the count of three, pop to reveal the school colored confetti.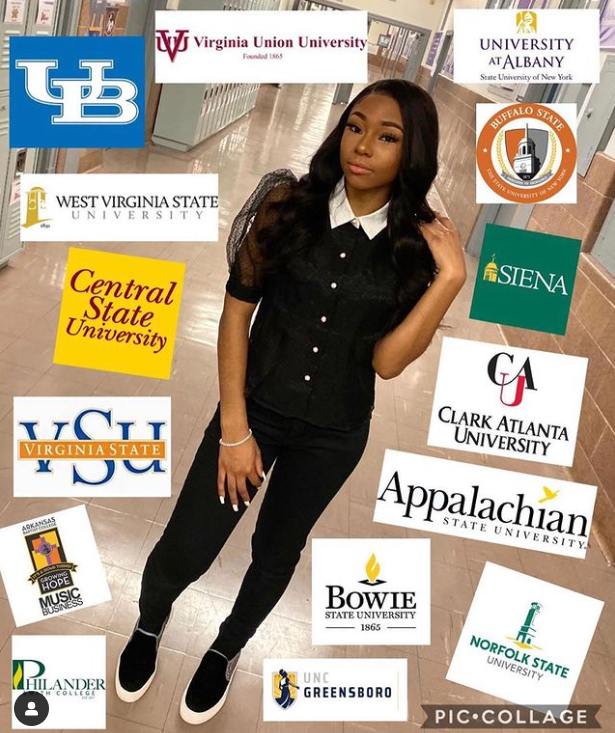 4. Collage
The simplest and most easy way to reveal which college your teen has gotten into and perhaps the final decision is through the popular collages you might have seen on Facebook or Instagram.
In the collage, you can highlight the final pick in a different color or size compared to the other schools.
To create your own, simply do a Google images search for the official seal of each school and download it do your computer.
Use a free tool like Canva to find the perfect template then drag and drop the seals around a large photo of your child.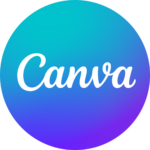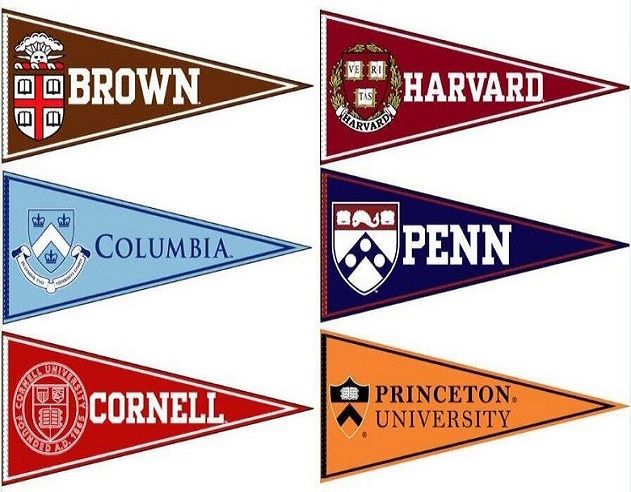 5. The Vintage Pennant Hang
Here is another super creative idea.
As you apply to colleges, purchase a pennant at each school and hang them in a row. When it's time to tell your parents or friends which school you've decided on, one-by-one take away each pennants until you're left with a winner.
The alternative if you cannot find pennants for the schools you have applied to and create your own pennants with letters spelling out your winning school.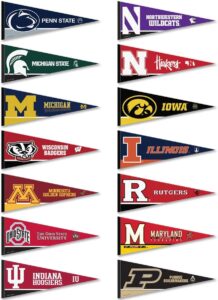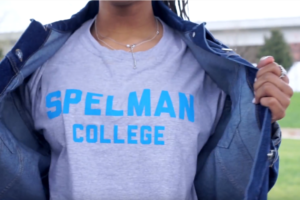 6. The Superman Reveal
If you're holding out until graduation to tell your friends and more distant relatives, there is no better time to make your announcement than right after you receive that high school diploma!
Consider wearing your college's shirt underneath your cap and gown.
When you have graduated, dramatically open your robe to reveal the name of your new school! You could also do this at a reveal party as this proud student did a few years back in a clever reveal (see video below)
It's a great transition point and a way to say you're ready to conquer the next school on your list.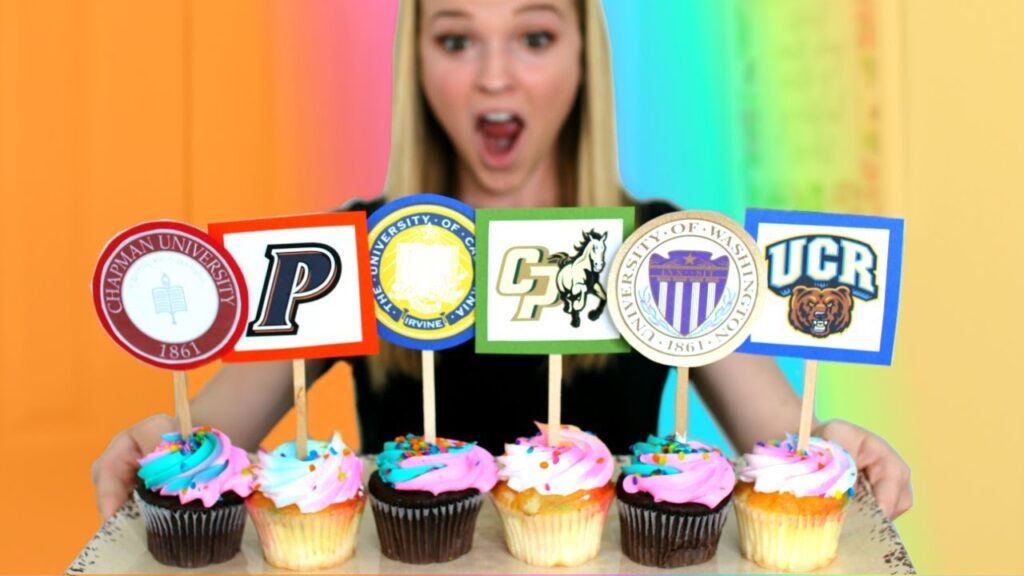 7. Cupcakes
The cupcake reveal is very popular. Simply bake cupcakes. Download a logo from each school and cut into a circle and paste behind a cardboard. Tape a toothpick to the back and stick into each cupcake.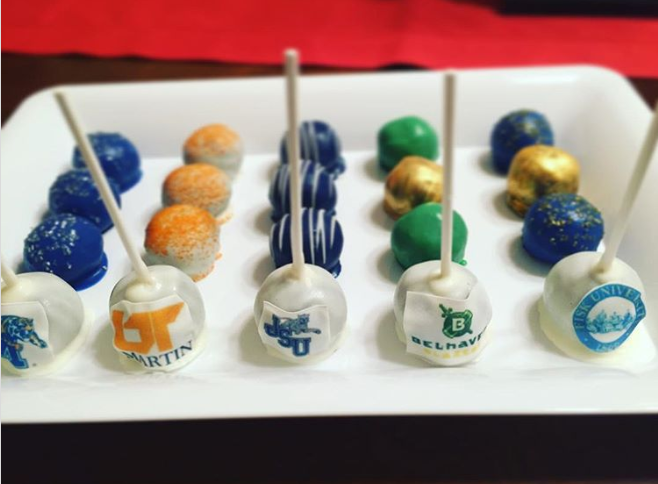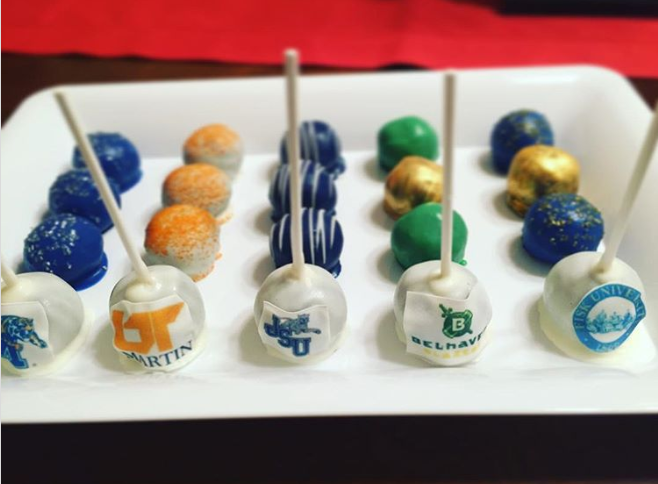 8. Cake Pops
You can do the same as the cupcake but with cake pops but you might have to get creative if you don't have a baker to help you create the branded sheets.
A college reveal cake pop is a small, bite-sized dessert that is similar to a cake pop but with a special surprise inside. Like a regular cake pop, it starts with a ball of cake crumbs and frosting, formed into a round shape and attached to a stick or skewer.
The surprise comes when the cake pop is bitten into, revealing a brightly colored cake interior that matches the school colors. This effect is achieved by layering different colored cake crumbs and frosting in the center of the cake pop, which is hidden by the outer coating.
9. A Cake
A college reveal cake is a unique way to announce the school choice of a student who is about to begin their college journey. The cake is typically made with a neutral-colored frosting on the outside, such as white or beige, and decorated with the student's name and graduation year.
The inside of the cake is where the surprise lies. When the cake is sliced open, it reveals layers of brightly colored cake that match the school colors of the chosen college. For example, if the student has chosen a college with blue and yellow as their school colors, the inside of the cake may reveal alternating layers of blue and yellow cake.
The colors of the cake are a fun way to celebrate the student's decision and show school spirit. The cake can be a simple single-layer cake or a more elaborate tiered cake, depending on the preferences of the student and their family.
Overall, a college reveal cake is a fun and festive way to celebrate a student's college decision and create a memorable moment for all involved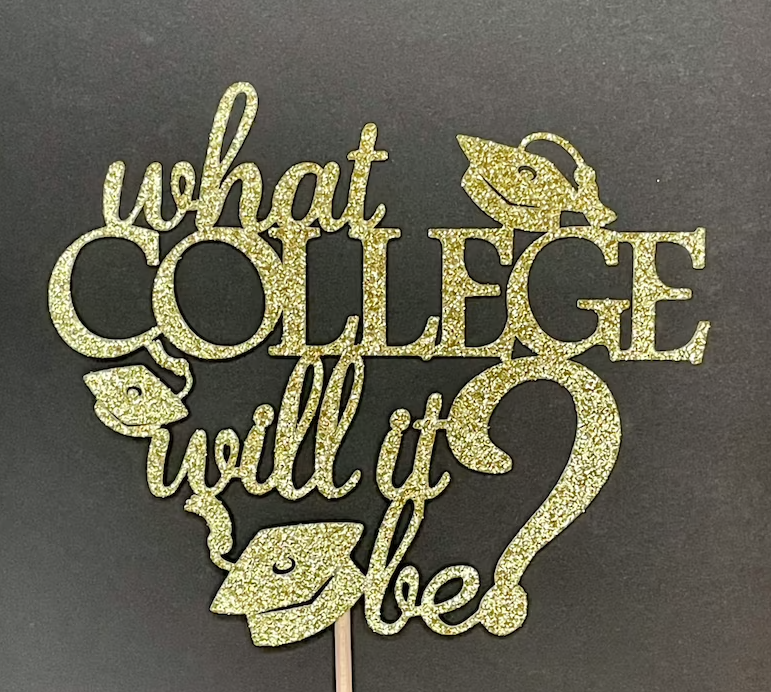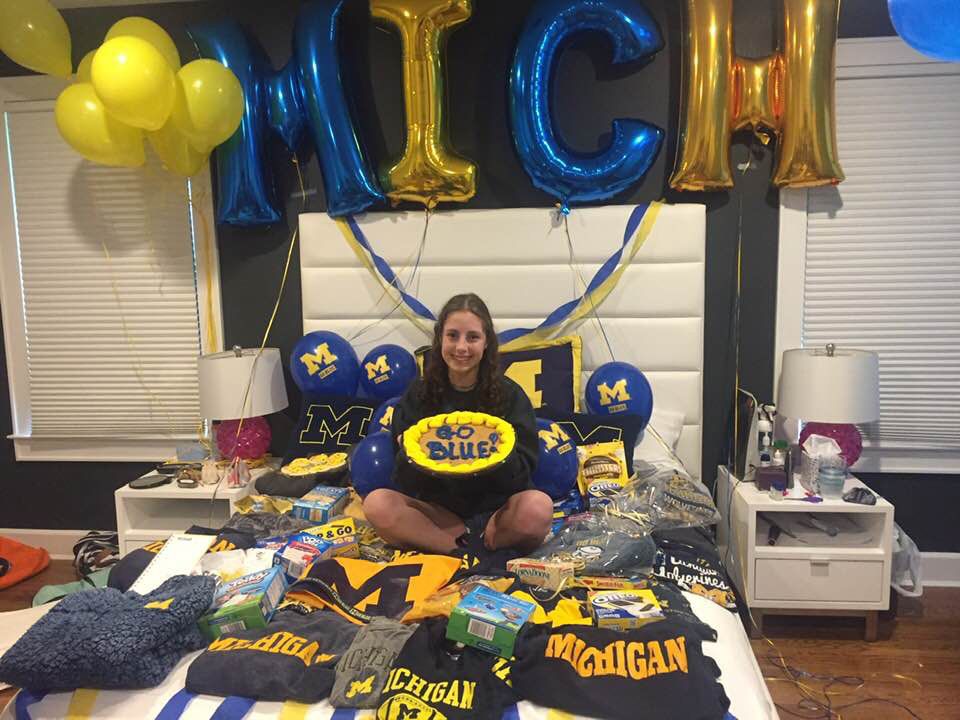 9. Bed party
A Bed Party involves the soon-to-be graduate take a photo of themselves on their bed all decorated out in the colors and paraphanalia of the school of choice!
Now an elaborate Bed Party can get expensive if you purchase branded items from each school. You can cut corners by buying snacks in the school color instead and just hanging a few branded items like this guy did below:
10. Signing Day
The baseball cap reveal is also becoming popular.
It is similar to how high school athletes reveal their school of choice during "National Signing Day" each year. Who says, non-athletic recruits couldn't do the same thing, hence why National Decision Day was born.
With this idea, purchase baseball caps of each school and arrange them on a table, then film yourself or gather your parents and family and eliminate a cap as you explain why you removed that school from your list.
Until you get to the final one. Popular YouTubers Baily and Bailey did their reveal this way and was featured in the Daily Mail.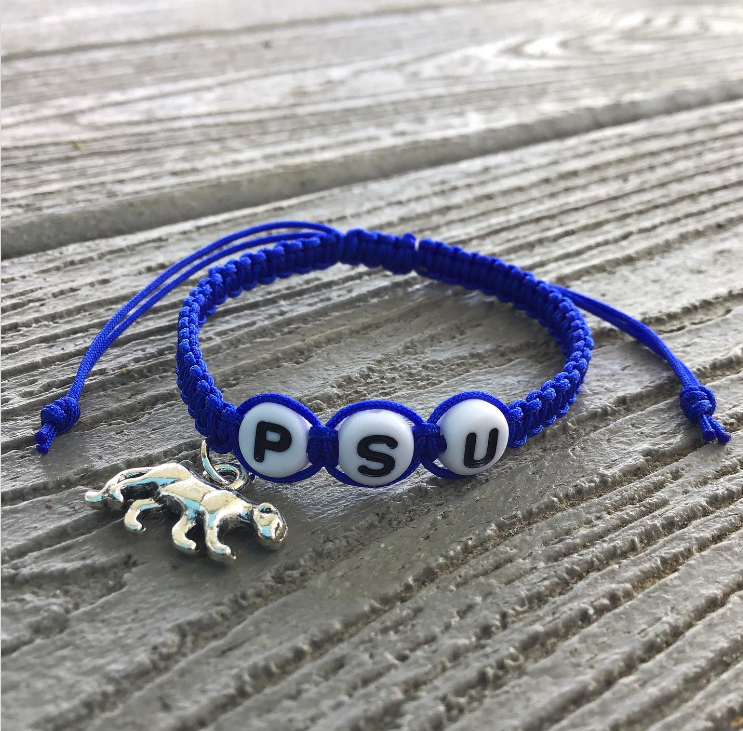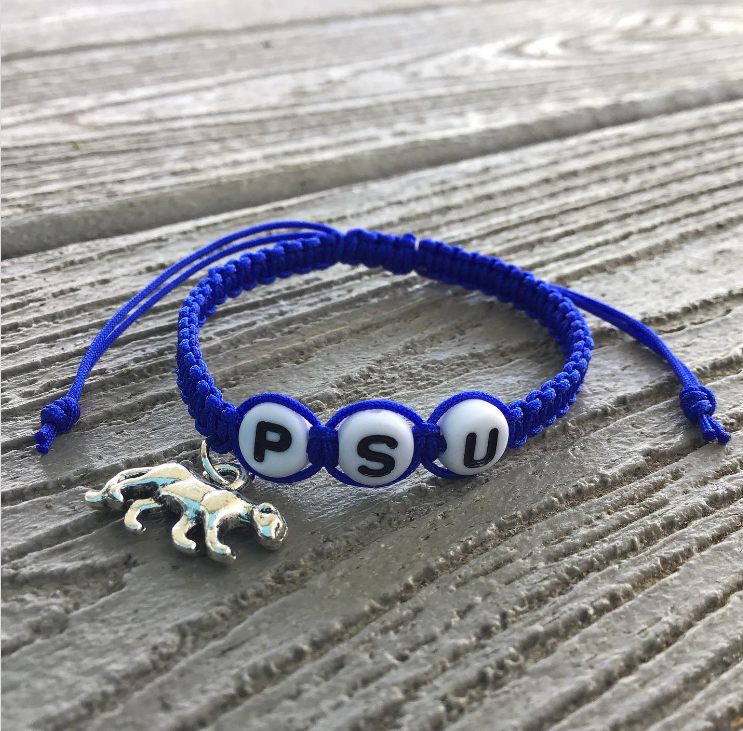 11. Simple Reveal
A very simple thing is to post a piece of memorabilia from the school such as a key chain or bumper sticker and share it on social media.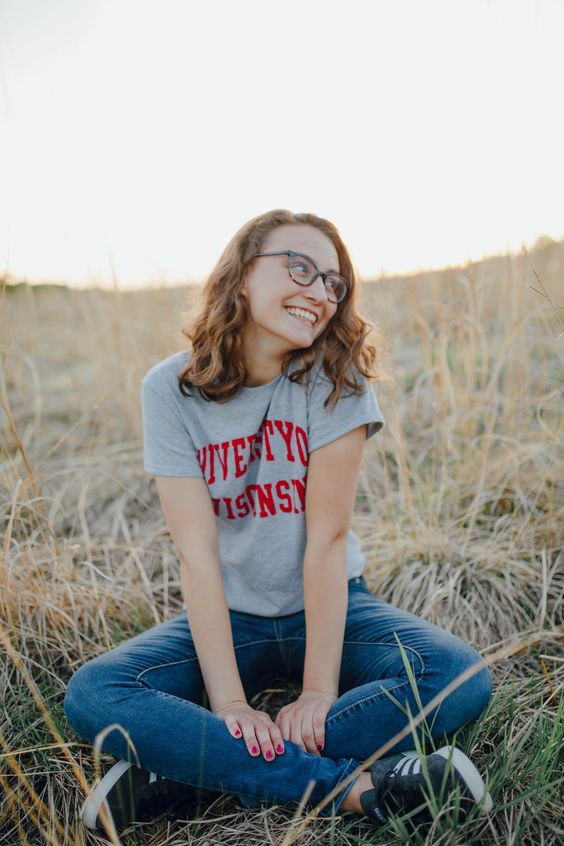 12. T-Shirt
Post a photo of yourself on National Decision Day wearing the T-Shirt is a super simple easy way for a college-bound senior to reveal their decision.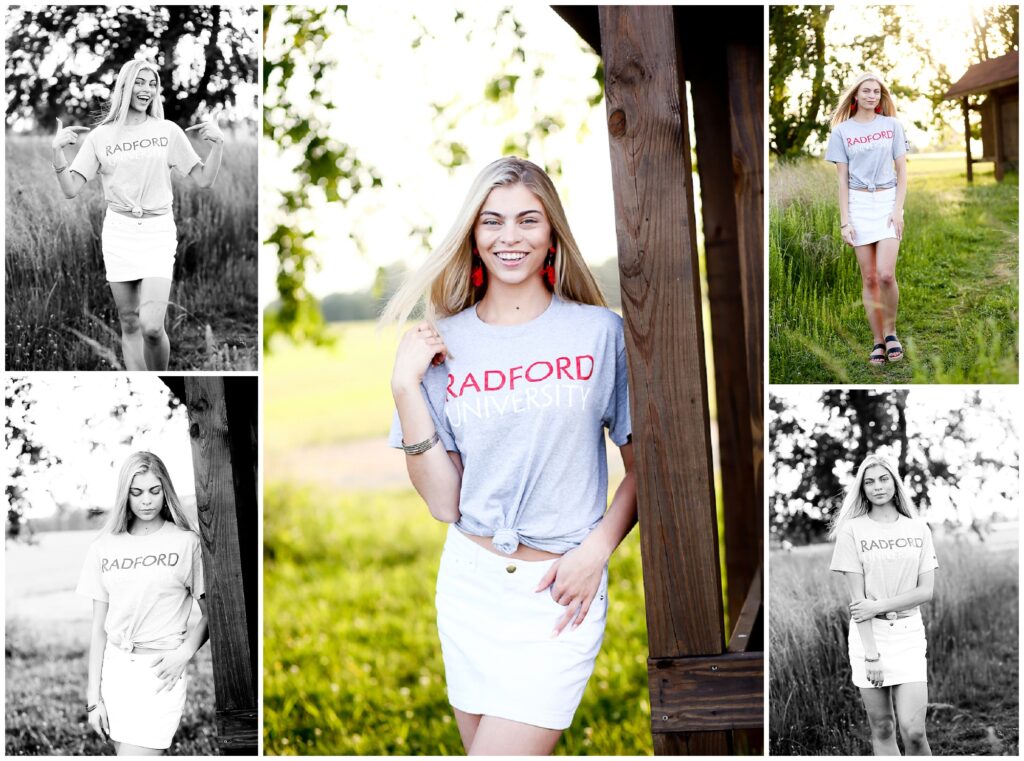 13. Photo Shoots
Photo shoots are very popular and with the say modern phones are set up, you don't even need a professional photographer.
The photo shoot can take many different forms, from a simple portrait session to a more elaborate production that incorporates props, costumes, and creative settings.
One popular approach to college reveal photo shoots is to incorporate the school's colors and mascot into the images. This can be done through clothing, accessories, and even makeup and hair styling. For example, the student might wear a shirt or hat with the school's logo, or use face paint to create a design that represents the school's mascot.
Another option is to use props and signs that reveal the college decision in a fun and creative way. This might include holding up a sign that says "I'm going to XYZ University!", or posing with balloons or other decorations in the school's colors.
The location of the photo shoot can also be customized to fit the student's preferences and the chosen college. For example, the shoot might take place on the college campus itself, or in a location that is representative of the school's city or state.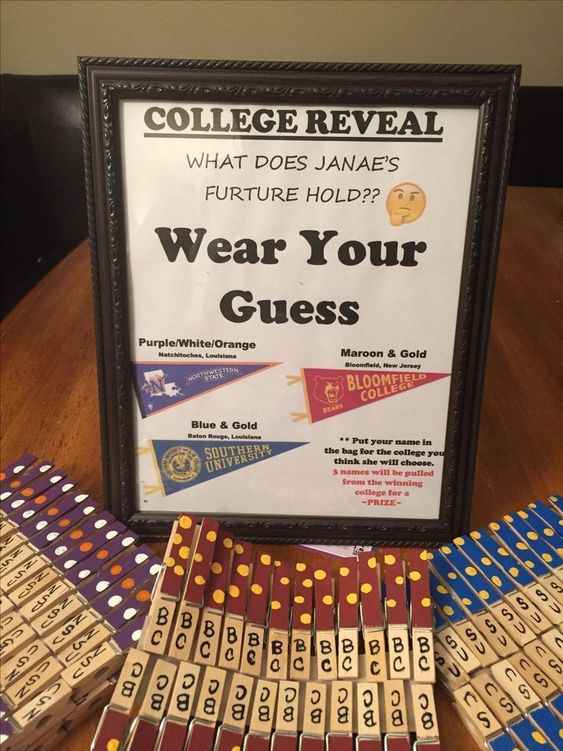 14. Reveal Party
You can get as elaborate as hosting a College Decision Reveal party as well.
A college reveal party is an event where a high school student announces their college decision to friends and family. The party is typically held after the student has received acceptance letters from all the colleges they have applied to and has made their final decision.
The party can take many different forms, from a casual gathering with close family and friends to a larger, more formal event. Some students choose to host a themed party that incorporates the colors or mascots of the college they will be attending, while others opt for a simple celebration with food and drinks.
The main event at a college reveal party is the announcement of the student's decision. This can be done in a variety of creative ways, such as with a cake that is decorated in the school's colors or with balloons that are filled with confetti in the school's colors. The goal is to make the announcement a fun and memorable moment that celebrates the student's achievement and sets the tone for their next chapter in life.
These were very popular pre pandemic and tapered off but are rising in popularity again.
One of my faves is Asya's reveal because of the surprise in the end.
Watch it above.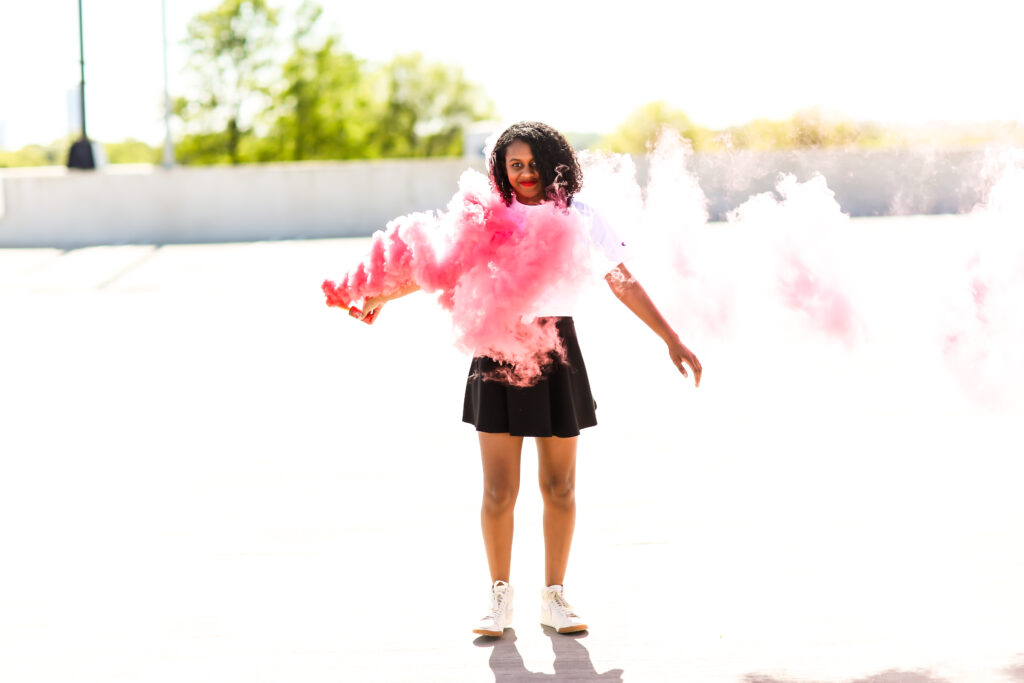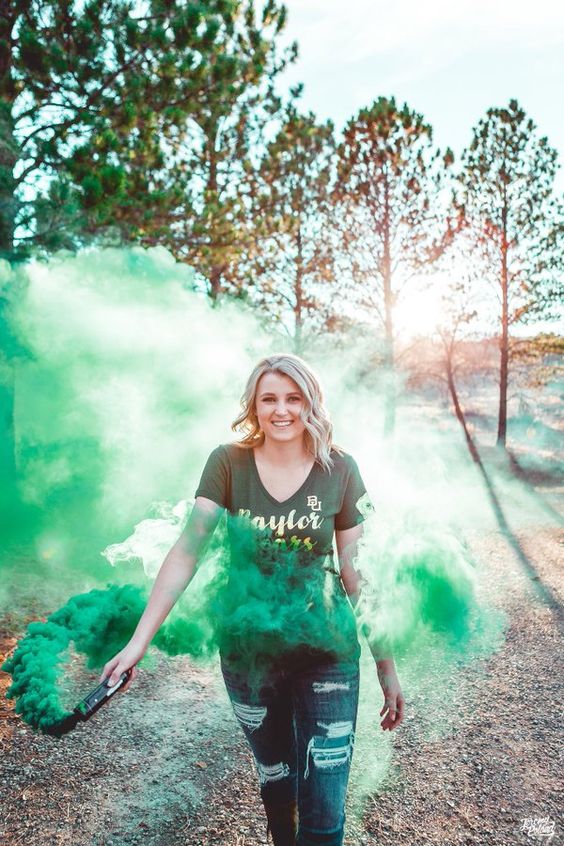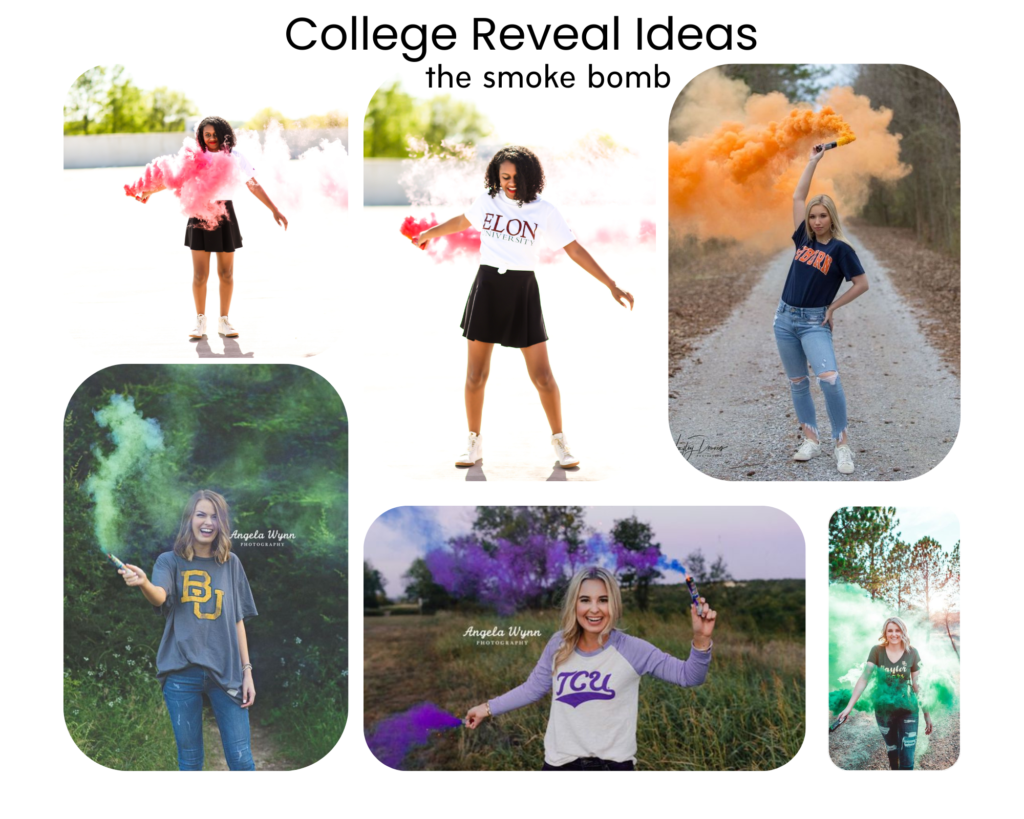 15. Smoke Bombs
A smoke bomb in the selected school colors can be part of a social media or photo shoot reveal.
A smoke bomb in college reveal is a colorful and dramatic way to announce a student's college decision. The smoke bomb is typically ignited in a public place, such as a park or a beach, and the resulting colorful smoke reveals the chosen college by displaying its colors.
To create a smoke bomb for a college reveal, a special type of smoke bomb is used that is typically sold in stores that sell fireworks or party supplies. The smoke bomb is usually cylindrical in shape, with a fuse at one end. When the fuse is lit, the smoke bomb emits a large cloud of colorful smoke for several minutes.
To incorporate a smoke bomb into a college reveal, the student typically chooses a smoke bomb in the colors of their chosen college. When it's time for the reveal, the student or someone assisting them lights the fuse of the smoke bomb, and the cloud of colored smoke is released into the air. As the smoke clears, the colors of the chosen college are revealed, creating a dramatic and exciting moment.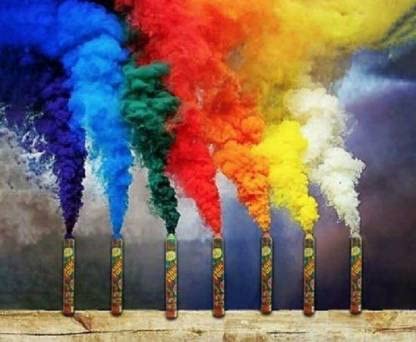 Buy Smoke Bombs
There you have it! 15 super creative ways to announce a college reveal! Which is your favorite! Which will you choose?