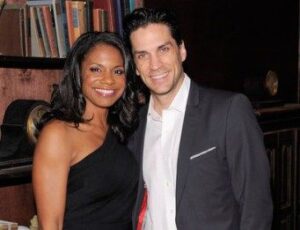 Actress Audra McDonald thought at 45 and being peri-menopausal meant her chances for getting pregnant were low, but aaaah not in this case.
The Private Practice star tweeted yesterday, May 10, that she and her actor husband Will Swenson are expecting their first child together.
"Who knew that tap dancing during perimenopause could lead to pregnancy?" McDonald said in a tweet. "Will and I are completely surprised — and elated — to be expecting a new addition to our family."
Who knew that tap dancing during perimenopause could lead 2 pregnancy? @thewillswenson & I are completely surprised but elated 2 b expecting

— Audra McDonald (@AudraEqualityMc) May 10, 2016

The 6 time Tony Award winner joked that tap dancing as a current lead on the Broadway show Shuffle Along might have contributed to the surprise pregnancy. McDonald also thanked her producers for working with her to account for her impending arrival.
"I am so very grateful to everyone in New York and London for allowing me to rearrange my schedule to accommodate this little miracle," McDonald said in the statement.
"While I'm disappointed I have to postpone my West End debut in Lady Day, I'm glad I'll be able to spend a little more time in Shuffle Along this summer and will look forward to setting up a 1920s-themed nursery in my dressing room when I return to the show."
McDonald won a Tony Award for playing Billie Holiday in the Broadway play, which was broadcast, with critical acclaim, on HBO earlier this year.
Swenson and McDonald married in 2012 and thought they were done being parents to young kids. She is mom to 15-year old daughter Zoe Madeline from a previous marriage and he is dad to sons, 13-year old Bridger and 10-year old Sawyer also from a previous marriage.
Congrats!!