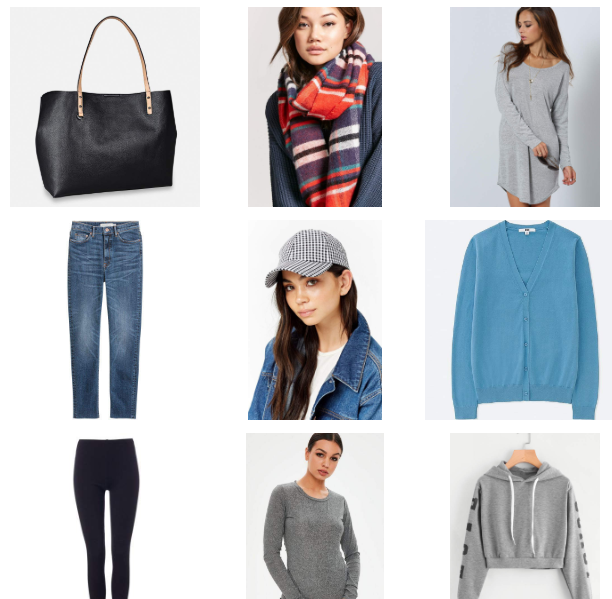 A lot of families are going to be outlaying a lot of cash for Back-To-School shopping, including on school supplies, new bookbags, shoes, uniforms, computer equipment and more.
There may be little to nothing leftover for mom to update her wardrobe and prepare her for a new year catching up on the playground gossip with her mom friends before and after school.
I'm in the same boat so to help out my fellow budget stylish moms who do not want to sucumb to the frump and to stay current, I curated a 10-item capsule collection, including accessories, with items that are all about $10 each!
Because late Summer, early fall days require flexibility, a light jersey shirt, perhaps in a neutral color like gray, would make a great item. I found that Missguided sells its Active Gray Long Sleeve Sports Tee  for $4 now
Grab a pair of Athletic Works Women's Ballet Flat  for $8. They can be slipped on in the morning rush!
A comfy pair of stylish blue denim jeans is in order as well. You can get H&M's  Slim Ankle High Jeans  for $8. Stay warm in an air conditioned building by always packing a cardigan. I like UNIQLO Women's Supima Cotton Uv Cut V-Neck Cardigan which also runs for about $8.
Alternate the jeans for casual yoga pants. Generic Women's High Waist Tummy Control Yoga Capris Pants Leggings Bodyshaper Shapewear  is also around $8!
No time to do your hair!? No problem! Throw on a cap. Forever 21's Gingham Cap is just $4!
I am a fan of shirt dresses because I think they flatter most shapes in a
Minimalist but chic way. H&M has a Long Sleeve V Back Dress for close to 12 bucks!
An accent scarf is good to always carry on you because it can double as a shawl, be used to cover items in an open tote or a head covering in case you're caught out in the rain.
I love Forever 21's Plaid Oblong Scarf which is selling for $11 right now.
Speaking of totes. Every mom needs a large shopper tote that is big enough to fit her stuff and her kid's forgotten lunch, toys, snacks and other accessories. A canvas tote will do or get one in a durable leather like Avenue's $21 Filipa Tote!
The sum total of This capsule wardrobe that you can mix and match with other pieces for this late summer early Fall is just…
Total= $92??
I know right! Well it won't be this too long! Great items and these types of prices sell out fast!