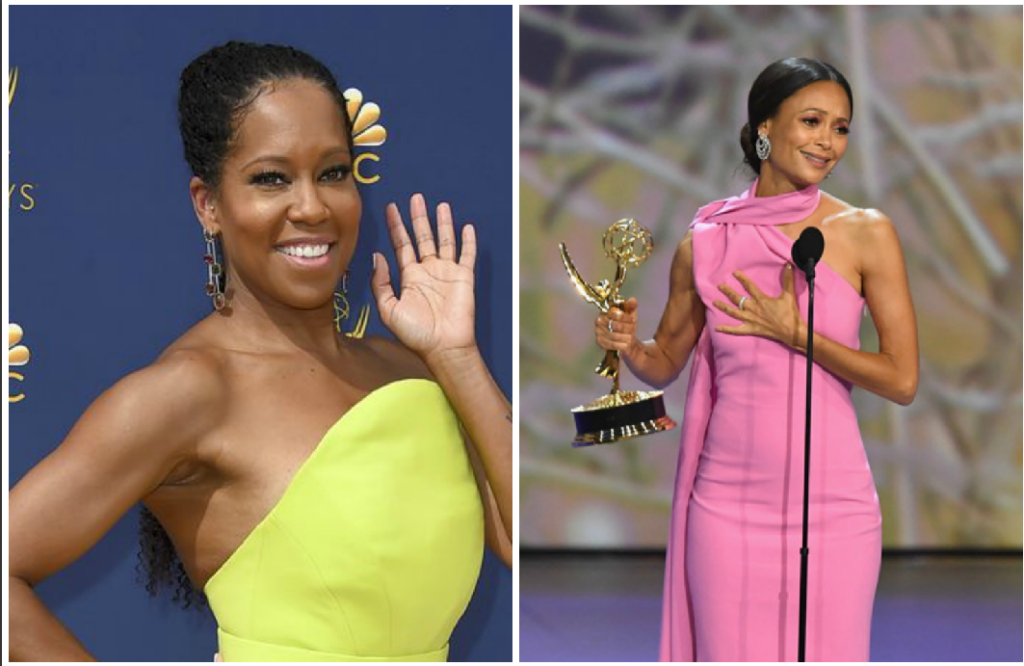 The Primetime Emmy Awards went down last night and in lieu of Red Carpet coverage, I'm posting to give a shout out to two of my Bellyitch Bumpwatch alums who won and were visibly shocked about it too: Thandie Newton and Regina King
Newton won for Best Actress, Drama, for her role on Westworld. During her acceptance speech, Newton wished her daughter a happy birthday, accidentally dropped the F-bomb, and then Thanked God…even though she might be an atheist.
"I don't even believe in god but I'm going to thank her tonight," said Newton.
Another fave, actress, producer and director Regina King looked shocked when she was announced as the winner of the Award for Outstanding Lead Actress in a Limited Series or Movie for the TV show she brought to the little screen, Seven Seconds, about a woman whose son is killed in a cycling accident by a police officer, the cover up and the effect of the scandal on a little town.
King had previously won two Emmys in that category for her  work in ABC's American Crime in 2016.
Watch her acceptance speech:
Not a mom, but I was a watcher and fan of the 1970s/early 80s show Happy Days, and so I was happy to see The Fonz, aka, Henry Winkler win his first ever Emmy Outstanding Supporting Actor in a Comedy Series for Barry at the age of 72.
The amazing moment came 42 years after he was first nominated for his role on Happy Days.
"I only have 37 seconds; I wrote this 43 years ago," said Winkler, who has been nominated six times in his illustrious career. "Skip Brittenham said to me a long time ago, 'If you stay at the table long enough, the chips come to you," and tonight I got to clear the table."
Yay! Congrats!