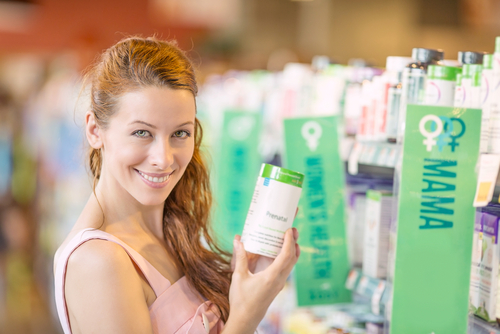 For couples who are trying to have a baby, you may have read and heard about ways on how to boost fertility. If you have just decided to have a baby, there should be no cause for concern, especially when the woman is below the age of forty. However, when you have given it a year or two and the pregnancy result is still negative, it may be time to think about why and what could be done about it.
Does regular intake of prenatal vitamins help boost fertility?
There have been many studies done to determine whether prenatal vitamins could boost a woman's fertility. Everybody knows that multivitamins for prenatals are crucial to pregnant women and their baby. But do prenatal vitamins really boost a woman's fertility? Unfortunately, there have been no clear and definite conclusions on this subject.

There have been studies that show 48% of women who take prenatal vitamins got pregnant after two or three months. However, there are also studies that show 58% of women got pregnant within two to three  months without taking prenatal vitamins.
In a prospective survey done on more than 100,000 nurses, data was analyzed and the conclusion was that taking vitamins at least three times per week decreases the risk of ovulatory infertility.
While there are no concrete answers to this question, one thing is, however, more evident. There are far more important benefits that prenatal vitamins can give to expecting mothers.
Prenatal vitamins and its benefits
Contains more folic acid.

When you are planning a pregnancy, it is highly recommended that you take prenatal vitamins because it has higher folic acid content. Taking 0.4 up to 0.8 of folic acid daily reduces the risk of neural tube defects in babies. Neural tube defects are found in a baby's brain, spine, and spinal cord. This usually occurs in the first month of pregnancy.

The reason why women who are planning to get pregnant are advised to take folic acid before pregnancy is because they usually find out they are pregnant at six to seven weeks. Neural tube defects usually develop in the first four weeks of pregnancy. If expectant mothers are already taking prenatal vitamins, this risk is significantly reduced.


Has a higher dose of vitamin D.

Vitamin D helps in the absorption of phosphorus and calcium which are essential in the development of tissue and bones of the baby. Simply eating healthy is not sufficient because a pregnant woman needs to take 600 IU of vitamin D each day. It can be as high as 1000 IU if the mother has vitamin D deficiency.


Higher iron content.

When you are pregnant, it naturally follows that more blood is needed to circulate the body in order to support the baby. Which also means that more oxygen in the blood is needed to be transported to the mother and to the baby. Transporting oxygen is the job of the iron in the body. The lack of iron results in less oxygen being transported.


Calcium.

A pregnant woman needs at least 1,200 mg of calcium each day since the baby is developing a fetal skeleton. It will not stop just because the mother has calcium deficiency. It will go on sucking all the calcium it needs from the mother. Prenatal vitamins are high in calcium and vitamin D which helps absorb calcium.


Vitamin C

Vitamin C helps boost the immune system and it prevents you from having oxidative stress. It can help stabilize your blood pressure and it is a great source of antioxidant. Pregnancy can take a toll on a woman's body, hence, the need for higher doses of vitamins. Remember that you are not the only one absorbing all these vitamins. Some of it also goes to the baby.


Omega-3.

Omega-3 is good for brain development. There have also been studies that show Omega-3 helps in reducing risks of fetal growth restriction and gestational diabetes. It also helps in preventing preeclampsia, which is a complication during pregnancy that indicates high blood pressure and organ system damage.



Taking prenatal vitamins the moment you decide to have a baby may not be a hundred percent guarantee to get you pregnant, but it will certainly give you all the healthy benefits that a pregnant mother needs. There are some health risks involved for pregnant women and the baby, especially in the first trimester and if prenatal vitamins could help lower some of those risks, there is absolutely no reason why pregnant mothers shouldn't take them.