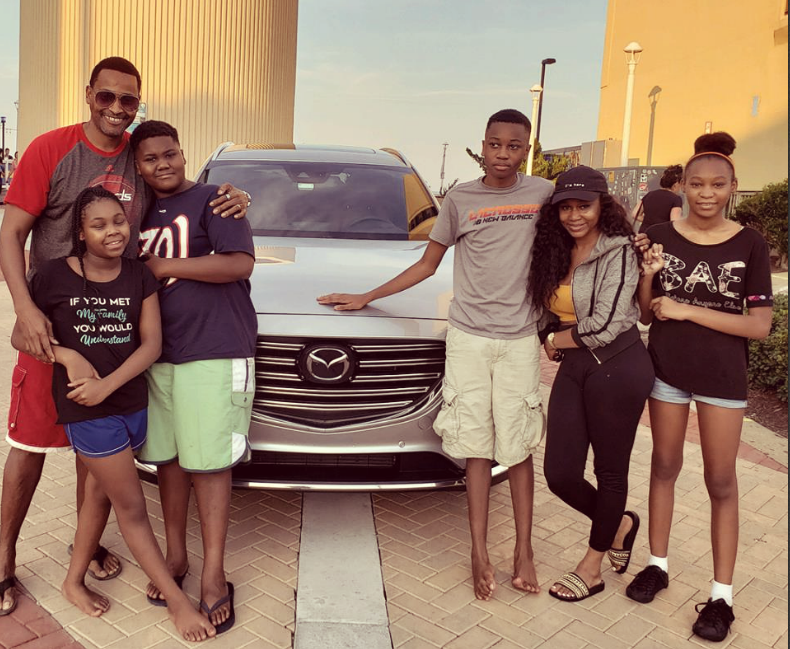 A few school systems in several regions in America and across the globe have started a new school year already. Still, many more are still out and this means that families are sneaking in their last minute getaways and vacations. Personally,  I can share that on my various social media platform feeds, I see many friends and family on weekend and weeklong excursions.
On Sunday, my family of 5, my baby sis and niece did the same and headed to Virginia Beach about four hours south of our home outside DC.
To get there,  on the drive down, I partnered with Mazda USA and Driveshop  and tested out its signature top-of-the line luxury three-row crossover sports utility vehicle, the Mazda C-X9. We ABSOLUTELY LOVED this vehicle and were honestly sad when we had to return it at the end of the week.
First, it looks really regal and very expensive! The atomic grey version of the premium vehicle we were generously loaned to drive came with decadent auburn interior leather seats.  The SUV itself doesn't even look like a heavy cargo vehicle from the outside because the car's design features a sloped rear and sleek aerodynamic exterior.
Very nice!
Full disclosure: this was my first time driving a keyless entry, push-button start vehicle and I was nervous about leaving the key in the vehicle,  but good thing, the SUV alarms if the engine is running and you walk away with the key.
Tech Features
For today's modern tech obsessed and addicted families, this vehicle is loaded with high tech features. This 2018 model comes with its own Wi-Fi. Also new for this year are two head rest videos with wireless headphones and remotes. For our drive up and back from Virginia Beach, the kids plugged in their Amazon
Firestick on one monitor and the Roku on another, then tethered our family's unlimited wireless phones so they could enjoy Amazon, Hulu and Netflix on the trip.
There is an XM, Pandora, and other streaming services options. We could control the dashboard as a touch screen or using a dial on the center console. There are two USB ports in the center console, two inside the pull down arm rest and cup holder. The trunk and inside the passenger side panel both have cigarette lighter ports that can be used to house another dual USB port, making it possible to charge 8 different electronic devices at the same time if we wanted.
There is an active driver hologram on the window above the dashboard that shows the miles per hour being driven. I was in awe to see a small Stop sign appear on the windshield each time the car approaches a street with an actual Stop sign on the corner. During the highway drive, each time there was construction on the road, a yellow strip appeared on the hologram to warn the driver of the more dangerous road condition. Similarly, each time the car would get close to the shoulder, there was a signal in the hologram signal. Amazing!
All of these features are great to supplement driver's instincts and assist for the safety of the precious cargo, the family!
A push of the button activates the push-to-talk hands free dashboard and another button toggles the dashboard monitors: miles driven, Trip A and Trip B analytics for comparisons, the gas mileage, the vehicle service update and more.
The trunk features a hands free open. You just hit the key fob and the rear opens automatically, with one touch of a button near the keyhole, it auto closes. If something is in the way, the door will retract a bit and will not close.
Navigation
The navigation system is Smart and sophisticated.
Besides the standard navigation options, even when you haven't programmed the vehicle to give you direction anywhere, as you drive, the dashboard indicates the name of a street  or cross street you are about to enter and gives you the speed limit sign for the road you will enter before you enter it so you know how fast oncoming cars should be traveling and how fast you should go once you merge into or enter that lane of traffic.
There is a rear camera that helps you get in and out of tight parking spots or to parallel park.
The Safety Features
The high tech options on the full package  vehicle we tested included innovative safety features. One of my faves is the blind-spot monitoring and rear cross-traffic alert. If a pedestrian is close to the car walking across the parking lot as you're about to back out of a space or if another vehicle is close to passing, the CX-9 gives out an audible alert. You can also see it through the rear view camera which I also appreciated because while using it, I was able to back into a parking spot at the grocery store absolutely perfectly!
There is also a blind spot signal on the side mirrors that illuminates each time another vehicle on the road coasts in your blind spot. Neat! There is a touch emergency brake button on the center console that can be easily released with the touch of a button.
It also includes in suite of active safety features such as automatic high-beams, lane-keeping assist, rain-sensing windshield wipers, and adaptive cruise control.
Handling
The car had great maneuverability and handling, typical for any all wheel standard car. I looked it up and the vehicle comes with Mazda's G-Vectoring Control, a system that reduces engine torque imperceptibly as the vehicle enters a corner to help improve cornering stability.
The CX-9 crossovers is a 2.5-liter turbocharged I4 making 227 hp and 310 lb-ft of torque, which is mated to a six-speed automatic transmission.  The SKYACTIV®-G 2.5T Dynamic Pressure Turbo engine is a reaction to the new category of hybrid vehicles on the market. It helps this SUV get more miles per gallon. We traveled about 4 hours and a little over 200 miles from Virginia Beach to right outside Washington, DC on a half tank of gas. That's highway miles. Excellent fuel economy.
Luxury Comforts
Although we didn't need it this trip, there are heated seats for the driver and front seat passenger and second row seats.
Reviews
It has a close to 5-star rating by Car and Driver magazine and is listed among its 10 Best SUV Cars and Trucks List.  Edmunds gives it close to 5 star ratings on most categories too!
Price
For $38,655, you can get the front-wheel-drive CX-9 Touring with the Premium package. That Touring Premium package is an additional $1750, but adds a long list of features, including navigation, automated emergency braking, a 12-speaker Bose audio system, SiriusXM satellite radio, LED fog lamps, and a power sunroof.
Overall Pros: This vehicle is great for a medium to large family of 3-7. It looks and feel great from the exterior to interior. The sporty sleek look gives it a very top-of-the line feel, comparable to other SUVs in the market, including luxury brands. The tech features are up to par with all of the innovation out there on the market and what modern, tech driven and connected families need. The safety features gives you an extra layer of security for the family.
Cons: The USB ports in the front in the center console is hard to reach when driving and the cigarette lighter one along the center console floor paneling is awkwardly placed and very difficult to reach. It would be better if it was placed below the dashboard so it is easier to maneuver.
While we appreciate the slope in the back giving off a more sporty feel, it took away cargo space so we weren't able to carry as many suitcases because we had two extra people in our party. However, for the average family of 5 who are traveling on a road trip, you can easily fold down the third row to accommodate more bags back there.
See some of our LIVE reviews on the Bellyitch Instagram account under "Reviews" or Watch some clips of my review above in this compilation:
Over 9 million people have enjoyed Bellyitch's Award-winning Celeb "bumpwatch" pregnancy and parenting blog. Trying to Conceive? Download our
FREE Fertility 100
ebook. Hunting for Top Maternity or Kids Brands? Our
Bellyitch 100
is the free resource for you. Baby Shower Shopping? Check out out
Top Picks on Amazon
or our
Gift Guides
.