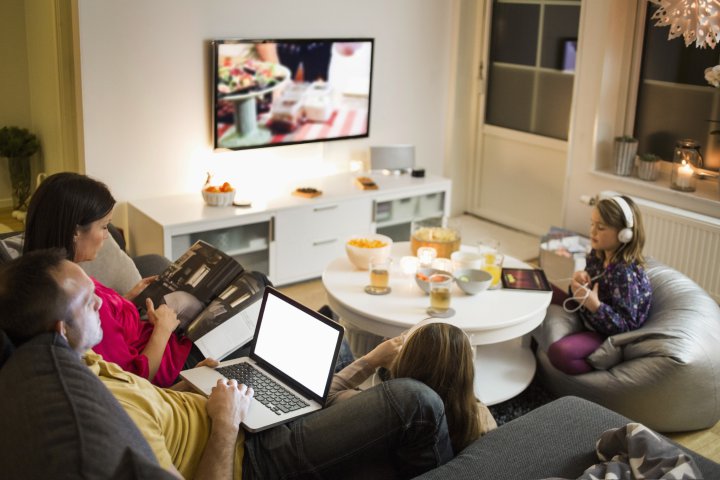 So… after another year of paying close to $3,000 for a bundled cable, internet and TV package deal and paying for channels that we don't watch and services we don't use (landline phone), the hubby and I decided to join the world of cable cutters!
Tread Into It Cautiously
The idea of cutting the cable cord, or giving up traditional multi-channel video programming providers (also known as cable television service), always scared me.
I've always been resistant to the idea because modern cable services come in a bundle of services that include landline telephone service. You know a phone that is connected to a telephone cord that is connected to telecommunications lines in the ground created decades ago. Those are ancient but they are dependable and reliable compared to wireless phones. In the interest of safety and security, I've always felt being able to connect with emergency services required traditional (POTS aka plain old telephone system).
A landline telephone is a dedicated residential link to the world, something very necessary in an emergency.
I'm not thinking the zombie apocalypse is coming but moreso in the instance of a huge storm that knocks our home off the power grid. What happens when we lose the ability to charge our mobile phones in our home, and our portable charges all run out of power, then all five people in our home who each own a wireless mobile phone phones would eventually die, and then if we ran out of gas of our two vehicles in the driveway depriving us of the ability to use the car to charge the phone, and the power generator died and then we'd be out of luck and unable to make or receive calls to emergency personnel or to call for help.
I admit. That's a lot of "ifs", "then" and hypothetical conditions that would have to occur in order to really experience a problem.
I was forced to ask  myself if the $300 monthly bundled service bill (including all the local, state and federal fees, and taxes tacked on to the bill) is really worth the unlikely risk.
The answer is no.
Fear of Losing Precious Local TV
Other than the fear of losing landline telephone access, my only other hesitance was my interest in local channels.  Before cable even existed and today now, you can get free over the air television via a TV and an antenna that you tune to get a signal.
Local TV is important.
Local TV provides local weather, traffic and local news and alerts. When you have a family, it is essential to be connected to what's going on in  your immediate community for your saftey, health and well being. Recalls, warnings about spikes in crime, incoming storm alerts are all things we need to know. It is not an option and a non-negotiable.
My family and I live in a heavily wooded town and so over-the-air antenna is not an option and therefore, I would need cable to be able to access local channels because antennas and other over-the-air tools would do nothing to deliver us clear free TV.
Before I did the research to see if streaming services offer Local TV and Live Local TV nowadays, I put that concern aside temporarily and set off to experiment to see how easy (or hard) it would be to join the cord-cutters society.
So Let's Do this: First Up -Television
The first challenge was finding a streaming service to access all the channels, movies and other video programming we currently watch and love. Our kids enjoy all the children's television options and we have one kid who adores the nature, Discovery and animal channels. My husband required all the sports channels to access soccer, and essentially all other sports. On his must have list was Fox Sports, NBC Sports and ESPN. I'm currently hooked on a few shows on TNT, AMC, Starz and HBO and I am an avid watcher of the Bravo TV Housewives shows (my guilty pleasure).
More options than traditional cable
What I  discovered quickly is that there are a lot of video programming streaming services available currently. I knew Netflix and Hulu existed and were/are the current industry leaders in video streaming. Since those two took off, several other streaming services have launched. These include Sling TV, Amazon Prime, Playstation Vue,  DirectTV Now and the newest YouTube TV. Here is a quick summary from Tom's Guide:
1.HULU – If you want to keep current with the latest TV shows but don't feel like investing in a cable subscription or an HD antenna, Hulu is the best solution. This service provides access to most major network shows (aside from CBS' programs) and a handful of cable shows the day after they air. It also lets subscribers access a show's current season — or often all of the program's seasons. In addition, the service hosts a number of original shows (including joint ventures with the BBC, like The Wrong Mans and season 4 of The Thick of It), a selection of offbeat movies and a surprising amount of classic anime series. Even with a paid subscription, you have to sit through commercials, but far fewer than if you watched the same shows on cable. It cost $8 per month.
It added Live TV streaming recently for $40 per month. Along with more than 50 channels of live TV, in the new Hulu with Live TV from local channels ABC, CBS, Fox and NBC in select cities plus a solid slate of cable channels, including ESPN, CNN, TNT, Bravo, HGTV, Cartoon Network, Lifetime, the Disney Channel and more (Disclosure: CBS is the parent company of CNET and Showtime.) You also get 50 hours' worth of cloud DVR storage and an all-new interface.
You can get 45 days free!
2. Netflix – The great-granddaddy of streaming services remains the best. As you probably know, Netflix provides unlimited streaming of TV shows, movies, comedy specials and original programming (including Orange Is the New Black, House of Cards and the fourth season of Arrested Development) for one monthly subscription fee. No other service has yet given Netflix an honest-to-goodness run for its money in terms of selection, quality and performance consistency. You can even create up to five different profiles on a single account to make sure that your favorite content doesn't mess up recommendations for your friends and loved ones.This is one of the original streaming services and currently going for $12. It too offers a free month!
3. Amazon Prime – For those who do most of their shopping online, Amazon Prime is a no-brainer. For $99 per year, you get free two-day shipping on your purchases, a free Kindle book each month, and unlimited access to both Amazon Music and Amazon Prime Instant Video. Like Netflix, Amazon Prime Instant Video is a veritable buffet of movies, television and original programming, like Alpha House, Transparent and Mozart in the Jungle. Thanks to a deal with Viacom — which controls Comedy Central, MTV and Nickelodeon — Amazon Prime arguably has a better selection of comedy and children's programming than its competitors. The service also offers unlimited access to an extensive collection from HBO's back catalog of classics such as The Sopranos and The Wire. The separate Amazon Video provides easy access to current movies, but it's an à la carte service.  You can pay just $10 with your prime membership to skip the upfront cost. You can get a free month too. 
4. SlingTV – If you like the idea of a cable subscription but feel it's just too expensive and offers more content than you want, Sling TV might provide a happy medium for you. On paper, Sling sounds a lot like a traditional cable service: Pay a monthly subscription fee in exchange for about thirty real-time channels. But there's no contract and no set-top box rental fee. Sling is especially handy for sports fans, as it offers a variety of ESPN channels. For cord-cutting sports fans, this alone is worth the price. Other popular networks, like NBC, BBC America, CNN, Cartoon Network, TBS and the Food Network, sweeten the deal. If you sign up for Sling Blue, which is the service's multi-stream option, and bundle it with the more bare-bones Orange, the combo will cost you $40 per month. This service is $20 per month and also offers 7 days free and a free Roku Express when you order.
5. DirecTVNow – (Not from Tom's but CNET) DirecTV Now has most of the live channels offered by your local cable provider, without hidden fees or contracts or extra equipment (no satellite dish required). The $35 a month introductory price for 100 channels is an amazing value. You can add HBO or Cinemax for just $5 a month each.AT&T owned Satellite company is the satellite company DirectTV's reaction to Cord Cutters. After launching, it picked up 200,000 subscribers in a few weeks. No CBS, and live ABC, Fox and NBC only available in a handful of major cities. No cloud DVR (for now), so you can't schedule recordings. or cable cord-cutters and the cut-curious who prioritize live TV over on-demand access, DirecTV Now is a very good value.
6. Playstation Vue –  about as close as you can get to a cable subscription without actually getting a cable company involved. The service, which is available on a wide variety of systems, is Sony's first foray into delivering live TV to its customers. Choose from four different packages: Access ($50 per month), which gives you basic channels, Core ($55 per month), which adds sports, Elite ($65 per month), which adds niche programming and Ultra ($75 per month), which adds certain premium channels. Although the service is expensive, it provides up to 90 live channels – including local sports and news – and lets you record your favorite shows.
7YouTube TV – is the newest service that is a direct competitor to cable TV. You get live local TV channels like ABC, CBS, Fox and NBC as well as cable stalwarts like ESPN, the Disney Channel, Fox News and Bravo. It's only available in five US metropolitan areas for now: Los Angeles, New York, Chicago, Philadelphia and the San Francisco Bay Area. Watch it on a regular TV with a Chromecast. YouTube says more cities will be added in the coming months. It will offer Live TV in coming months as well. As CNET notes, there's no CNN or TNT, no Comedy Central or HGTV, no Lifetime or MTV. YouTube gets credit for local channels, sports and Bravo, but for many people that's just not enough for the price which is $35 per month. Start for free and get 6 accounts per household.
Wow! That's a lot of options compared to traditional cable.
Currently, I only have two options.  As I said before, I live in a heavily wooded town with no clear view of the sky, so HughesNet, Dish and DirectTV satellite services are not an option leaving me with just xFinity by Comcast and FiOs by Verizon.
If I become in happy I can go to the other, but what happens when I become unhappy with the alternative? I've had both, on an alternating basis.
That's no way to live, man!
The Tech Part of Streaming I love: Conduit and Content Are Separate
With traditional cable,  the coaxial cable, and now, fiber optics that bring service to your home (the conduit) is provided by the same company that packages and brings you the content. That's power. You pay for video programming service and pay to rent the proprietary set-top box, through only which, you can access the video programming.
There has been an ongoing fight to require cable companies to make their set-top boxes available at retail locations or to permit commercial competitors to be used with the service. This move would relieve the choke hold on customers.
The rental of the set-top box can add an extra $120 or more tacked on to your bill for the year, depending on how many  TVs you have in your home.
With streaming, the devices that permit the streaming are sold at retail locations for as little as $12 in some instances and a lot of these streaming services will throw one in for free if you sign a 6 month contract. Winning!
Watch market competition and capitalism at work here!
Streaming Brings Down the Cost of Video Programming Set Top box to $29 from $495
As stated above, with streaming, the service, the conduit is usually an Amazon FireStick, a Chromecast or a Roku Streaming Stick that run from $29 to $59, which is nominal one time price compared to a cable set top box which would cost from $150 to $459  a year, every year, to rent from the "cable" company.
Streaming Brings Down the Cost of Video Programming Service to $8 from $99
If you had mid-tier cable service, likely you paid close to $100 per month for it (Separate from a bundle) and there are a lot of channels you don't watch. As noted above, you can get streaming service for as little as $8 per month.
That too was a big fight at the FCC not long ago and still it is very difficult to get a la carte tier of services so you can pick the few channels you watch and pay just for those channels.  Some cable companies offer a la cart packages but they end up costing a lot of money after you add taxes and fees!
Soon, even they are not even worth it when you consider if you pay more, you get tons mpr options, you may not watch but at least, you have the option.
With streaming, everything is a la Carte and if you want to add premium channels or additional packages of content, then you can for an extra $5 to $8 per month.
That's still a big slash in price compared to a $100 monthly bill .
No Commitment or Long Term Contracts
The other benefit to these streaming services is that once you purchase them, you pay as you go and are not obligated to stay with them for a year or longer or risk paying high early termination fees.
True Competition and Options
I love the true competition in the cord cutting world. We have the ability to move or dump a service if we aren't happy. Consumers only have to deal with a month of non-satisfaction and can sign up for a competitor. How sweet is that?
A lot of us consumers just feel trapped in a situation a lot of times with no where to go! Mor options are best!
Streaming is Compatible with Modern Families – It Works like How we Watch TV Anyway
Oh yeah. One other concern and fear I had before considering cutting the cord: the absence of Live TV. I thought about  that some and figured that we no longer watch TV the same way we did 5 years ago anyway.
Nowadays, we DVR most of the shows we watch or catch them On-Demand. We rarely watch shows when they air Live for the first time.
The exception is possibly Live Sports or very popular shows that one might want to live Tweet or watch with others in social media.
Both are among the category of shows you need to watch before bumping into spoilers online.
And because technology and competition work best, a lot of the streaming platforms offer Live TV now, even local TV, to meet the demands of customers who can just leave them at any time because they are not tied to any long-term contract.
Local TV
Similarly, a lot of streaming services are offering live TV, the only hold over or thing that would have held be back before.
One more problem: Internet conundrum and Quality of Service
The final conundrum comes from getting broadband internet.
Streaming eats up bandwidth and requires wireless connectivity. Hmmmm. After cable cutting, we have a few options for connecting.
We started off by just tethering our unlimited data plan phones with the TVs. Each of us have mobile devices with that option. But there would be a problem if we have guests in the home and none of us are at home to tether our phones to the TVs.
We return to the original issue of having limited options.
We can only get Verizon and xFinity. Because we don't have satellite capability, like mentioned above, broadband satellite is not an option.
There are other broadband home services that serve our town but they are for businesses only.
Finally, after calling around, searching and scoping out options, I came up with the solution: buy a hotspot just for the house!
I got Verizon Wireless Jetpack 4G LTE Mobile Hotspot—AC791L.  It can be used for up to 24 hours to connect up to 15 Wi–Fi–enabled devices such as laptops and tablets to Verizon wireless' large and mostly very very reliable 4G LTE network. You can even use it to charge a smartphone.
The only drawback is we are back to commitments.
It cost just $49.99 per month but if we stay for two years. * le sigh *!
It's a deal I'm willing to take because the cost savings, freedom and flexibility of cable cutting makes it all worth it!
Net Neutrality
The last issue is that, generally, when you rely on mobile broadband, companies cap your streaming upload and download capacity after you reach a certain point. Ours is 10 kpbs, then our streaming capacity drops to 3 kbps.
That's terrible because it means our TV would lag, buffer and our video watching experience has been diminished once we reach the cap. We would have to work around it by doing our own personal data management by day so by the evening when have enough left over to enjoy streaming. We have multiple devices that each have Their own cap so this will take work and coordination but again, this is a small challenge to cord-cutting.
It's the price to pay.
Now that I am getting my feet wet as a cord-cutter, I am experiencing that buffer. I have unlimited wireless but after a certain max, the company will limit my upload and download speed to ensure the network is efficient. Unlike traditional broadband, which provides a dedicated fiber to home conduit, over-the-air or wireless broadband are limited by things like weather, congestion and high use during peak hours.
The argument of the FCC regulated legacy companies is that they need the flexibility to maintain the quality and efficient management of their network, and suppressing would-be "band width hogs" like cord cutters that stream is required to do so.
There is a fight in Washington, DC that has been going on for close to a decade now over a complex term called Network Neutrality.
Essentially, there is a movement to require the traditional and legacy telecom and video programming companies, called "carriers", that provide direct-to-home or direct-to-consumer to give all users the same amount of bandwidth at the same price; and to not discriminate by giving affiliated services, partners or related offerings preferential treatment than those not associated with them.
So in other words, AT&T or DirectTV customers shouldn't be given a better experience or deal because they also have AT&T wireless to the detriment of customers of other wireless providers.
(btw; they do. Streaming is included for AT&T wireless companies)
That's the neutrality part. The road has been bumpy and the side that wins changes with the administration because the FCC is neutral but still whatever political party is in the White House, the chair and power shifts to that party, to put it bluntly.
The carriers argue that they need ultimate control to manage their network efficiently and shouldn't have the government mandating their activity.
The counter argument is that you cannot trust them to not discriminate or make poor choices because they are motivated by maximizing profit over the needs of consumers, and without government mandates, the carriers have no incentive to keep prices low for consumers.
I can understand that perspective but I have already seen market competition at work and am still experiencing it now as a new cord cutter.  There are constant and non stop offerings, updates, improvements and flexibility in the streaming world.
There are updates almost daily we see coming from the 7+ current streaming services shows that sometimes, the marketplace works just fine.
Because I am not tied by a contract, I remain a potential customer to all the companies offering streaming. The cost of getting me to switch is less and the likelihood of winning a competitor's customers is high as we are not hampered by the threat of early termination fees.
It is indeed possible that marketplace solutions would work just fine.
I've been a telecom lawyer and tech policy writer for a long time in my other life.  It is one thing to argue policy, from an abstract and theoretical perspective,  but when you experience it first hand like I am as a cable cutter, you get a different perspective as a customer actually impacted by policy.
We're still figuring it all out. My husband is totally intimidated and frustrated because he doesn't really know how to work the remote control or all the tech involved. He is an engineer but I am the resident tech expert.
Him listening to me explain kbps to him is like me listening to him explain what he does at his job. ha!
We'll keep you updated. So far so good!