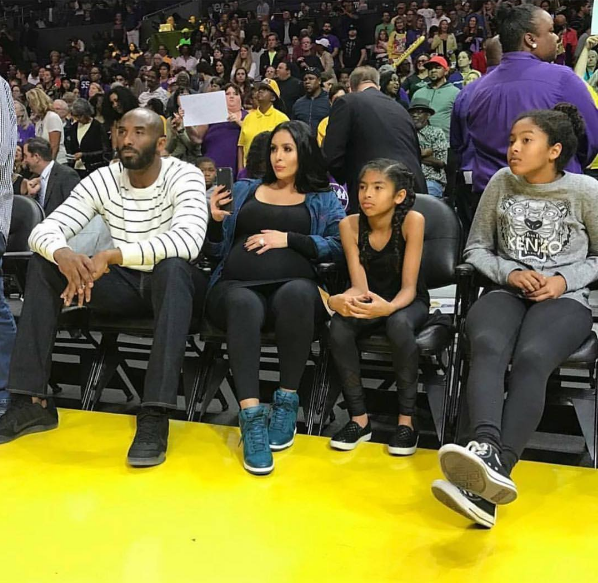 Congrats to Vanessa Bryant on the birth of her fourth child, another baby girl.
The wife to NBA star Kobe Bryant shared the news on Friday, June 21 via Instagram though she actually gave birth to a baby girl on Thursday, June 20, US Weekly reports.
"Our baby girl is here!!!!!!" Vanessa wrote on Friday, June 21, via Instagram. "Capri Kobe Bryant. So thankful for our newest baby blessing."
The former Los Angeles, Lakers star and his wife announced on New Year's Day on January 1 that they had another baby on the way with an enthusiastic Instagram reveal.
"Vanessa and I are beyond excited to announce that we are expecting another #mambacita to go along with Natalia, Gianna and Bianca," the athlete wrote at the time. "New Year, New Baby! Baby Mamba on the Way 2019."
The couple are parents to daughters 16-year old Natalia Diamante, 13-year old Gianna Maria-Onore and 2-year old Bianka Bella,.
The baby's middle and last name is the same as dad's!
It is reminiscent of Serena Williams' daughter who shares the same firs and last name as her dad, Alexis Olympia Ohanian, and Teyana Taylor's daughter Imani Shumpert Jr. who shares the same first and last name as her dad. Is this a new celebrity trend or what?
If you'd like to know more insider tips, want a critique of a site you've created or if you are interested in starting a blog or website yourself but do not have the time, patience, bandwidth, know-how or ability to get it done, let me set it up for you and train you on how to keep it going with my "Do-It-For" you consulting service,
Visit my Personal Consulting Site and Book a spot today!