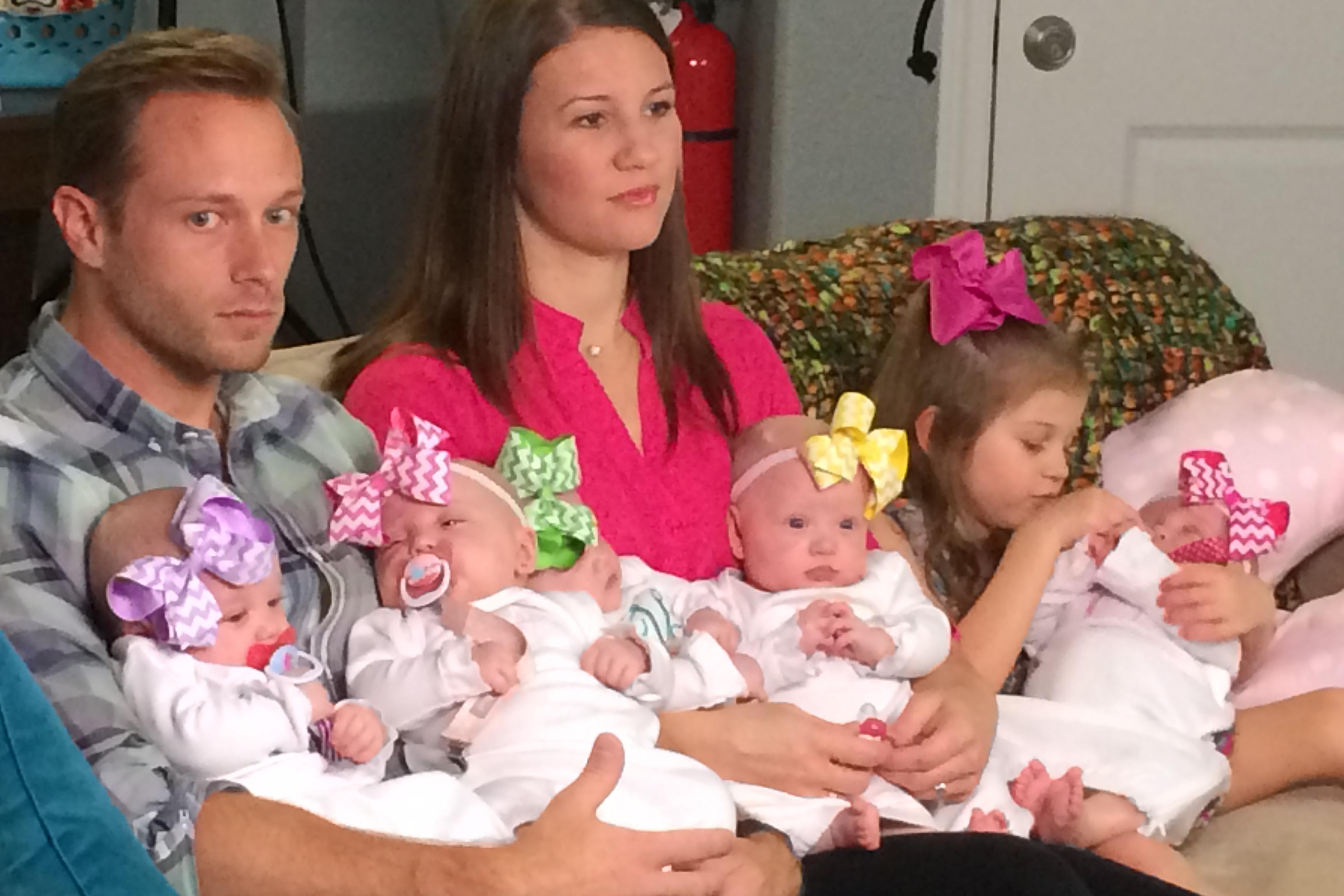 Reality TV dad Adam Busby opened up on ABC's Good Morning America about being among the 1 in 1o men that suffer postpartum depression. The dad to America's first modern set of all girl quintuplets, born in April 2015, and his wife start on the TLC show Outdaughtered.  
On the morning show, Busby talked about how the pressure of being a new parent triggered depression that he still battles even today. He first admitted it during an episode of the show.
"It totally got worse and worse, but it crept in," Busby said. "The babies, providing for my family and the kids and stuff, I felt like it was just constantly on my mind to where it's really hard to focus on anything else. I started withdrawing from friends that I've talked to on a daily basis. I didn't feel like engaging with people … just because of the weight and constantly thinking about all this stuff that I have to prepare for.
"I felt like my love, my mental state, my thoughts, I gave every ounce to my family and I poured that into my family and my girls," he added. "I felt like at the end of the day, there was just nothing left."
Since coming out with his struggles on TV and social media, other men who have had similar crises have come forward and thanked him for his courage.
Others have been critical but Buzz isn't let that get to him and neither his wife Danielle Busby, and they both are taking it in stride.
"I've gotten a lot of criticism since coming out with this from people that just don't understand, and that just adds to the stigma," Adam Busby told ABC News today. "You can think logically about it and say, 'You should just put yourself into perspective and think about all the good stuff you have going for you.' Yeah, we have a lot of great stuff going on, but whenever you struggle with depression, your mind just doesn't let you go that way.
"I always thought that people with depression are weak and that's not the case. I know that there's this stigma out there because I'm guilty of it. I held onto it for two years and I tried to fix it myself and I tried to deny it and I tried to run from it and all that did was make it worse because I held it in."
He took the advice of a friend who suggested he look into a PPD diagnosis.
"You kind of start digging more and realize, 'Man, this is something that's happened ever since the babies were born and I've been struggling with it since, because of the sheer change in our lives,'"  Busby confessed while also stating he opened up about the condition to help other new dads who may be suffering from PPD as well.
They are parents to 2-year old Ava, Olivia, Hazel, Riley, Parker and 6-year old big sister Blayke.
The last all-female quintuplets were born in 1969.
photo: screenshot TLC
Read the statistics… 1 in 10 men struggle with it. No-one wants to talk about it though… #OutDAUGHTERED https://t.co/KGqPvTenEe

— Adam Busby (@AdamBuzz) July 19, 2017