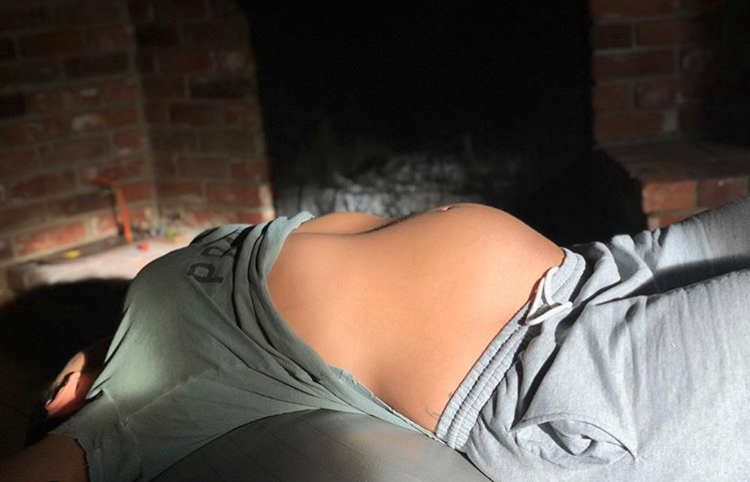 Jordin Sparks reminded her fans of some of the odd ailments of pregnancy when she shared a photo of herself doing natural physical therapy to alleviate her sciatic nerve pain.
"This little boy wants to be on my literal nerves today," the former American Idol winner captioned a photo of herself on a large balance ball, adding:
"The bottom of my rib cage is numb & I have some shooting pain down my right leg so I'm stretching on my exercise ball. Phew! But it will all be worth it when he's here. I can't complain though because this journey has been smooth sailing for the most part. He's been so good to me! We can't wait to meet you Little Man! ? Mamas, what side effects did you feel during your pregnancy? ?: Daddy #3rdtrimester #andababymakes3#psalm37four #babyboy"
What is Sciatica? (SYE-AT-ick-uh)
As the uterus expands, mom to be may feel aches and pains in the back, abdomen, groin area, and thighs. Many women also have backaches and aching near the pelvic bone due the pressure of the baby's head, increased weight, and loosening joints. Some pregnant women complain of pain that runs from the lower back, down the back of one leg, to the knee or foot.
It is thought to occur when the uterus puts pressure on the sciatic nerve
The sciatic nerve transmits sensation from the lower extremities and lumbar area of the low back. It is common for people to recover from sciatica without a surgical operation.
How to cure it?
Home remedies for new sciatica include heat-pad or ice-pack applications. Each can be applied for approximately 20 minutes every couple of hours. Some benefit from alternating heat and ice applications.
Strict bed rest is recommended less often than in the past. Physical therapists are experts at designing optimal exercise programs for sciatica. Brief walking can be helpful for certain people with sciatica.
Sparks and her new husband Dana Isaiah are expedient their first child, a baby boy, later this year.