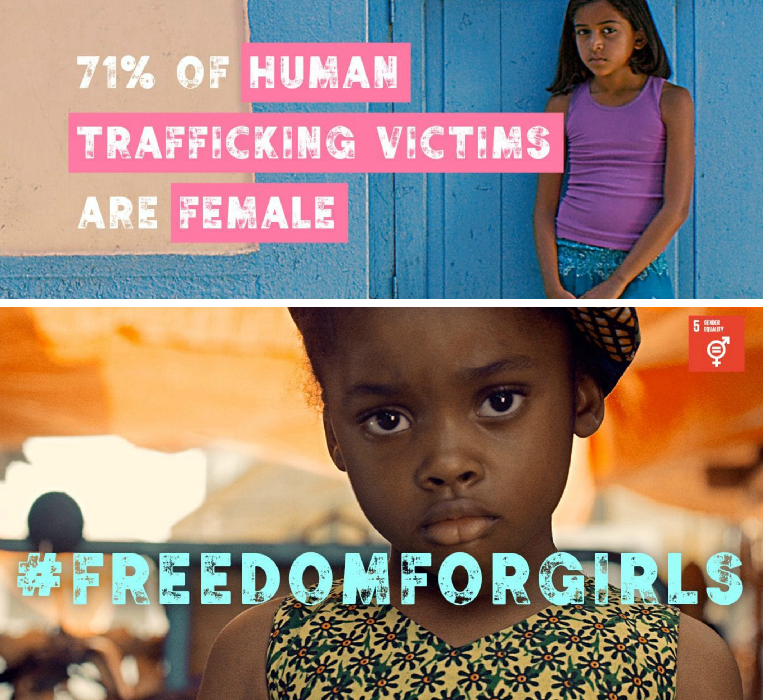 October 11 is the International Day of the Girl, a campaign launched by the United Nations dedicated to highlighting barriers and empowering girls to reach their full potential.
It is a movement meant to bring attention to advocacy projects and initiatives around the world to promote the education, safety and security of young girls globally.
Specifically, the mission is "to help galvanize worldwide enthusiasm for goals to better girls' lives, providing an opportunity for them to show leadership and reach their full potential." 
On this day, activist groups come together under the same goal to highlight, discuss, and take action to advance rights and opportunities for girls everywhere.
It's also a national day of action to elevate awareness of  gender justice and youth rights.
In 2015 when leaders signed up to the UN Sustainable Development Goals – the Global Goals – they made a promise – to empower all girls.
Although there has been progress, the Global Goals campaign call for keeping the pressure on world leaders deliver and every girl grows up healthy, safe, empowered and able to fulfill her dreams.
Also to coincide with the day, the Save the Children nonprofit released a study which revealed that  biased views on the value of girls and their roles within the classroom and society begin to show as early as fourth grade. The global humanitarian organization surveyed boys and girls in the United States and the West African nations of Sierra Leone and Côte d'Ivoire and  found that a striking number of young boys – and even many girls – believe fathers rule the household, boys are smarter than girls and girls need less school than boys.
"Girls are worth far more than what the world tells them," Carolyn Miles, president & CEO of Save the Children of the data which found, among other things, that  17 percent of American fourth graders believing a man would make a better boss than a woman.   "Globally, we know that girls are more likely than boys to miss out on school, experience violence and live in poverty. That is why we need to invest in their education and do everything possible to delay early marriage and motherhood. By providing children equal opportunities and access to learning, every girl can realize what she's truly worth."
In 2017, girls around the world are still frequently marginalized in their families, communities and societies because of who they are or where they were born. They face discrimination, lack equal opportunities and earn less money – their lives and futures aren't given the value they deserve. Save the Children's analysis revealed that a girl under 15 is married every seven seconds.
Also, to commemorate this annual day, 30-year old Oxford University graduate, director MJ Delaney teamed up with Project Everyone in partnership with UNICEF and the Bill & Melinda Gates, to create a new video to raise awareness of the #FreedomForGirls campaign which has been created to support Inernational Day of the Girl
The video features girls from all walks of life and different nations around the globe dancing and lip-syncing to Beyonce's song, "Freedom'". The Group also  calls for action on some of the biggest challenges girls face like access to education, child marriage and the threat of violence".
Last year, the group asked people to share #WhatIReallyReallyWant for girls and women – this year it wants everyone to raise their voice for freedom.
WATCH THE CAMPAIGN's VIDEO