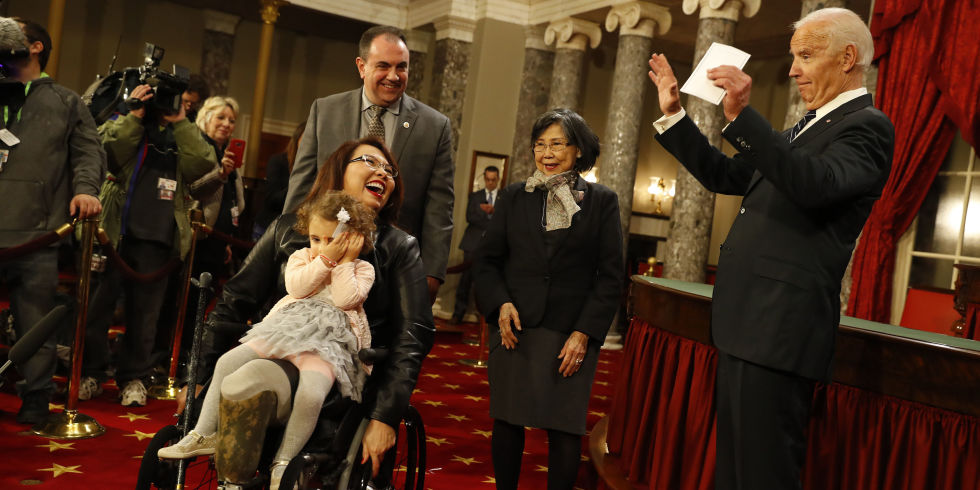 Senator Tammy Duckworth, first female amputee elected to Congress and the first Asian American to represent her state of Illinois is about to have another first: the first sitting Senator to welcome a baby.
The 49-year old Thailand-born retired US Army Lieutenant released the news in a recent statement which read, "Bryan and I are thrilled that our family is getting a little bit bigger, and Abigail is ecstatic to welcome her baby sister home this spring."
Duckworth  lost both of her legs in the Iraq War when her helicopter was shot down. The accident also made her first female amputee of that War.
It's an extraordinary piece of news given her history with infertility. She conceived her first child, daughter, Abigail, with her husband  Bryan Bowlsbey via IVF and suffered a miscarriage while on the campaign trail on the road to the Senate.
She opened up about her fertility problems admitting, "I've had multiple IVF cycles and a miscarriage trying to conceive again. She went on to speak of her commitment to her country and as a mother, "As tough as it's been to juggle motherhood and the demands of being in the House and now the Senate, it's made me more committed to doing this job."
Congrats!!
h/t Celebrity Baby Scoop