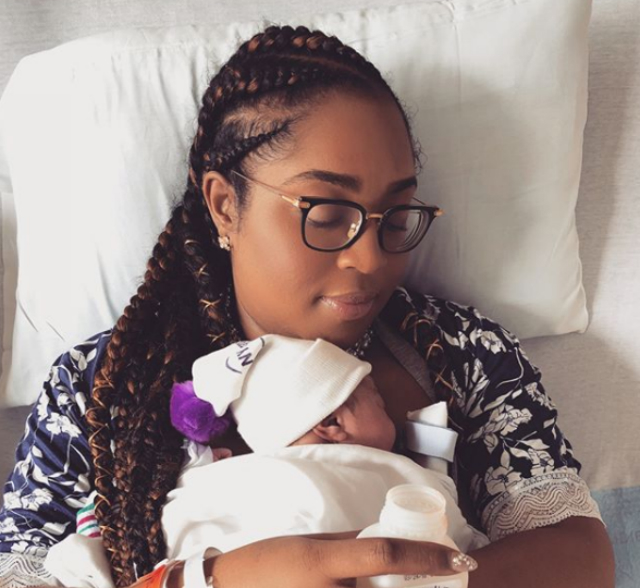 From Bad Girl to Mom.
Tanisha Thomas, former star of the Oxygen channel show The Bad Girls Club and host of subsequent permeations of the hit show about out of control young women living in a house, gave birth to her first child, son Prince Aiden.
Thomas took to Instagram to share the news.
"I am a woman of Many hats, however, this blessing right here is my greatest accomplishment," she captioned a photo of herself cradling her baby in bed. "#PrinceAiden arrived at 11:58 PM On 3/7/18. Forever grateful to the amazing staff at NYU I really couldn't do it without you. And Thank you for all of your beautiful words and love."

Her beau Carey StHilaire also shared the news.
"Proudest moment of my life thus far Welcome to the world my Prince. Daddy and Mommy have so much in store for you. #PrinceAiden #blessings" he captioned his photo holding his son.
A day before, Thomas shared a dreamy maternity portrait expressing her anxiousness over the imminent arrival.

nother popular alum of the show Natalie Nunn and her husband welcomed their first child last year as well. It seems just like the Jersey Shore girls, all the bad girls settle down, marry and become moms and family women.
Like a lot of women who suffer a miscarriage loss, Thomas waited until half way through the pregnancy to announce the news.
"I'm sorry I didn't mean to," Thomas explained. "After going through such a painful miscarriage during last years holiday season that literally almost tore us apart, Bae and I didn't want to take any chances this time around and waited as long as we could to share the good news."
Congrats!
h/t BCK Online