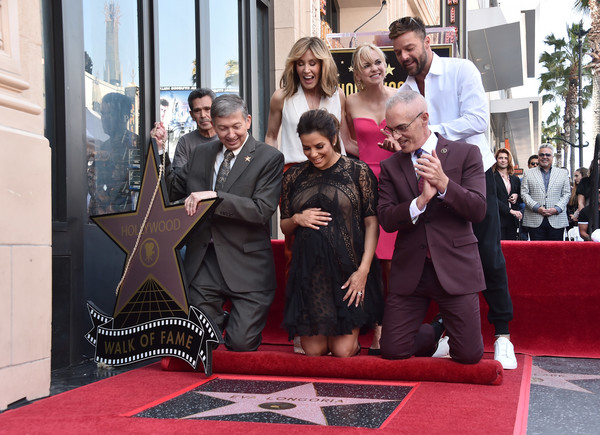 Yesterday, Desperate Housewives alum and first-time mom-to-be Eva Longoria was honored with a Star on The Hollywood Walk of Fame in Hollywood, California.
Her good friend Victoria Beckham, who also designed Longoria's wedding dress when she married media mogul Jose "Pepe" Baston, and her friend Ricky Martin, who sang is hit song "Livin La Vida Loca" at her wedding, attended the occasion along with her friend and Overboard film co star and our Bellyitch Bumpwatch alums, Anna Farris. 
 The Devious Maids alum recently stopped by Jimmy Kimmel Live! to promote her role in Overboard, a gender flipped remake of the Kurt Russell/Goldie Hawa cult classic film. 
During the segment, while outfitted in a white bump hugging mini dress and a white duster, Longoria discussed her pregnancy and becoming a first-time mom.
"Yup, all I talk about nowadays is baby stuff," Longoria, who is about two months away from having her first child with businessman Jose "Pepe" Baston, joked.
Although she says she has been "uncomfortable," Longoria, who is also a step mom to Baston's 20-year old son and 13-year old twins, says "feels great."
"Everything's uncomfortable," she admitted. "Everything gets bigger. It's not just your belly, like, I've never seen my thighs so big, and my boobs… they're in the way of everything. It's hard."
Discomfort aside, Longoria admitted that she often does forget that she's even expecting, a sentiment she also recently shared with ET.
"The other day, I was sleeping and the alarm went off, and I was gonna jump out of bed. And I was like, 'What's happening? I can't get up!'" she quipped to Kimmel, adding that she also had another memory lapse recently when she suggested a ski trip to her husband.
"My husband and I were talking about going snow skiing, and I was like, 'Oh my God, we should go next weekend, we're free!'" she said. "And he goes, 'No! You're pregnant!'"
When the parents to be initially found out Longoria was pregnant, she said her husband was concerned about how they were "going to keep this under wraps."
"I was like, 'They've been saying I'm pregnant every month for the last 20 years of my life. It'll be so easy,'" she admitted. "I had a burger, and they're like, 'Eva's pregnant!' And I had a pizza, and they're like, 'Baby bump!' (we are guilty!)
And finally, the tabloids came out, and they're like, 'Eva's gained weight.' And I was like, 'I am pregnant!'"
As for her delivery plans, she shared that both her and Baston's "large families" will be coming out, though she doesn't particularly want them to — and especially doesn't want anyone in the delivery room.
"I don't want anybody there. I need to absorb this moment by myself," Longoria confessed. "I'll end up taking care of them and cooking for them and making sure they're OK. I don't have time! But they're coming."
Continue reading