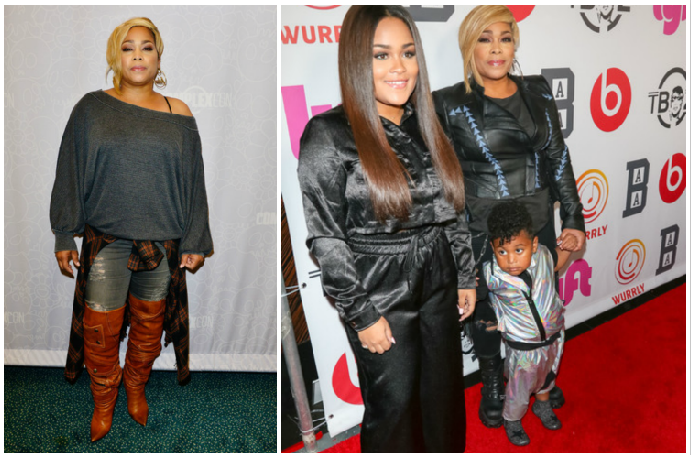 Tionne "TBoz" Watkins, is one third of the iconic 90s pop group TLC, a brain tumor survivor, and mom to two kids, 18-year old daughter Chase and 4-year old son Chance who she adopted from a woman she knew from her hometown of Des Moines, Iowa.
But she despises the term "adopted" and let Dr. Sean, host of Soul Fox, know it during a sit down interview last November.
"And I hate now, on social media people be like, 'That's her adopted son,'" the chronic Sickle Cell Anemia disease sufferer laments of the child who she emotionally welcomed into her family in 2016, though she personally shielded the decision from the press until 2017.
In a 2017 book she released, "A Sick Life (written with Emily Zemler), Watkins detailed more about the heartbreak she experienced during the adoption process.
Chance's birth mom had previously promised to carry a child for Watkins but reneged shortly after the baby was born.
Watkins didn't give up hope.
And in 2015, when that same birth mother in Des Moines became pregnant again, she promised Watkins the baby was hers.
In May 2016, Watkins brought home her son Chance, nine months after he was born.
"We all just bust out crying," Watkins says of the moment the judge finalized the adoption. "I'm not even a happy crier, ever, but I was bawling! I was so relieved because you love this person with all your heart — and to know that someone can still take him from you? I couldn't imagine. I was so relieved once that part was over."
She also wrote in A Sick Life."Chance has brought new life and fulfillment in our house and made us feel even more complete, and I can't thank his birth mother enough for that."
She also told Dr Sean, "He's been a blessing…That's why his name is Chance. Because he gave me a chance—all the stuff I was going through in life, he gave me a second chance too."
Her son doesn't know he is adopted and Watkins is anxious that someone will step in and steal that moment from her. She has a challenge to all those who use the term "adopted" when referring to a child not birthed by the mom.
"Do you say that's my c-section daughter? Do you say, that's my vaginal canal son? No, you don't. That's my damn son," Watkins told Dr. Sean.
"I'm so nervous for when he is old enough. I'm not nervous in my household because he knows how much I love him. But it's the world who talks. That part is irrelevant. I understand it was a story at first or if I'm sitting here. But to say that, like—cuz you don't know who knows what or how—like, you can't ruin people's lives like that."