We know what you're thinking: Your cozy (read: small) backyard is too tight for the kids to play regular lawn games. If that's the case, try more compact games like checkers, Jenga, and tic-tac-toe with sweet summery painted rocks as game pieces (talk about inexpensive!). Not only are these a blast to play, but the whole family can get in on the DIY game-making action.
If you're lucky enough to enjoy a sprawling property big enough for a kids playhouse and more, you might go for outdoor games for kids that require wide open spaces, such as a football toss, a giant lawn matching game, or miniature golf with a full course. Set up a collection of games carnival-style (with prizes for the kids!) for a neighborhood get-together or family reunion.
So get your space out back in shape with best backyard ideas that won't break the bank, and prepare for some good ol' competition with these fun, kid-friendly DIY outdoor games. Last one inside wins!
Giant Lawn Matching Games
$19.07
Customize these durable squares with any pictures or patterns you like. If you're into the summer-themed version shown here, this blogger includes downloadable stencils in her tutorial to re-create your own.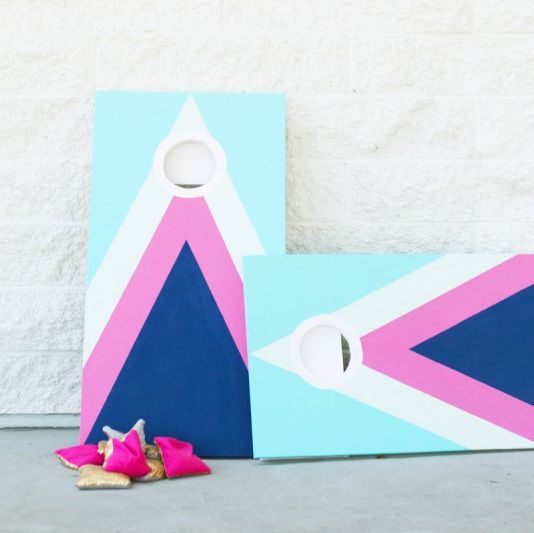 Cornhole
$27.99
Make your own game of corn hole, and paint the board with fun and bright colors to match your style. Make your own bean bags by sewing together some squares of fabric and filling them with dried beans or lentils, or buy them in a colorway that matches your boards.