Meghan Markle is celebrating her 40th birthday today, but she is celebrating her children everyday with this sweet and subtle tribute.
This morning the Duchess of Sussex released a video for her "40×40" initiative in honor of her 40th birthday, a campaign in which she is asking women to pledge 40 minutes of their time to "support women re-entering the workforce," through mentorship, according to the Archewell website.
In the video, Meghan is wearing two gold necklaces in the shape of two very special constellations. The constellations — Taurus and Gemini — are the astrological signs of her 2-year-old son, Archie, and her 2-month-old daughter, Lilibet, respectively.
The star-inspired pieces Meghan wore from Logan Hollowell, a sustainable, Los Angeles-based jewelry brand, are adorned with diamonds in a gold setting.
Though Meghan is no stranger to using her jewelry to share sentimental messages, particularly with the zodiac. Last year, Meghan was spotted wearing a pair of necklaces featuring the Virgo and Taurus star signs for Harry and Archie, respectively.
Personalized necklaces have been gaining traction recently, among celebs and other royals. (Last year, Catherine, Duchess of Cambridge, wore a pendant with "GCL" engraved on it, which are the initials of her three children, Prince George, Princess Charlotte and Prince Louis.)
Constellation necklaces are the perfect way to get in on the personalized jewelry trend, but with a cosmic twist. Below we rounded up the best constellation necklace options that will add a touch of flair — and sentimentality — to any look.
CHECK THEM OUT


Potion Number 9 Constellation Necklace
$32.95
Etsy store Potion Number 9 makes dainty gold-filled constellation necklaces from cubic zirconia stones in a range of lengths. This top-rated accessory is an "Etsy's Pick," meaning it's been selected by style and trend editors as a style to note.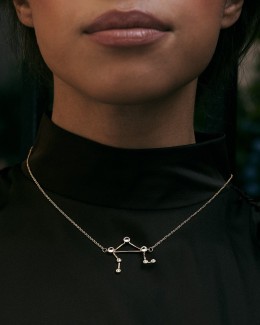 Sterling Forever 'When Stars Align' Constellation Necklace
$69.00
Available in gold- or brass-plated styles, this top-rated pick is perfect to sport your or your loved one's sign.



MC Collective Cubic Zirconia Constellation Necklace
$69.00
This necklace from MC Collective features constellations using cubic zirconia stones. It is available in both gold and silver tones to match your preferred style.