A portable washing machine might be a better option for those who don't want to take a trip to a laundromat — or have no space for the full-sized model.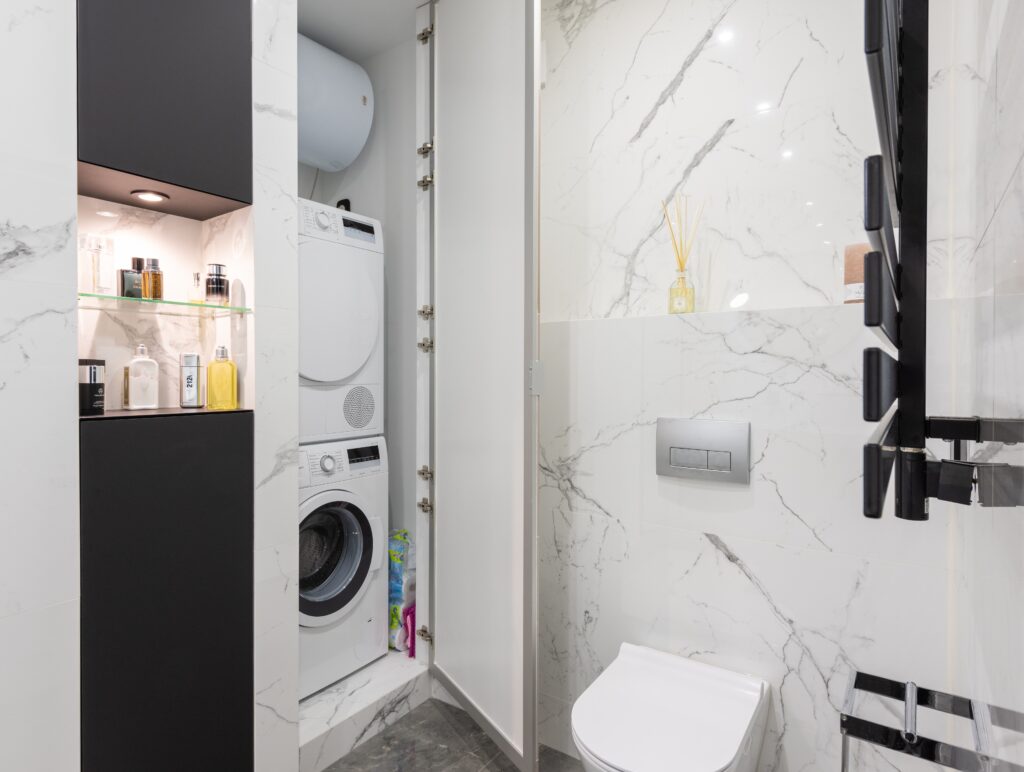 More time at home might mean more housework — including dirty dishes from lunch breaks and face masks that need to be washed after wearing, not to mention everyday laundry. While dressing down has become popular during the pandemic, your laundry could be accumulating alongside your workload, to-do lists and other household chores. If you're in a smaller space where a standard washing machine won't fit, going to the laundromat could be a hassle with a full hamper. A portable washing machine could be an option to avoid carrying weeks' worth of laundry to and from a laundromat.
"Most operate like your normal full-sized washing machine, but are suited for those on the move or anyone who lives in a smaller space," explained Jay Ahmed, the laundry merchant at The Home Depot. "It's different from a standard washing machine in that the portable appliance can be stored away when not in use."
CHECK THESE OUT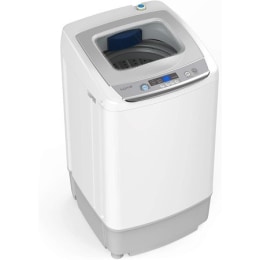 hOmeLabs Portable Washing Machine
$266.99
Featuring a stainless steel tub, this machine can handle up to 6 pounds of clothes at once. The washer also includes two roller wheels in the back, adjustable legs and carry handles. On the LED display, you have the option of five programs — ranging from heavy to soak — three water levels and a lint filter as well. Plus, the machine has a quiet spin function. It has earned an average 4.5-star rating over more than 500 reviews.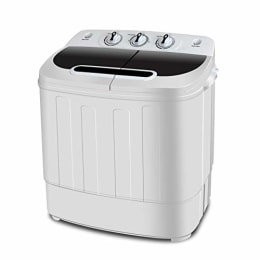 SUPER DEAL Portable Compact Mini Twin Tub
$154.99
A bestseller on Amazon, this 2-in-1 washing machine includes separate washer and spinner tubs. The wash tub can hold up to 8 pounds and the spinner can handle up to 5 pounds. You can wash and spin at the same time — a washing cycle can last up to 15 minutes and a spinning cycle can run for 5 minutes or less. This machine has three washing modes — standard, drain and soft — and this dial is in the middle of the washer and spinner timers. The washing machine has earned an average 4.2-star rating over close to 5,500 reviews.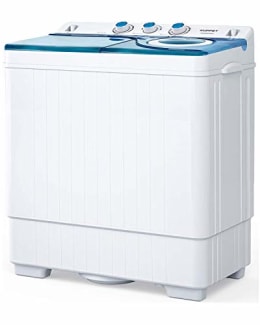 KUPPET Compact Twin Tub Portable Mini
$192.99
This washing machine includes two tubs — one for washing and the other for spinning, which wrings out excess water left in clothes. You can run the two simultaneously. The washer can handle 18 pounds' worth of laundry and the spinner 8 pounds. You'll find two separate timers for each. In the middle of the two timers, there's a wash selector dial that features gentle, normal and drain functions. This washer boasts a 4.3-star rating over more than 7,000 reviews.